July 1, 2014
By Jude Isabella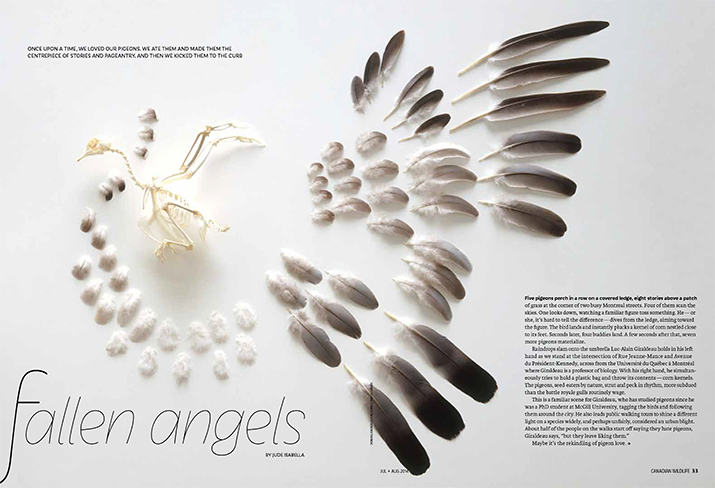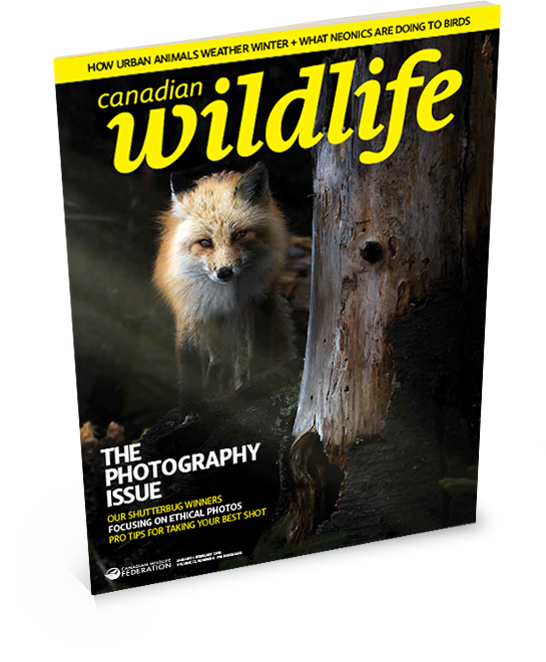 This content relates to Canadian Wildlife magazine. Now on newsstands! Get more information or subscribe! Or get your digital edition! Preview digital copy »
Once upon at time, we loved pigeons. We ate them and made them the centrepiece of stories and pageantry. And then we kicked them to the curb.

Five pigeons perch in a row on a covered ledge, eight stories above a patch of grass at the corner of two busy Montreal streets. Four of them scan the skies. One looks down, watching a familiar figure toss something. He — or she, it's hard to tell the difference — dives from the ledge, aiming toward the figure. The bird lands and instantly plucks a kernel of corn nestled close
to its feet. Seconds later, four buddies land. A few seconds after that, seven more pigeons materialize.

Raindrops slam onto the umbrella Luc-Alain Giraldeau holds in his left hand as we stand at the intersection of Rue Jeanne-Mance and Avenue du Président-Kennedy, across from the Université du Québec à Montréal where Giraldeau is a professor of biology. With his right hand, he simultaneously tries to hold a plastic bag and throw its contents — corn kernels. The pigeons, seed-eaters by nature, strut and peck in rhythm, more subdued than the battle royale gulls routinely wage.

This is a familiar scene for Giraldeau, who has studied pigeons since he was a PhD student at McGill University, tagging the birds and following them around the city. He also leads public walking tours to shine a different light on a species widely, and perhaps unfairly, considered an urban blight. About half of the people on the walks start off saying they hate pigeons, Giraldeau says, "but they leave liking them."

Maybe it's the rekindling of pigeon love.

Once upon a time, we all adored and cherished pigeons. They have embodied love, sex and fertility goddesses from Babylon's Ishtar and Phoenicia's Astarte to Greece's Aphrodite and Rome's Venus. In the flood stories of Gilgamesh and the Old Testament, it's a pigeon that finds land. Not only were they holy, pigeons were also delicious. Pliny the Elder was shocked at the mighty prices Romans paid to lunch on what today some people call flying rats. Pigeons were fun and pretty, too. The court of Akber Khan, a pigeon fancier in late 16th century India, went nowhere without 20,000 of them.

Today, scientists and park-bench biologists are almost alone in their love of Columba livia, the Latin term for the feral rock doves known today as pigeons. "That's one of the reasons we study them," says Ed Wasserman, a psychologist and director of the Comparative Cognition Laboratory at the University of Iowa, who has studied the birds for 45 years. "They are highly adaptable, extremely flexible and intelligent."

Such attributes were not lost on earlier generations of scientists. Charles Darwin studied pigeon genetics and gave the birds a starring role in the first chapter of The Origin of Species. B.F. Skinner used them in his pioneering work in behavioural psychology. But whatever admiration once existed is largely gone outside specialist circles. In modern communities, pigeons are largely regarded as pests, prodigious sources of acidic guano — up to 12 kilograms per year — that fouls public spaces and wreaks havoc on metal and stone.

But should we really blame the birds? They are, after all, our own creation. We made them when we lured rock doves away from their nests. We domesticated them, we ate them, we used them for communication, and eventually, as tastes and technologies changed, we abandoned them to an almost Dickensian fate: we made them urchins of our streets.

The rock pigeon, the wild predecessor of modern feral pigeons, probably originated in southern Asia several million years ago, radiating outward to Africa, Europe and Russia. Their fossil remains turn up at an archeological site in the Middle East dated to 310,000 years ago, where archaeologists also find the deepest evidence of a good old-fashioned pigeon roast.

In an Israeli cave, scientists found tool-marked pigeon bones dating from about 11,000 years ago (before humans started to farm) to about 5,000 years ago (after agriculture became established,
particularly in the Middle East). In the excavations at the Dead Sea cave of Qumran, C. livia is the most abundant bird of all, no matter the time period, and the prevalence of burnt bones a possible testament to our ancient taste for wings.

The domestication of pigeons probably occurred in the Mediterranean or Mesopotamia, and convincing rock pigeons to roost in human-made homes was probably easy. In the wild, they nest on cliffs and cave crevices. Build a cliff-like structure that is warm and dry, with plenty of food close by, and pigeons will flock to it. They will return, as well, because of their strong homing instinct.

Although first domesticated for food, pigeons were soon put to other, more glamorous, uses. Egyptians released them to announce the reign of a new pharaoh, and the Greeks announced Olympic winners via pigeon. In the 10th century, Aziz, Caliph of North Africa, had 600 pigeons, each carrying a cherry, fly from Lebanon to Egypt to satisfy a craving. For centuries, people nurtured the birds for
racing, war correspondence and pageantry.

Pigeons landed in North America in 1606, arriving with early European settlers who brought them along as a domesticated food source. But pigeons would soon begin to lose favour, challenged by a bigger bird that plumped the dinner plate with more meat and laid more eggs — the chicken. The invention of the telegraph and radio dealt another blow in the late 1800s, robbing pigeons of a job as messengers. People still raised the birds — and continue to do so — but mostly for racing and for looks. The pigeons that no one wanted, and the racing birds that got lost, became city dwellers. They adapted. Perfectly.

Back on the Montreal street corner, Giraldeau sums up their eventual fate. "They can't live without us. We bred into them their faithfulness to pigeon coops and to humans." With no real alternative to the food we give them, "they stick around."

With his public walks, Giraldeau is like a human-pigeon counsellor, mediating an ecological relationship foundered on the rocks. Meanwhile, in Iowa, Wasserman's research investigates the cognitive
capabilities of pigeons.

Wasserman places his birds in individual Skinner boxes outfitted with computers — think of an iPad, but one with a regular screen rather than a touch screen. The scientists provide their test subjects with a variety of visual experiences, teaching pigeons to interact with the images by providing food rewards for correct performance, and tracking individual bird smarts. "This technology provides us with a huge opportunity we've never had before," Wasserman says. "We can present complex stimuli and monitor animals' reactions in real time. It tells us what pigeons see, learn and remember."

Wasserman's lab team has studied a range of questions, including can pigeons detect changes in a visual scene and can they categorize things like fish, crackers, airplanes, cookies and shells. They can do both kinds of tasks, even categorizing up to 16 items in a single training session. They also recognize individual human faces and human emotional expressions. Like humans, birds can display cognitive strengths and weaknesses.

"We have one bird that I thought was a brilliant bird," Wasserman says. "He would just knock the socks off other birds." But in one final test, he performed the worst of all. "You might want to believe there are brainier birds than others, but it may depend on the task. I imagine some birds have better eyesight, others have better short-term memory or are better at memorizing pictures — depending on those facets, an individual bird will do better or worse."

As it turns out, these individual strengths are just fine for the flock. Giraldeau's early research revealed that pigeons have something he called "the skill-pool effect." Each pigeon brings certain food-finding skills to the flock. One pigeon will learn a skill, for example, turning over a leaf to find food. The pigeons not watching will not learn that skill. But they will figure out a new one, such as pushing a rock to find out if there is something edible underneath.

"So you have the pigeons who are good at turning leaves paired with the ones pushing stones, and together they can eat two types of food now — even though each one of them is only good at finding one," Giraldeau says.

Thus, the skill-pool effect helps the flock find food. Their memories help, too. Donald Wilkie, a psychologist at the University of British Columbia, demonstrated in 1992 that pigeons learn to associate food with time and place. In other words, pigeons remember the routines of the people who feed them (sometimes secretly since so many city dwellers hate the birds).

Rehabilitating the human-pigeon relationship obsesses Montreal anthropologist-artist Chloé Roubert. She created an exhibition in 2013 to accompany Giraldeau's tours, an anthropological take on our paradoxical perspective on pigeons. Versions of this project travelled to London, England, and to Shanghai, China, where she included other urban fauna. Roubert's purpose is to coax people into rethinking their ideas about urban animals — whether pests or pets.

"Most city inhabitants hate pigeons; they're blamed for dirt," she says. "Pigeon poop tends to bring out complaints, although cars can be blamed for a lot more urban filth. And yet, when pigeons are snowy white on Dove shampoo bottles, they symbolize purity and cleanliness."

Still, on the streets, pigeons are considered a problem, and pigeoncontrol policy occupies a lasting place in municipal policy-making. But Roubert, like Giraldeau and Wasserman, see no reason for drastic measures like poisoning or shooting. Engineering solutions could coax birds to behave differently. After all, they're capable learners. And as Wasserman says, "we have to get along with one another."

But the last word belongs to Giraldeau. "These are the remnants of pigeons that were domesticated for food. When people stopped feeding them on the farm or wherever they were, they ended up here." As he speaks, a pigeon moves closer to Giraldeau, who drops his bag. Corn spills; the bird darts. Giraldeau laughs, waving him away. "Don't you dare, that's all I have," he says.