May 11, 2017
By Heather Robison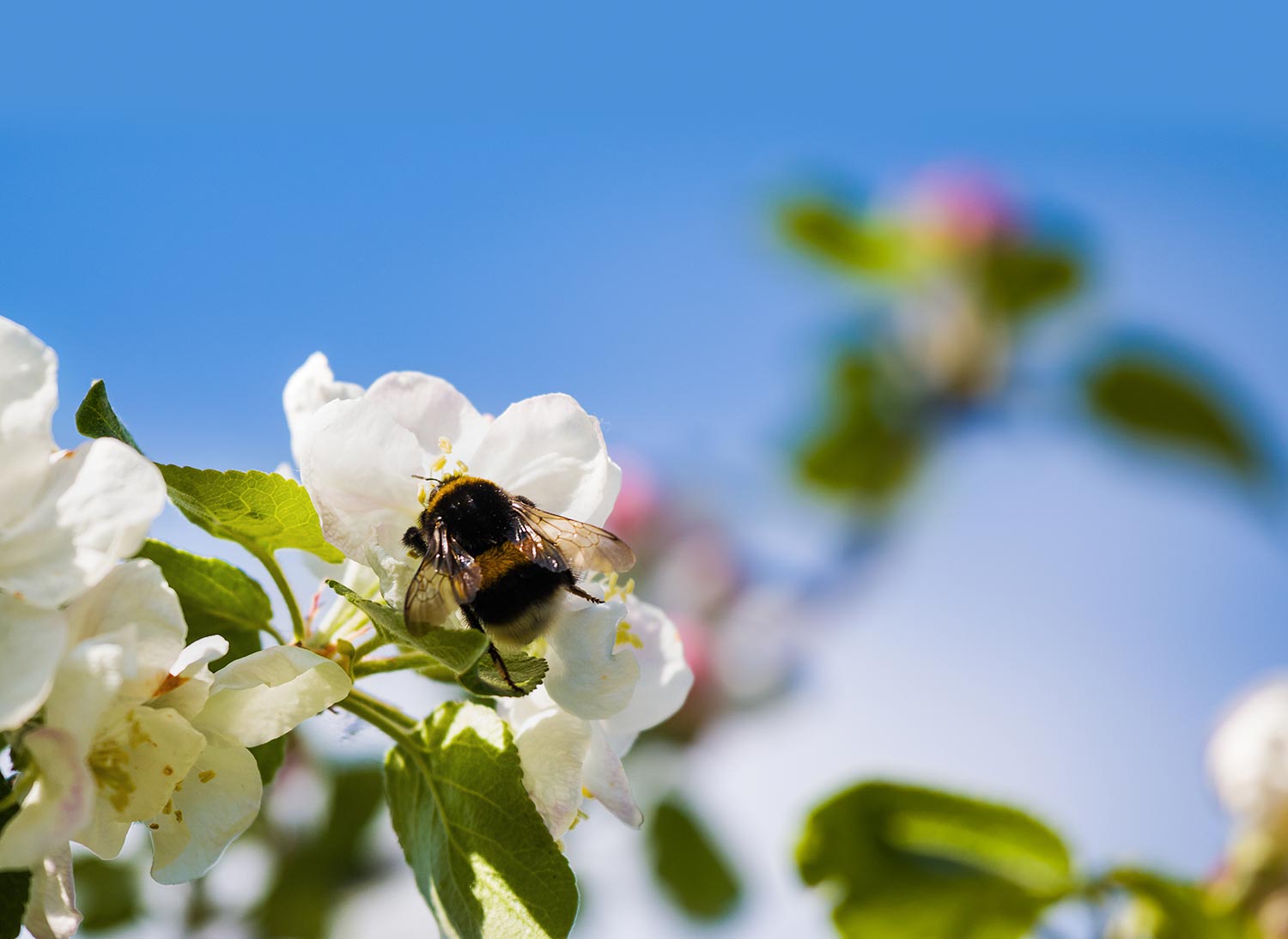 While most of the buzz in the news is currently focused on protecting bee populations, the impacts of neonics are widespread
It's gardening season. You can't wait to dig in and help create a welcoming environment for wildlife. But please, be careful. Many seeds and bedding plants have been pre-treated with neonics, which are chemicals derived from nicotine. There are nine different kinds of these products currently in use in Canada, all with complicated names and harmful side effects for butterflies, earthworms, aquatic invertebrates, birds and, most notably, bees.
Bee Serious
In the 1990s, neonicotinoid pesticides were introduced because many insects were becoming resistant to common pesticides. While they were originally thought to be safer than other chemicals, neonics are derived from nicotine, which is a neurotoxin and impacts brain function. Neonics are also systemic, which means they are absorbed by plants when applied to seeds, soil or leaves. The chemicals circulate through the plant's tissues, killing the insects that feed on them. Many of the plants available at garden centres have been pre-treated with neonics. Many of the seeds that farmers plant are pre-treated as well. The chemicals spread through dust generated during drilling of treated seeds, contamination and accumulation in soils, runoff into waterways, and uptake by non-target plants through their roots or dust on leaves.
Bee Warned
While most of the buzz in the news is currently focused on protecting bee populations, the impacts of neonics are widespread. Imidacloprid is one of the most widely used pesticides and has been found in aquatic environments in Canada at concentrations of up to 290 times the acceptable level for aquatic invertebrates. This is very concerning. The pesticide seeps into streams and lakes from farmer's fields and kills aquatic insects, many of which are a very important food source for fish as well as birds once they hatch into flying adults. Thankfully, Health Canada has proposed a ban on the use of this chemical, which is the appropriate decision given the evidence of harm.
Bee Strong
Health Canada is launching special reviews of two other neonics (clothianidin and thiamethoxam). These pesticides have become infamous for impacting pollinators around the world. But the Canadian Wildlife Federation would like to see Health Canada do more to protect our biodiversity from neonicotinoid pesticides. The effects of these toxins are acute and chronic. There is solid scientific evidence of serious harm to wild bees, hoverflies, butterflies, lacewings, flower bugs and earthworms. There is also some evidence of harm to vertebrates such as birds and bats.

We encourage Health Canada to implement a legislated ban on the use of all neonicotinoids as seed treatment. We also recommend a ban on all forms of neonicotinoid pesticides for insect-pollinated crops such as apples, tomatoes and blueberries. Neonicotinoids should only be used on crops that are wind-pollinated (like corn) or self-pollinated (like wheat and soy) in cases of severe pest outbreak conditions and in the absence of alternative pesticides with less harmful impacts on wildlife and freshwater ecosystems.
Bee Part of the Solution
CWF been raising awareness of the dangers of pesticide use since it was founded in 1962. At that time, we urged governments to impose regulations on the sale of pesticides to reduce threats to wildlife.

In 1972, Canada banned the use of a particularly harmful pesticide called DDT which caused the thinning of eggshells in birds of prey such as the Bald Eagle and Peregrine Falcon. Unfortunately, this pesticide persisted in the environment for many years and continued to cause impacts well after the ban. In the early 1980s, the Bald Eagle population of Southern Ontario was nearly wiped out by impacts of DDT and other industrial chemicals such as PCBs. CWF was part of successful efforts to help save the species.

CWF is now campaigning against the use of neonics. We also want to ensure that farmers are supported throughout the banning process. We believe that agricultural departments across Canada should support our famers by ensuring there are safer alternative options and that farmers receive training in integrated pest management. This is designed to reduce use of pesticides by scouting for crop pests in the field before any spraying happens and ensuring that beneficial pest predators are supported in farm fields.
Donate now to support CWF's efforts to ban neonics. Look for gardening items that CWF has certified wildlife friendly, such as our pollinator plant kits. What else can you do?
Bee aware that wild flower seed packs might contain invasive species for your area
Bee sure the plants you are buying are not produced with neonics
Bee a friend, and share this story with your networks.