October 20, 2016
By April Overall
We'll never give up hope that a cure for white-nose syndrome will be found. Researchers across the globe are committed to reverse this terrible disease. But we also recognize that we can't sit on our haunches in the meantime and twiddle our thumbs. There are so many threats that face Canada's bats. It's time to tackle them.
The Winds of Change
Wind farms are on the rise in Canada. In 2013, we had an estimated 4,019 operating turbines in our country. And that number keeps climbing. These looming structures have blades that reach up to 30 metres long and rotate over 80 kilometres per hour. Bats can strike the blades mid-flight, but they can also suffer significant bleeding in their lungs when they fly near the turbines. When they get too close to the turbines, they can experience barotrauma due to a sudden and rapid drop in air pressure - like deep sea divers coming to the surface too quickly.

In 2013, the annual mortality rate due to wind power in Canada was 52,000 bats. Many of the bats affected include long distance migratory species like the Eastern Red Bat, Hoary Bat and the Silver-haired Bat, however, these deadly structures have also impacted our Endangered species like the Little Brown Myotis. And when a species is already feeling the devastating effects of a disease wiping out entire colonies, added threats to individuals with a resistance to white-nose syndrome could slow down the recovery rate. That's the last thing we want to see for Canada's bats.

It's high time we take a good look at wind power. We need to make a visual link between the migratory routes of our bats and the areas where wind turbines exist across Canada. Are we putting our bats in harms way? We also need to rethink the design of wind turbines. Did you know if we adapted the angle of the blades of a wind turbine, we could help fight against barometric trauma? Moreover, we need to work with leaders in the wind power industry and slow down the speed of wind turbines when bats are most active. Reexamining the wind power industry could help save the lives of tens of thousands of bats every single year. That's worth a look, isn't it?
A Rough Roosting Place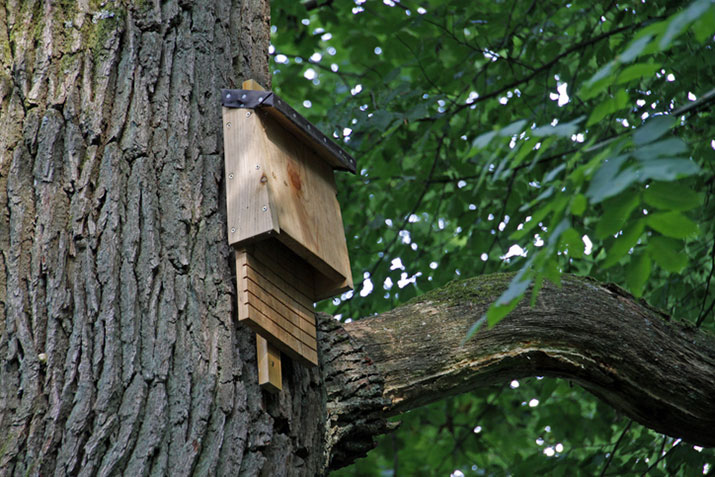 In early summer, female bats nestle together in warm and dry spots to rear their young. Year after years, these bats will seek out the same sites. We know just how important these sites are to bat populations, so you'd think we'd do everything we can to protect them, right? Unfortunately, roosting sites are not protected. Even for the three bat species that have been listed as Endangered (the Little Brown Myotis, Northern Myotis and Tri-coloured Bat) roosts are not protected due to a deficiency in knowing where these sites are located. Let's dive a little deeper at the preferred roosting sites of our beloved bat species.
Tree Tenants
In addition to man-made structures, female bats seek out old trees and snags to give birth to their pups. Unfortunately, few roosts in trees have been identified and therefore risk being cut. And as we know, bats show high fidelity to their roosting locations. When their preferred roosting site has vanished, this can reduce reproductive success and therefore colony size to plummet.
Bunking Out in Buildings
We understand that few people would like to share their homes with bats. However, when bats show up in your attic, it's important to remember that they didn't do anything wrong – they didn't chew their way in. Bats get into homes and buildings via small openings around eaves troughs, utility vents, window and doors. So please don't give these small mammals the boot too soon. These roosts are critical to bat conservation and quite possibly could be a maternity roost. A female bat may only give birth to one pup for an entire year. Moreover, they're easy to scare — a bat will abandon her young if she's been disrupted. A homeowner with these uninvited guests are dealing with a tricky and sensitive situation, so please read our seven steps to dealing with bats in your home to make the best decisions.