By Tobi McIntyre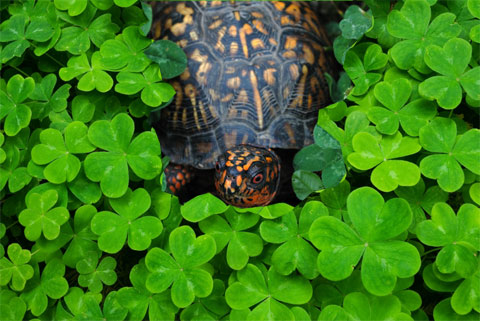 Green clover. Green hats. Green parades. St. Patrick's Day, celebrated worldwide, commemorates the Irish and those with Irish ancestry. But we at CWF can celebrate a different kind of green too. Check out these fun green facts — and wear green with pride this Tuesday!
Green is often associated with St. Paddy's Day. However, it is considered an unlucky colour on the Green Isle since it is the favorite colour of the Good People (the proper name for faeries).
CWF is going green with several initiatives to reduce our footprint, such as installing 10 solar panels. Find other green news at CWF.
It is said that St. Patrick drove all the snakes from Ireland into the Irish Sea, where the serpents drowned. However, most believe the "snakes" referred to in this myth are the druids that were run out of Ireland.
CWF has helped — not hindered — snakes by funding projects such as the eastern yellow-bellied racer (a species of concern on SARA) or promoting snake initiativessuch as the petition started by eight-year-old Amanda.
The first St. Patrick's Day parade was in New York City in 1762. It is the oldest civilian parade in the world. Ireland did not have its first Paddy's Day parade until about 75 years ago.
CWF has green events galore – even right now! Check out our booth at "Go Green Expo," "Canada Blooms" or our National Wildlife Week events in Whistler and at the Toronto Zoo.