April 14, 2009
By Maria MacRae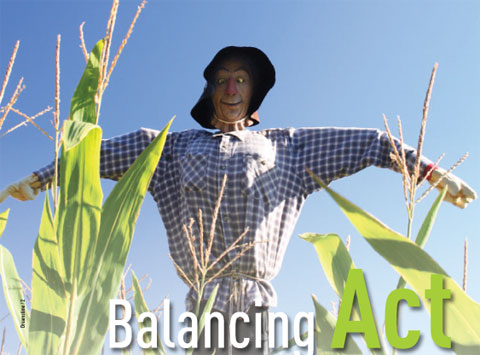 How your garden can coexist with wildlife
Dealing with Problem Wildlife:
- Try to discourage deer as soon as you see evidence of damage. Once your garden becomes a regular stop, they will be difficult to keep out. (For more on discouraging deer, see the September/October 2007 issue of Canadian Wildlife.)
- Place chicken wire over freshly planted flower or vegetable bulbs to keep squirrels from digging them out. Clean up bits of bulb skin that might attract them. You can also sprinkle something with a strong scent such as coffee grounds or chicken manure pellets around the area.
- Interplant vulnerable plants with strong-smelling plants that many herbivores dislike, such as chives, garlic, onion, lavender or rosemary.
- Plant thorny, prickly, smelly or unappetizing plants around entrances that garden munchers use.
- Encircle the trunks of vulnerable trees and shrubs with chicken wire or trunk wrap.
- Try repellents like dog hair, deodorant soap, fabric softener strips, or garlic and sulphur compounds.
- Avoid using hot pepper to discourage squirrels. It can get on their paws and then into their eyes, causing serious pain.
- Sprinkling blood meal around target plants can discourage rabbits, groundhogs and deer, but be aware it can also attract predators.
- Plant crops such as a patch of clover or alfalfa well away from your garden to distract rabbits and other pests from the plants you want to preserve.
- Deterrents that work in one location may be completely ignored in another. Also, what works one time may not work at another. If an animal is hungry or finds natural shelter is in short supply, it will become much more persistent and less choosy in what it will eat or where it will nest.
- If you are sealing up your house to exclude animals, give a grace period if they are likely to have young.
- Keep garbage in animal-proof containers. Use bungee cords or weights to secure the lids of garbage cans. Don't leave pet food outside.
- If animals are digging up your lawn, they are probably smelling grubs underground. Deal with the grub problem and the digging should stop.
~MM
Goldfinches chattering in your garden or swallowtail butterflies feeding at your lilacs are easy to appreciate. A squirrel that chews off your flowers just as they are about to bloom, however, can be a lot less pleasant.
Creating habitat for wildlife on your property means accepting that all types of wildlife will take advantage of your generosity, some in ways you'd prefer they didn't. The important thing is to find the balance between tolerating minor irritations and dealing with more serious problems.
For example, to welcome butterflies to your garden, it is important to provide food for their caterpillars as well. This may mean tolerating some munching of your parsley plants to support populations of the beautiful black tiger swallowtail. Planting a few extra seedlings means the butterflies will thrive while you harvest parsley for your own use.
But if your entire vegetable garden is being devoured, your shrubs munched to death or your home invaded, then some action is required to reduce the problem to a manageable level.
Habitat management is often the best way to deal with a wildlife problem. For example, if wildlife are making themselves at home inside your house, cover up possible entrances such as uncapped chimneys, clothes dryer and kitchen exhaust fan vents, and openings in the attic. Fill holes with dirt or seal them with wire mesh or concrete. Be sure all intruding animals have left before you seal up holes, especially in the spring when young are being raised.
Fencing is often the most effective deterrent for certain wildlife, such as deer, but it can also be the most expensive, work-intensive and unsightly. If you are going to install fencing, do your research first to make sure it will effectively exclude the problem species. For example, to deter rabbits, you must bury the bottom of the fence 40 centimetres deep or they will simply dig underneath it.
Creating barriers around individual plants is less costly. If little critters are gnawing on the bark at the base of particular trees, protective tree wrap can solve the problem. Barriers are also useful if your trees or shrubs are being targeted by hungry rabbits or deer over the winter. Canadian Wildlife Federation staff erect snow fencing around the cedars in the national office's gardens each winter to protect them from pruning by hungry deer. In other seasons, the deer do not bother the cedar trees because there are other, tastier plants to eat.
Repellents are the least expensive remedy for wildlife problems. They use noise or moving parts to scare wildlife away. They can also be substances applied directly on target plants to affect their taste (though these should not be used on herbs or vegetables you will eat).
The most effective repellents tend to be those that have a strong smell that either repels the animal in question or interferes with its ability to sniff out desired food plants. For best results, repellents should be reapplied regularly, especially after rain, and changed regularly so animals don't adjust to the smell.
Truly Repellent
Here's a recipe from a CWF volunteer for a homemade mixture that deer and other animals definitely don't like. Blend one egg and one cup of water. Cover and leave to ferment for several days. Add a crushed garlic clove to the mixture before sprinkling it on plants. Be warned: The smell may almost overcome you as you prepare and apply it, but will be less noticeable when it dries.
~MM
Visit WildAboutGardening.org for more information on dealing with problem wildlife.
Avoid trapping and removing animals; it is difficult to find suitable habitat that is not already occupied. It is also illegal in many areas to release an animal more than one kilometre from where it was trapped. Also, trapped animals will often injure themselves, can spread disease to new areas and can leave their young orphaned. If your property is good habitat for a particular species, the removed animal will soon be replaced by another one.
As urban areas expand, they gobble up more and more natural habitat. The onus is on us to find ways to live in harmony with displaced species, providing habitat where possible and solving problems with understanding and flexibility.
Maria MacRae was manager of CWF's backyard habitat programs.