December 14, 2017
By Terri-Lee Reid
There's no doubt that climate change is going to have a serious impact on wildlife. Will some species be able to change their habitat? Which animals might we find in our own backyard that we never expected? Let's dive in to a warming Canada and find out just how dire the future will look for our beloved species.
On the Move
As temperatures get warmer, one way for species to adapt is to shift or expand their range. There are many examples of species that are already on the move in response to climate change, or at least partially due to climate change. For instance, there are now Triggerfish (a tropical fish species) in Maritime waters, Giant Swallowtail Butterflies (once restricted to extreme southwestern Ontario) are now spreading northward in the province and blacklegged ticks (deer ticks) are increasing their range in North America.
However, not all species are able to move north and it seems that for many species, even for those that can, climate change is happening too quickly for them to keep up. Even if they are able to expand their range, it doesn't happen without consequences. Entering new territories could mean more competition for food, interactions with new species and for species that are already at their northern limit – what happens to them?
How Some Species are Adapting to the Warming Climate
As temperatures warm it also brings other issues for species. Gray Jays, for instance, don't migrate and therefore stash food in the fall to help them through the winter. Warmer falls are causing a lot of their stored food to decay before it freezes.
Other indicators include an earlier bud burst in Sugar Maples and an earlier flowering period for aspens. In fact, based on climate records from the previous 100 years, Canada's growing season has increased considerably. Tree lines have also expanded upward in elevation.
Welcome to Canada?
As new species move into Canada, there's always the risk of some of them being or becoming invasive. Just look at the Mountain Pine Beetle and the devastation it brought to British Columbia and Alberta forests; blacklegged ticks and Lyme disease. While others like the Gypsy Moth, a defoliating forest pest, are causing havoc in forests. And the Kudzu plant, native to eastern Asia and introduced initially to the United States, is now spreading and taking over anything in its path.
There are many studies demonstrating that climate change is already impacting Canada's forests. From the previously mentioned Mountain Pine Beetle in British Columbia and Alberta to the Spruce Bark Beetle in the Yukon and the loss of aspens in the southern boreal forest and the western aspen parkland.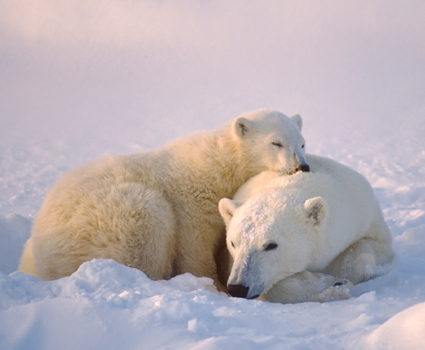 Polar Bears

Arctic Species
It's well documented that the Arctic is warming quicker than other areas, faster in fact than people thought would happen. With sea ice melting along with glaciers and ice caps, it's having far reaching impacts.
There's more than just Polar Bears at risk from a warming Arctic – there's also the Atlantic Walrus, Ringed Seals, Black Guillemots and many more.
Atlantic Walrus' like to haul out on ice or islands. With climate change, many areas are now ice free and with rising sea levels some islands are no longer. Climate change also brings with it another threat for this species – increased shipping and people – definite threats to this sensitive and easily disturbed animal.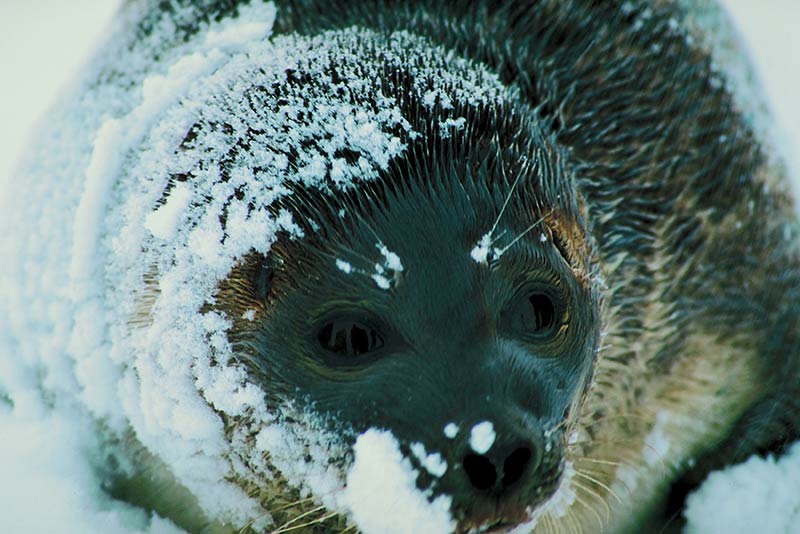 Ringed Seal

Ringed Seals typically give birth in early April in birth lairs – areas that are dug in snowdrifts. But with warmer springs, birth lairs can collapse exposing the pups to predators, like polar bears.
Black Guillemots are a bird of the northern seas. Arctic Cod was the preferred food for the parents to feed the chicks but with Arctic Cod becoming scarce due to an increase in sea surface temperatures, chicks are now fed sculpin which doesn't offer near the same amount of nourishment. In addition, Polar Bears, are becoming trapped on the island because of retreating sea ice, and predating on nestlings. In 1989, 200 nesting pairs were counted, this summer only 85 nesting pairs were found.
While some species are able to respond to these changes, many species won't be able to move fast enough which may result in die-offs if they are not able to adapt in other ways. While this is easy to understand for trees, even some birds and butterflies – mobile species – are not able to expand their ranges fast enough to keep up with climate change and for some there may be nowhere else to go. There are many more impacts to species and the environment than what is discussed here and the next 100 years is expected to bring even more climate changes. Let's all do our part to help wildlife weather these changes.