November 9, 2017
By Annie Langlois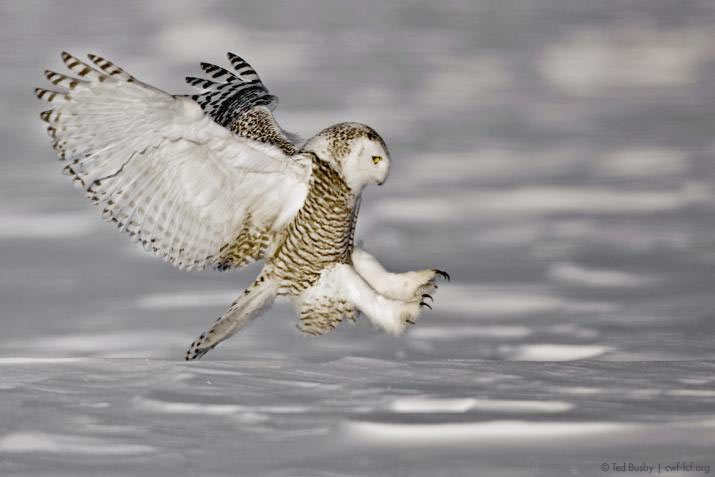 Many of us have had the chance to see this: a ghostly, massive white bird silently flying over a field in winter. The Snowy Owl has become one of the symbols of winter in Canada, and not without reason. Because of the migration of some, often juvenile individuals, this bird is a link between southern and Arctic Canada, coming to spend the winter months more populated areas of our country. It can be observed in every single province and territory, making it a popular sight for birdwatchers everywhere.
While a minority of owls come to the south, most Snowy Owls remain in the Arctic tundra year round. It is one of the few bird species to do so, making it of special importance for Inuit people, who call it ukpik, ᐅᒃᐱᒃ. It is a central figure in their legends and traditions, and often featured in their art.
Perhaps the main reason it's thus admired is its many adaptations, enabling it to thrive in such a harsh environment as the High Arctic in winter, where temperatures drop as low as -50 degrees Celsius. Its thick white plumage camouflages and insulates it, right down to the tips of its toes. Its incredible sense of hearing and sight (think of those striking yellow eyes!) makes it fit to hunt in the dark winter, detecting the smallest movement of a possible prey even through the snow. But not only can the Snowy Owl survive in the tundra's winter, it has adapted to the continuous sunlight of the Arctic summer, and is also active in broad daylight, unlike most other nocturnal owl species.
A Snowy Owl can live as long as 23 years and typically doesn't need to worry too much about predators. It is, itself, quite an effective one, able to hunt prey animals that are up to three times its weight thanks to its silent flight (caused by comb-like feathers along the edges of their wings) and powerful talons. But surviving up North does take a lot of energy. This is why this solitary bird of prey spends so much of its time hunting: each single bird needs to consume the equivalent of 1,600 lemmings per year to survive!
Even if our Snowy Owl population is doing well, it is not without threats. If it'd be easy to think that the hardest place to survive would be the Arctic, it's actually not the case for this species. These owls face their biggest threats when they head south into more populated areas where they can collide with buildings, motor vehicles and power lines. Disturbance because of observers who get too close can also be a threat, preventing their hunt for well-needed calories!
It's important to work together to ensure that the Snowy Owl remains part of our natural heritage! Learning more about it with Hinterland Who's Who is a great start. Please visit HWW.CA to read our fact sheet and view our new videos on the Snowy Owl!