April 19, 2017
By Sarah Coulber
To help celebrate Canada's 150th anniversary, check out our 13 provincial and territorial floral emblems and how they are important to both our history and our wild spaces.
British Columbia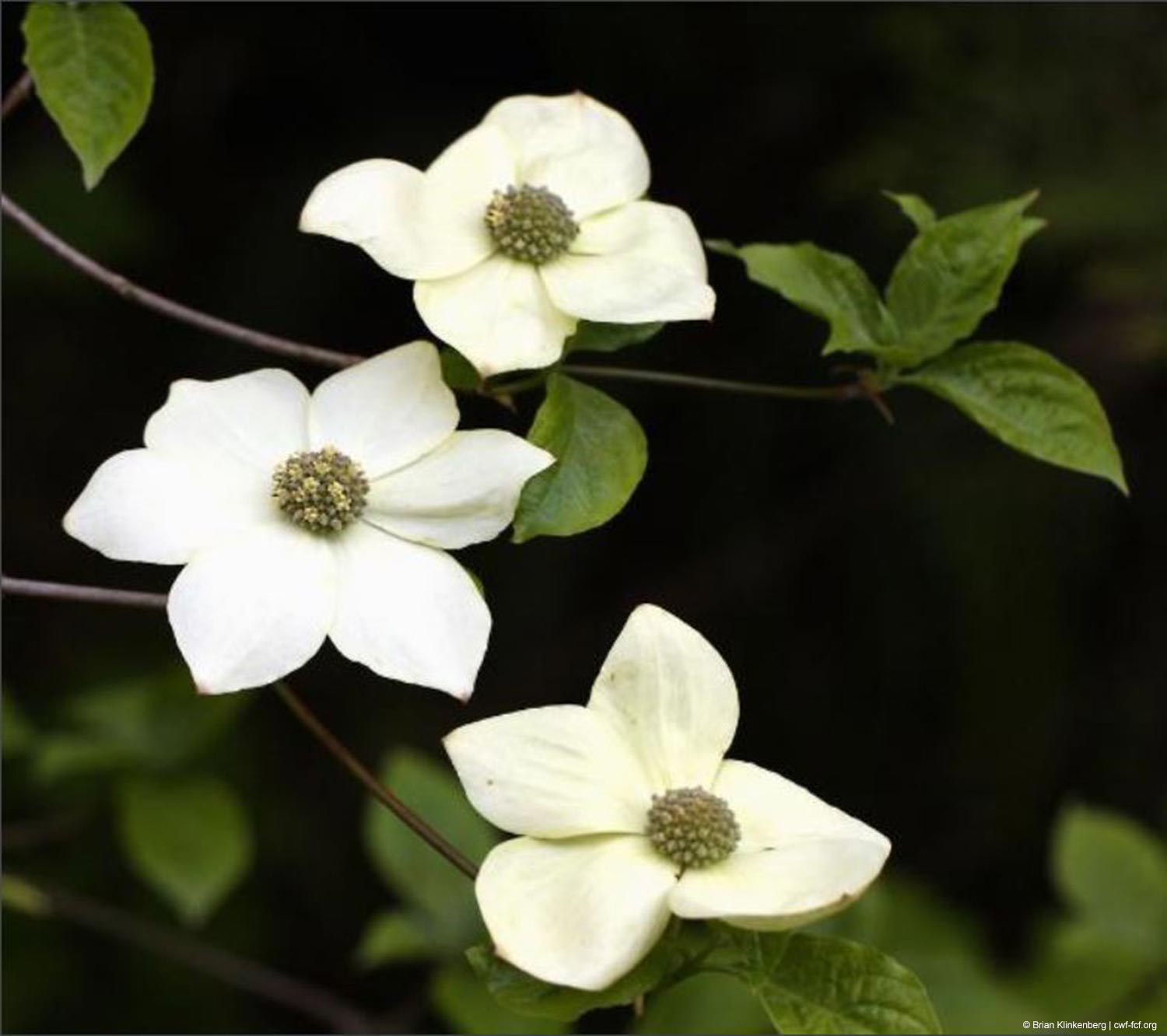 Photo: Brian Klinkenberg
Pacific Dogwood (Cornus nuttallii)
The Pacific Dogwood (Cornus nuttallii) is a deciduous tree (it loses its leave each autumn) that was adopted in 1956 as British Columbia's provincial floral emblem. They grow in western forests and are also a popular ornamental, largely due to its showy flowers and striking fall foliage.
This small tree typically grows to three to nine metres but can reach heights of 20 to 30 metres. As it can have more than one main trunk, it is sometimes perceived as a shrub, especially the smaller versions. Its leaves turn anywhere from an attractive pinky-red to yellowish-orange in the autumn.
Pacific Dogwood's cluster of tiny flowers are surrounded by four to seven bracts (modified leaves typically found beneath a flower or flower cluster) that look like large off-white petals. The showy blooms adorn the tree from April to June and stand out in part due to their large size but also as they appear before the leaves open (although they can occasionally bloom a second time later in the season). Insects visit and pollinate the flowers in the spring.
By September clusters of bright red berries appear much to the delight of grouse, flickers, finches, bluebirds and Black Bears. Beavers eat the berries as well as the wood and leaves. Elk and Mule Deer browse occasionally, particularly on tender shoots that grow after logging or burning, although it is thought that the tannins in this tree generally keep browsing to a minimum.
As for people, the wood's hard, fine grain has been valued for bows and arrows, piano keys, cabinets and tool handles.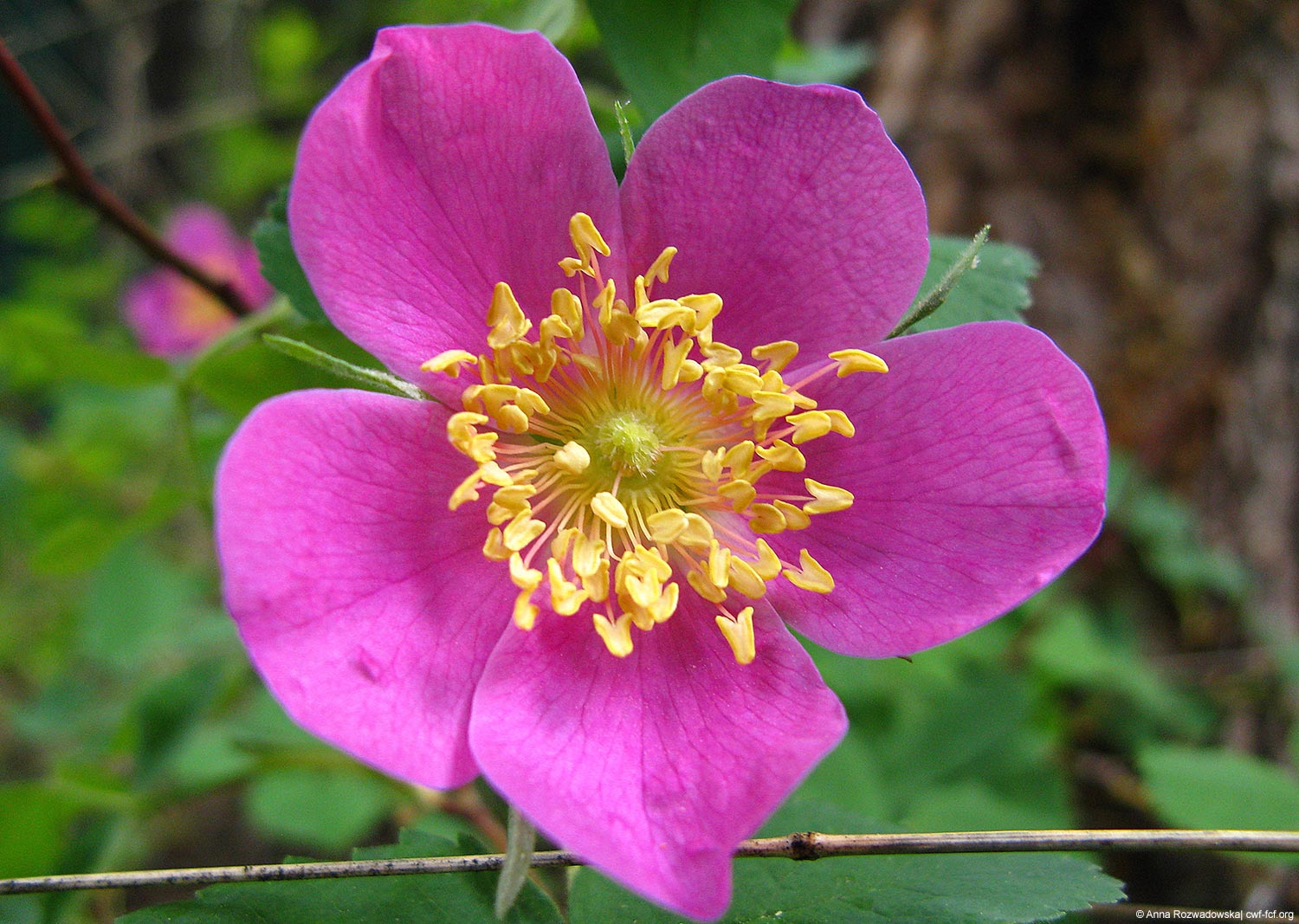 Photo: Anna Rozwadowska
Alberta
Prickly Wild Rose (Rosa acicularis)
This native plant became Alberta's official flower in 1930 thanks to the combined effort of the Women's Institute and the Department of Education which, after narrowing down its choices, asked schoolchildren to make the final decision.
Canada is home to many species of wild roses but this rose is known for growing in the circumpolar region, hence its other name, Arctic Rose. It is also known for its large number of prickles found along stems giving it the names Prickly Rose, Prickly Wild Rose and Bristly Rose.
The Prickly Rose is a widespread plant found from British Columbia through to Newfoundland and New Brunswick and up into the Yukon, Northwest Territories and Nunavut.
Fragrant flowers bloom from June to August, depending on the region, with large pink petals and bright yellow stamens in the center that attract pollinating bees and flies. The berries form later in the summer and are a food source for birds like thrushes and waxwings and mammals such as bears and chipmunks while deer, elk and rabbits browse on its twigs. People also use the rosehips as a source of vitamin C and an ingredient in jellies and tea.
Dense patches of Prickly Roses offer protective cover for shelter and nesting for many birds including songbirds and gamebirds.
Saskatchewan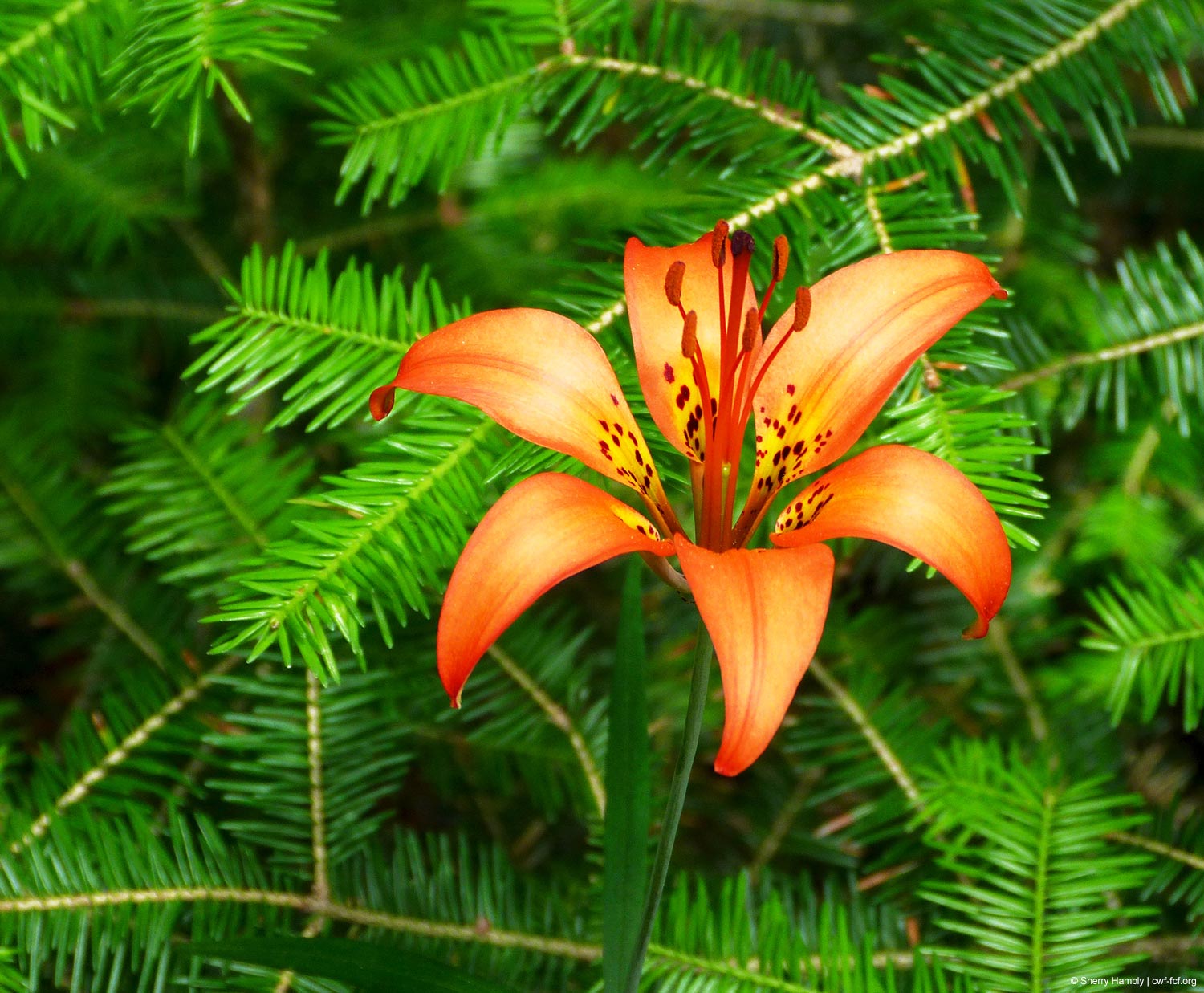 Photo: Sherry Hambly
Wood Lily (Lilium philadelphicum)
This native lily, also known as the Western Wood Lily, Prairie Lily and Western Red Lily, was officially adopted in 1941. It grows from southeastern British Columbia to Quebec in tallgrass prairie, open woods and along roadsides.
One to three large orange-red flowers sit atop a 30 to 100 centimetre tall stem in June and July. They have six petals arranged in an upright bell fashion. Close to the center, petals are paler with dark purple spots — the same colour as its stamens. Wood Lily leaves are narrow and arranged alternately except for the upper area where they encircle the stem in a whorl. The narrow base of the petals and arrangement of the leaves along the stalk help distinguish it from the non-native Daylily whose petals are wide from tip to base and whose narrow leaves are longer and all arise from the base of the plant.
Hummingbirds visit this flower for its nectar as do the Hummingbird Moths, an insect that got its name due to its likeness to hummingbirds. The Wood Lily is also valuable for its nectar for many butterfly species like Monarchs, Coral and Grey Hairstreaks, American Coppers, Great Spangled Fritillaries and several swallowtails and skippers. Bees visit this flower for both nectar and pollen and are in fact the main pollinators of the Wood Lily.
Aboriginal tribes used the bulb and seeds for food and medicine such as for treating spider and dog bites, fevers and stomach problems.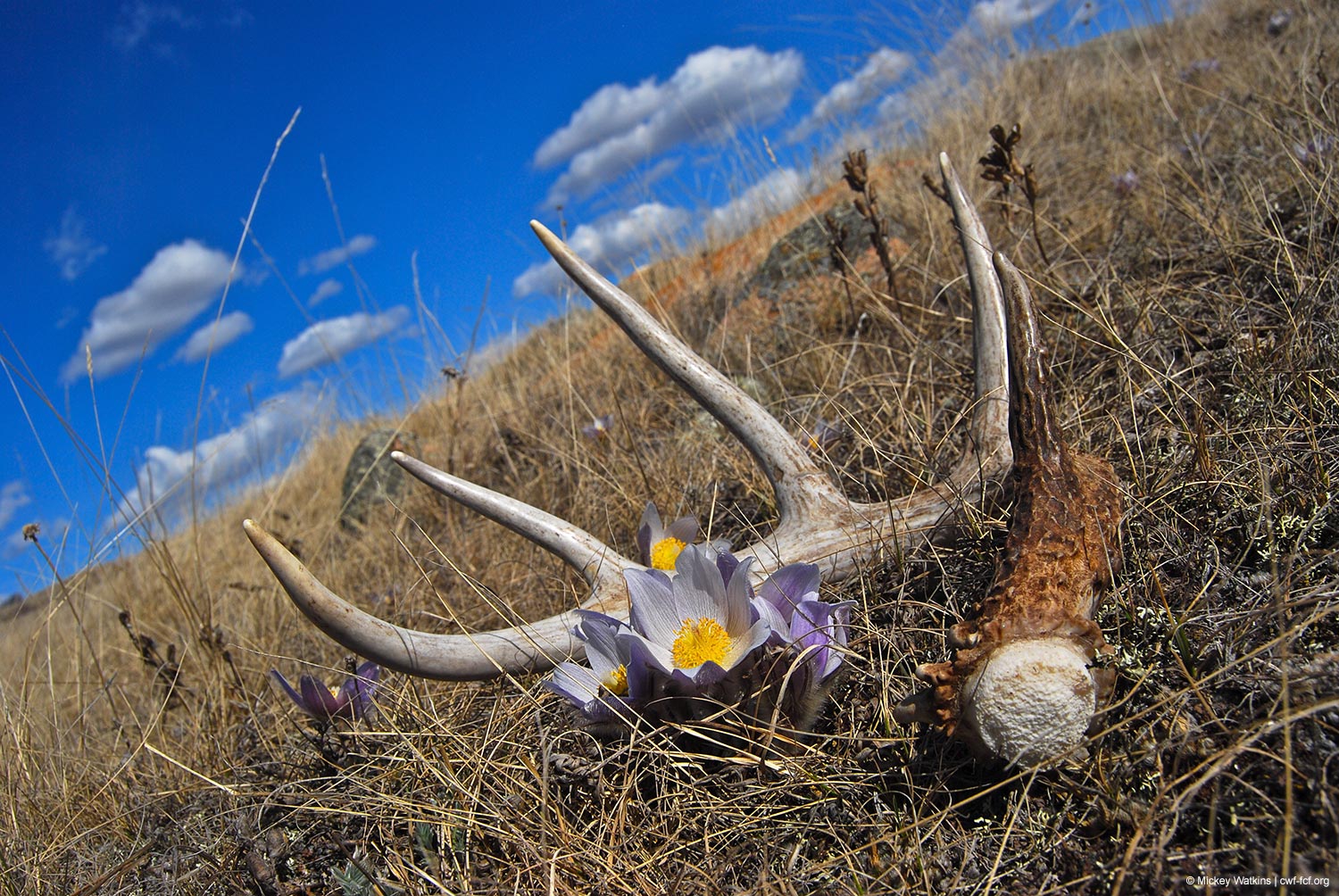 Photo: Mickey Watkins
Manitoba
Prairie Crocus (Anemone patens var. multifida)
The Prairie Crocus was officially adopted as Manitoba's floral emblem in 1906. It is a beautiful and hardy perennial that grows from the Yukon and Northwest Territories down through British Columbia and across to western Ontario.
It has gone through an evolution of scientific name changes including Pulsatilla ludoviciana, Pulsatilla patens and Pulsatilla hirsutissima. Its other common name is Pasque Flower, due to its blooming once the snow has melted, often around Easter, also known as Paschal season or "Paques" in French.
This beautiful plant is covered, stalks, leaves, buds, petals and all, in soft silky white hairs that give protection from cold spells in early spring. Its flowers are large with pale purple petals that surround a yellow center — a great pollen source for the bees that pollinate it. The cup shaped flowers also catch the heat of the sun, prompting bees to linger for its warmth.
While the Prairie Crocus is considered toxic to ingest and can be irritating to the skin, people have used this plant over the centuries for its diuretic and expectorant medicinal values.
Ontario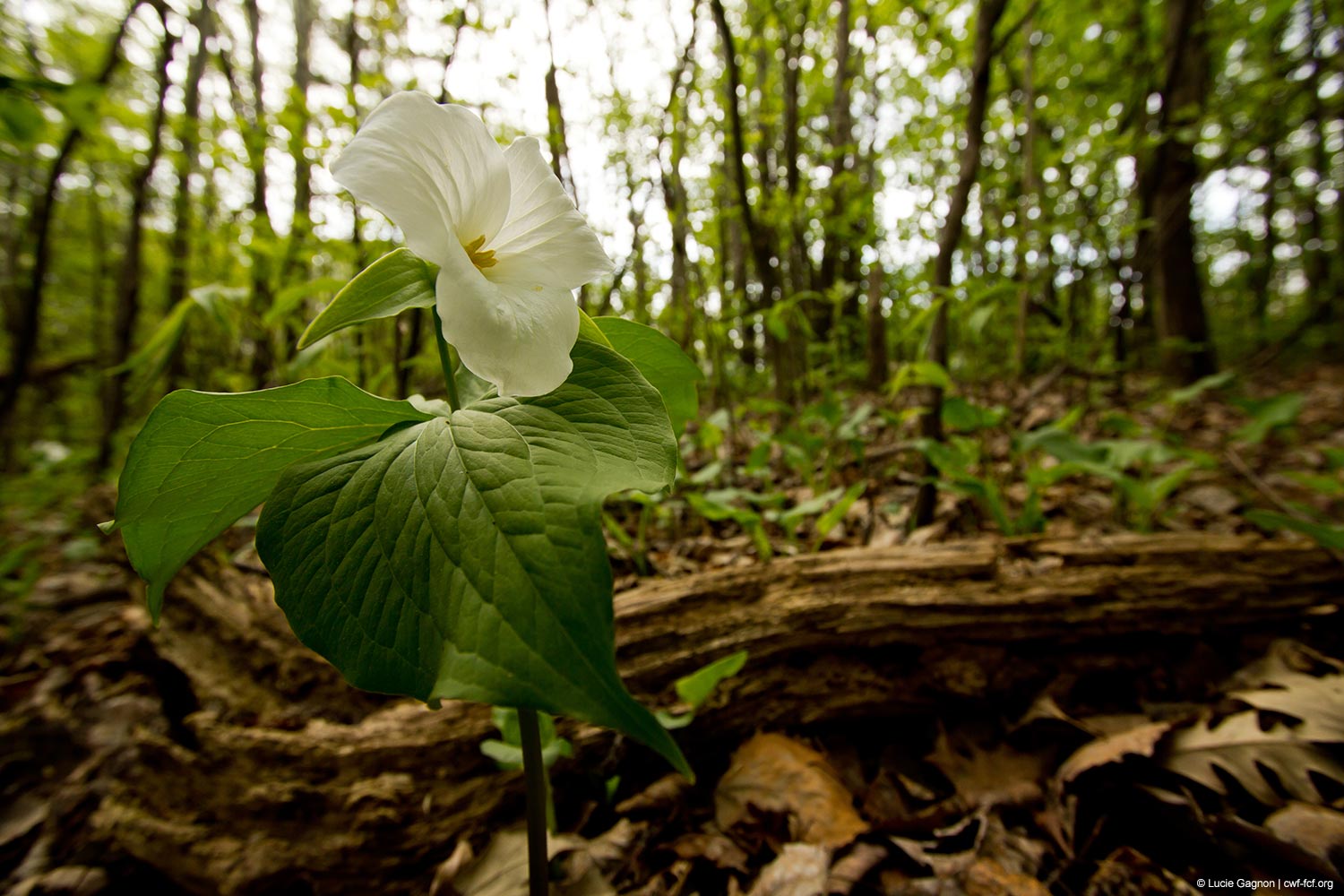 Photo: Lucie Gagnon
White Trillium (Trillium grandiflorum)
The White Trillium was officially adopted as Ontario's floral emblem in 1937. Trilliums get their name "tri" — Latin and Greek for "three" — from their three petals, three sepals and three leaves. Of the four native trilliums, the White Trillium is the most commonly known with its big, bright white petals that turn pale pink with age.
It grows in deciduous forests, benefitting from the rich leaf litter that accumulates each fall. They grow and bloom in the spring when the ground has thawed, the tree leaves have not yet opened and the sun can cast its light on the forest floor. It is during this window of time when White Trilliums and other spring ephemerals get into action — forming leaves, flowers and fruit. By the time leaves are fully grown on trees, seeds of these early spring plants are well underway or fully formed. When their annual bloom is complete, their aerial (above ground) parts wither. Some spring blooming woodland plants like Wild Ginger and Bloodroot keep their leaves, looking like a small green carpet on the forest floor and so are not considered a true ephemeral like trilliums.
Trilliums take seven years to mature and produce flowers. Once they do, pollinators like bees and flies visit to help them form seeds. Attached to each seed is an elaiosome (a rich fatty substance) that is food for ants, wasps, beetles and slugs. The latter two eat the elaiosome by the plant while ants and Yellow Jacket Wasps carry the seed away, helping with seed dispersal.
Quebec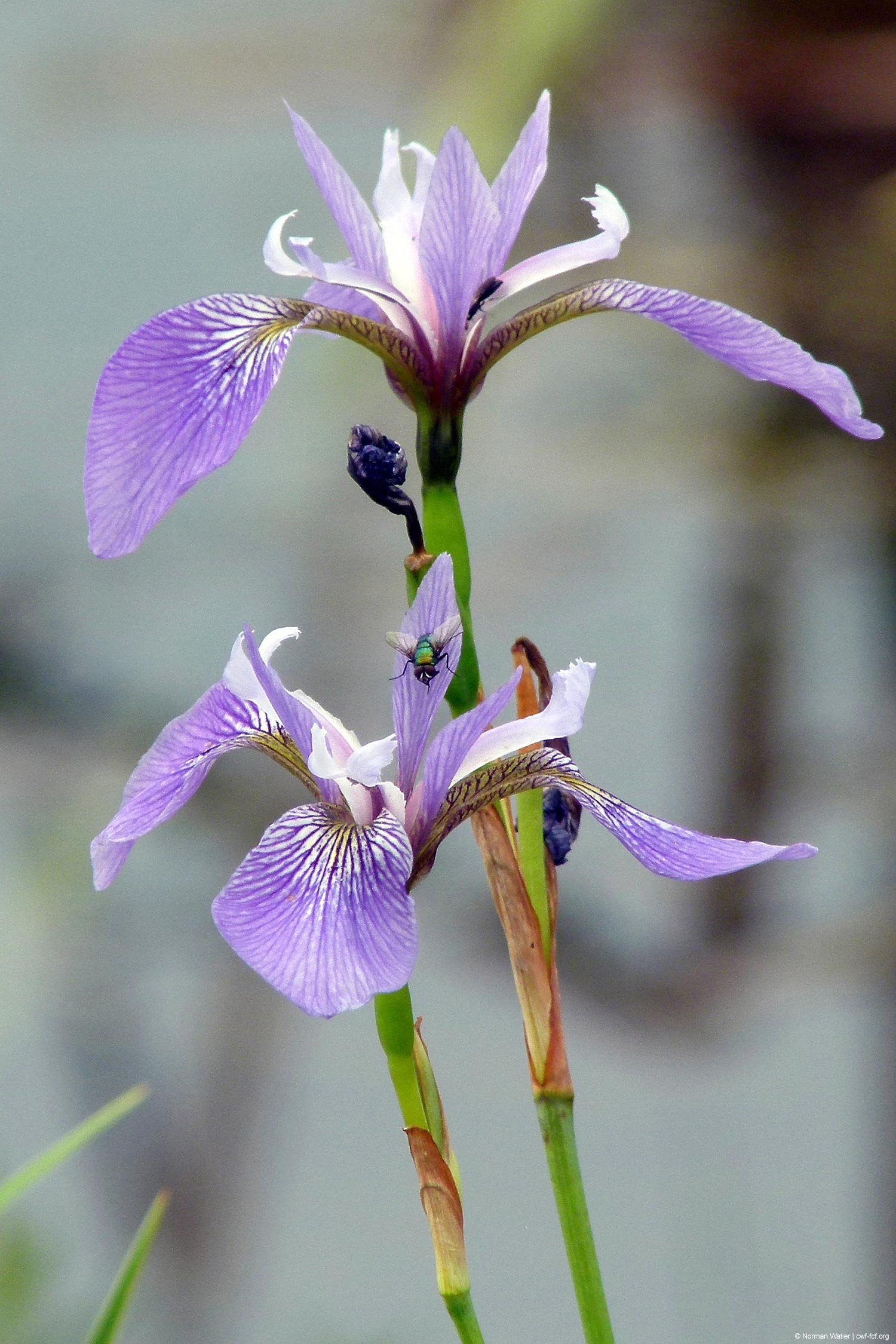 Photo: Norman Watier
Blue Flag Iris (Iris versicolor)
The Blue Flag Iris became Quebec's floral emblem in 1999. This striking native plant is found in damp places such as wet meadows and along the edge of streams and ponds from Manitoba to Nova Scotia.
It blooms in late spring and early summer with three upright purple petals and three large blue-purple sepals that have white and yellow colouring towards the center as well as dark lines, all thought to help guide pollinating bees. Hummingbirds also visit to feed on nectar.
Blue Flag Iris leaves have been used to weave baskets, mats and fun crafts while rhizomes (a horizontal, underground stem), although toxic, have been used to treat vomiting and constipation. It has also been widely used for skin conditions such as eczema and acne as it supports the liver and aids with detoxification.
New Brunswick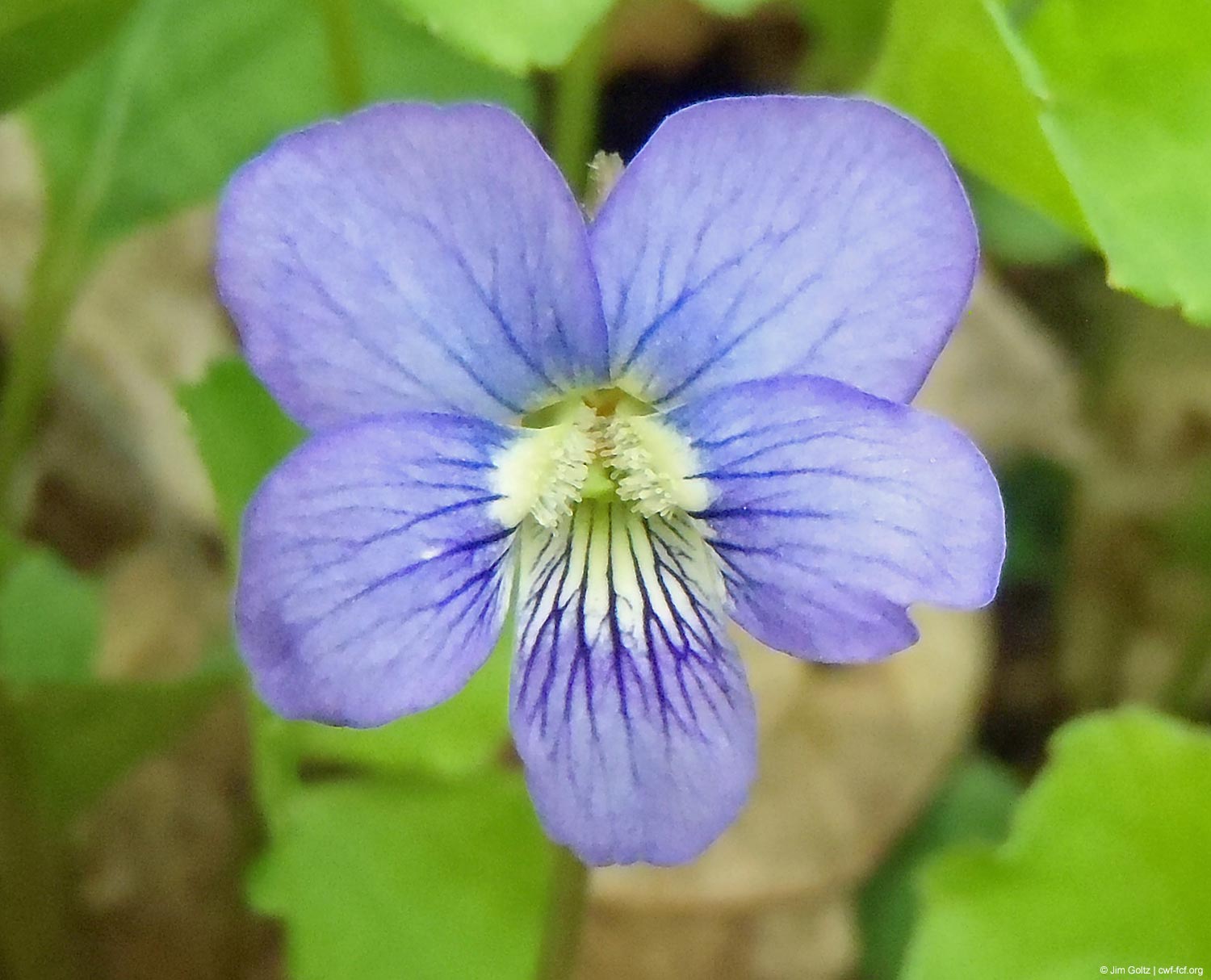 Photo: Jim Goltz
Marsh Blue Violet (Viola cucullata)
This pretty violet was adopted as New Brunswick's official flower in 1936 after involving the Women's Institute, the Lieutenant Governor and the province's schoolchildren. It is generally referred to as the Purple Violet although this was due to the fact that the people involved in the initial discussions were not botanists and used a general term associated with violets in general.
The Marsh Blue Violet is also known as the Marsh Violet, Blue Marsh Violet and Northern Bog Violet. As its name implies, this species of violet grows in damp areas such as bogs, swamps, wet meadows, damp woodlands and along streams from Manitoba eastwards to all Maritime Provinces.
The Marsh Blue Violet's heart-shaped leaves grow at the base of the plant with blue-purple flowers blooming atop their separate stalks. Violet flowers and leaves have been used as food in salads, teas and jams. René Laënnec, a doctor who specialized in chest conditions and invented the stethoscope, believed that a medicinal drink or syrup made with violet flowers helped prevent the flu.
As for wildlife, the flowers are a good food source for a variety of bees including Halictid Bees, Bumblebees and Mason Bees. Violet leaves are an important host plant for the caterpillars of Fritillary Butterflies while birds such as Ruffed Grouse and Wild Turkey are known to eat the seeds and leaves.
Nova Scotia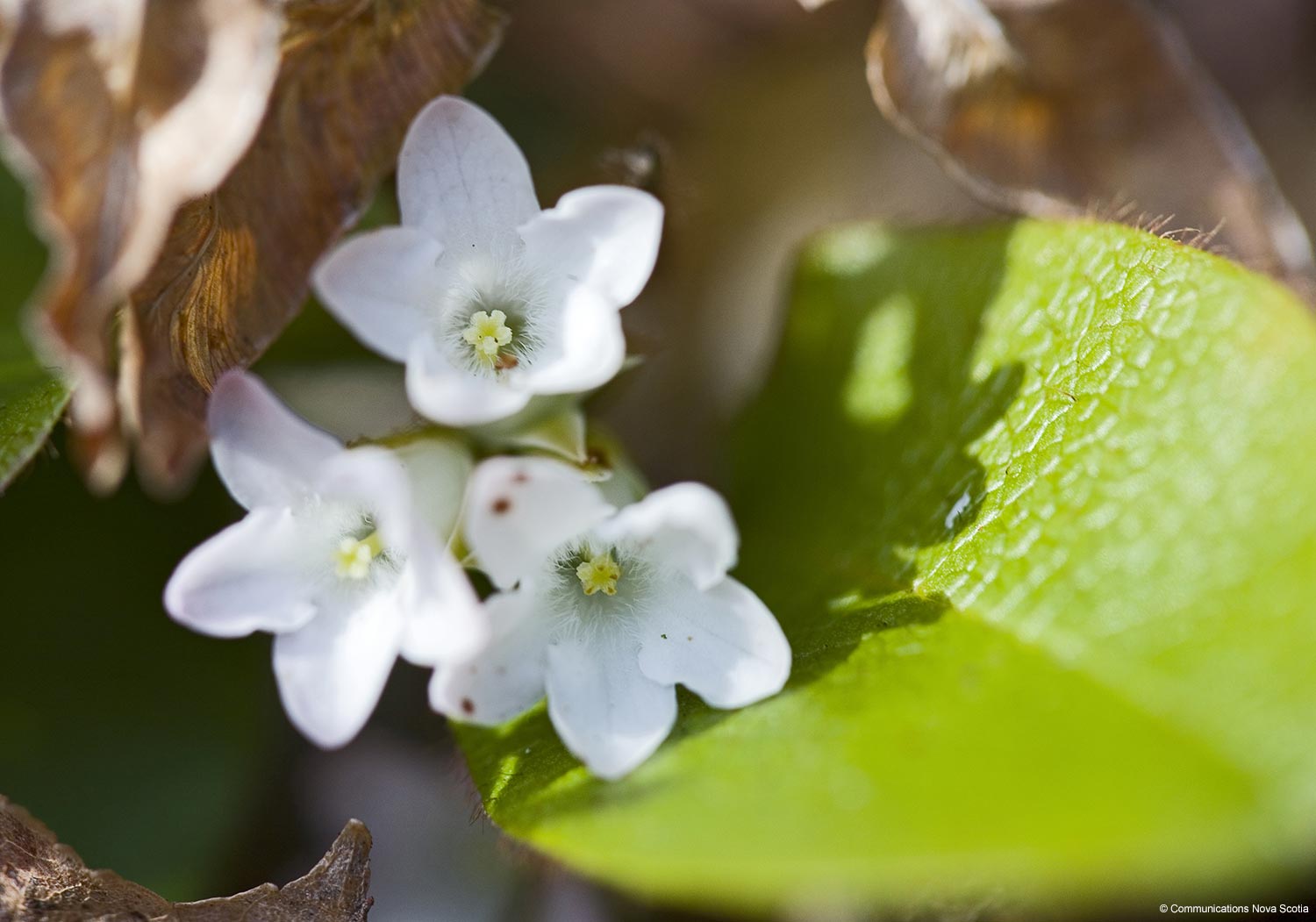 Photo: Communications Nova Scotia
Trailing Arbutus (Epigaea repens L.)
Nova Scotia officially adopted Trailing Arbutus, also called Mayflower or Ground Laurel, in 1901. This pretty spring plant is native from Manitoba through to all Maritime Provinces, typically growing in sandy or peaty forests and clearings. It is often found belong pine trees with other acid-loving plants such as Wintergreen, Starflower as well as blueberries and rhododendrons.
Trailing Arbutus is a low growing woody plant that, over time, can form an attractive ground cover. Its appeal is partly from its evergreen leaves that persist until the following summer but mainly due to the clusters of tubular white or pink flowers that are a delight to see as well as smell.
Trailing Arbutus flowers are pollinated by Bumblebees and other flying insects. Ruffed Grouse eat its buds while Spruce Grouse occasionally feed on its flowers. Seeds are eaten by both birds and small mammals such as chipmunks.
It has been used medicinally for treating bladder and urinary troubles.
Newfoundland and Labrador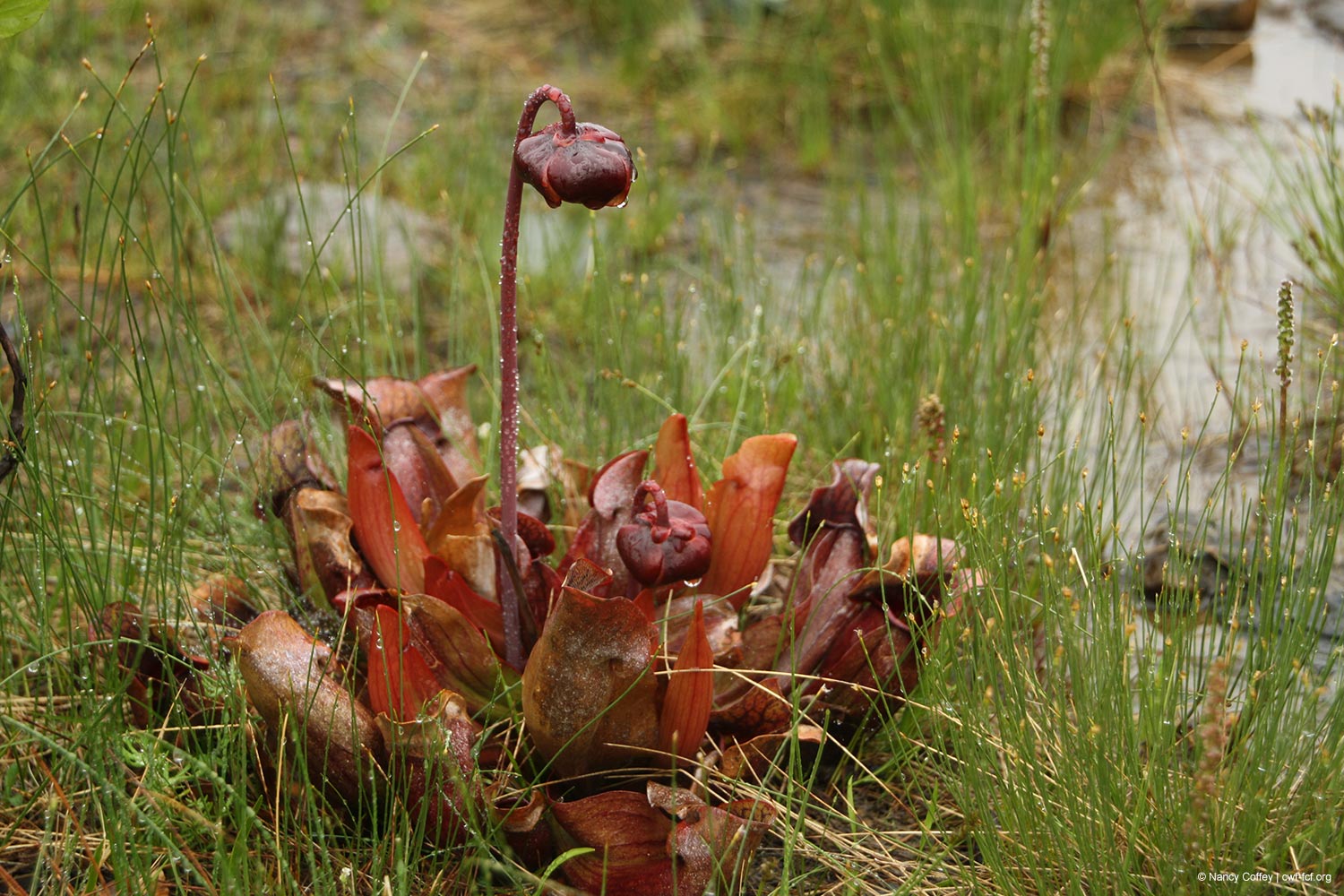 Photo: Nancy Coffey
Pitcher Plant (Sarracenia purpurea L.)
Also called Sweet Pitcher Plant, Common Pitcher Plant, Purple Pitcher Plant, Huntsman's Cup and Huntsman's Horn, this insect-eating plant was adopted as Newfoundland and Labrador's floral emblem in 1954. Before that, it was on Newfoundland's coins once this British colony became a dominion – in essence, its own country, during the reign of Queen Victoria.
The Pitcher Plant is found in sphagnum bogs, alkaline fens and boreal woodlands with a native range across much of Canada with the exception of the Yukon and Nunavut.
It has a flower stem rising about 50 cm above a cluster of pitcher shaped leaves at the base of the plant. Insects get caught in the sticky leaves with downward pointing hairs which are often full of rain water that help to drown insects and supports larvae of certain flies that help decompose trapped insects.
Aboriginals have used different parts of the Pitcher Plant for supporting childbirth and treating conditions such as smallpox, fevers and digestive problems.
Prince Edward Island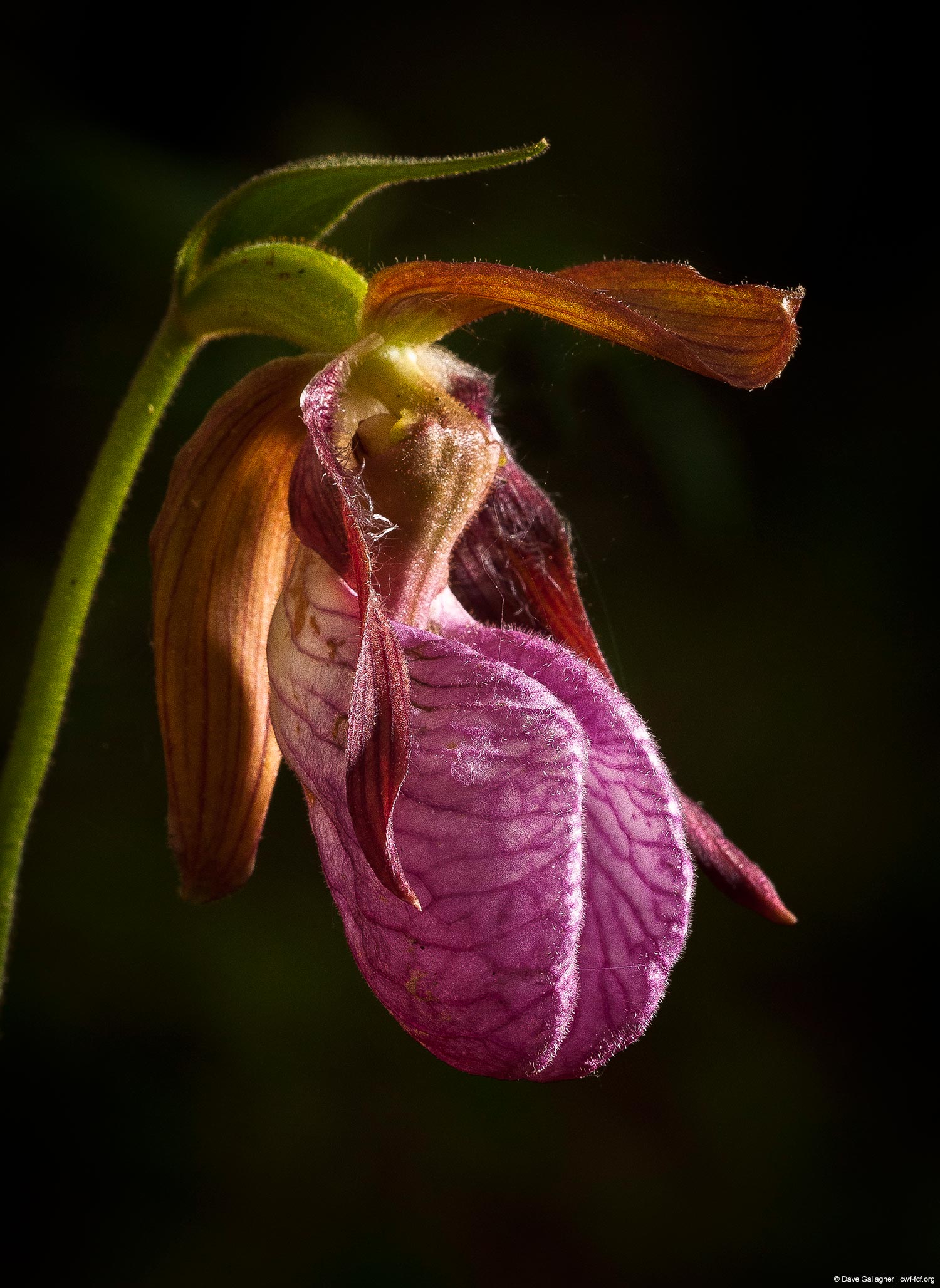 Photo: Dave Gallagher
Pink Lady's Slipper (Cypripedium acaule)
The Lady's Slipper became Prince Edward Island's floral emblem in 1947. In 1965 it was narrowed down to the Pink Lady's Slipper, also known as the Moccasin Flower. This native orchid grows in a variety of habitats including wetlands, forests of different elevations and tree species and clearings with acidic soil. Look for them in the southwestern portion of the Northwest Territories and northern Alberta down through to the Maritime Provinces.
A striking pink flower, blooming from April to July depending on its location in Canada, sits atop a flower stem rising 30 to 50 cm with two upright smooth leaves at its base. Bees pollinate this plant, enticed inside with the hope of nectar within the large pouch and then forced to follow a narrowing path to the back of the flower in order to get out. It is believed to be a clever system of pollination unique to this group. According to William Cullina's book "Wildflowers", after doing this enough times bees catch on and visit these plants less during their short lives. The result is that not all flowers are pollinated each year.
Yukon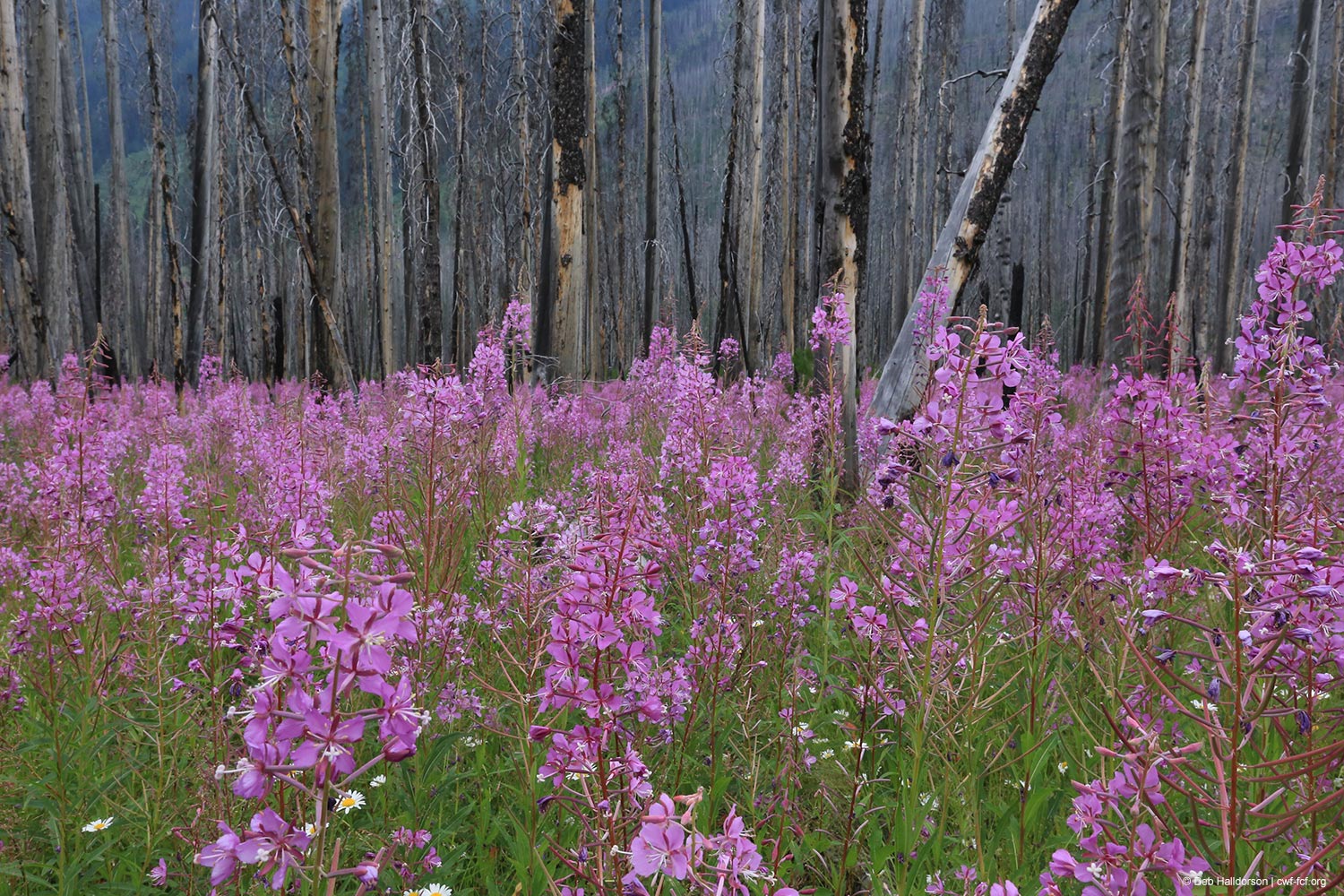 Photo: Deb Halldorson
Fireweed (Chamerion angustifolium)
Fireweed became Yukon's floral emblem in 1957 and was previously classified at Epilobium angustifolium. This hardy plant can grow to form large stands along roadsides, railways, clearings and open dry areas from mid-July to September.
Fireweed can grow from 60 to 180 cm with deep pink flowers blooming along the tops in a spike in mid-summer. As with its name, Fireweed is often the first plant to grow after a fire.
Bees and Flower Flies visit the flowers for pollen and nectar while butterflies, moths and hummingbirds enjoy the nectar. Fireweed is appealing to many Canadian mammals, too, including Bighorn Sheep, Mountain Goats, Moose, Muskrats as well as pikas, caribou and deer.
Native people around the world have used this plant in many ways. As food, they ate nutritious young shoots in the spring and pith from the inner stem and flowers in the summer. Roots were also eaten and leaves were used for tea. Medicinally, various parts of the plant have been used to treat ailments ranging from skin irritations, burns, bee stings and inflammation. Other uses include weaving fishing nets from dried stems and using the fluff from seed pods for weaving into blankets along with mountain goat hair, as tinder in starting a fire and as a bandage when combined with the sticky sap of Balsam Fir.
Northwest Territories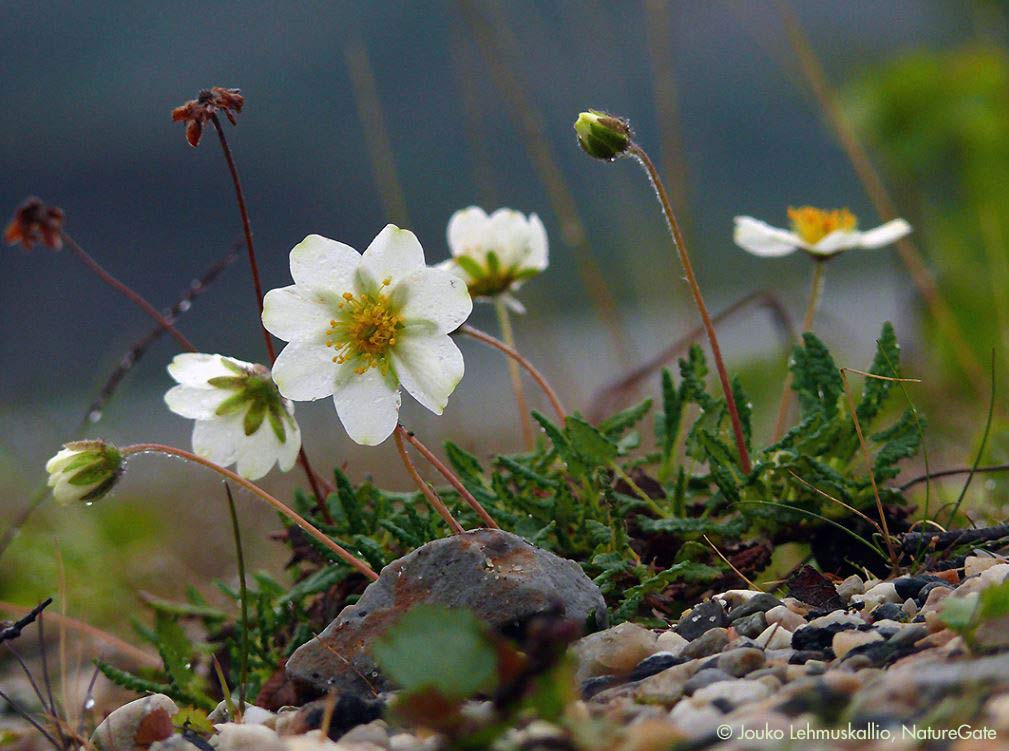 Photo: Jouko Lehmuskallio, NatureGate
Mountain Avens (Dryas octopetala)
The Northwest Territories adopted the Mountain Avens, also known as White Dryad and Eight-petal Mountain Avens, as their floral emblem in 1957. This hardy northern plant is circumpolar, growing along gravelly mountain slopes, alpine meadows and Arctic tundra. It is found in all three of Canada's territories and the northern and mountainous regions of British Columbia and Alberta. It is also known to grow in the limestone barrens of Newfoundland and Labrador.
Mountain Avens is a dwarf shrub that slowly spreads to form an evergreen carpet along the ground which makes it a useful plant in stabilizing slopes. It's narrow leathery leaves hug the ground and often keep their leaves until the following year, giving them the advantage of making food once the snow melts. Fuzzy flower stalks rise above soon after the snow has melted, each bearing a single creamy white flower with eight petals around a yellow center of stamens. It blooms from June to August. Seeds have a long feathery element that helps to catch the wind and disperse seeds.
Pikas use this plant for food as do insects who pollinate the flowers. The Alberta Fritillary, a butterfly found only in certain parts of the Rocky Mountains, is reported to lay its eggs on this species of Mountain Avens.
Nunavut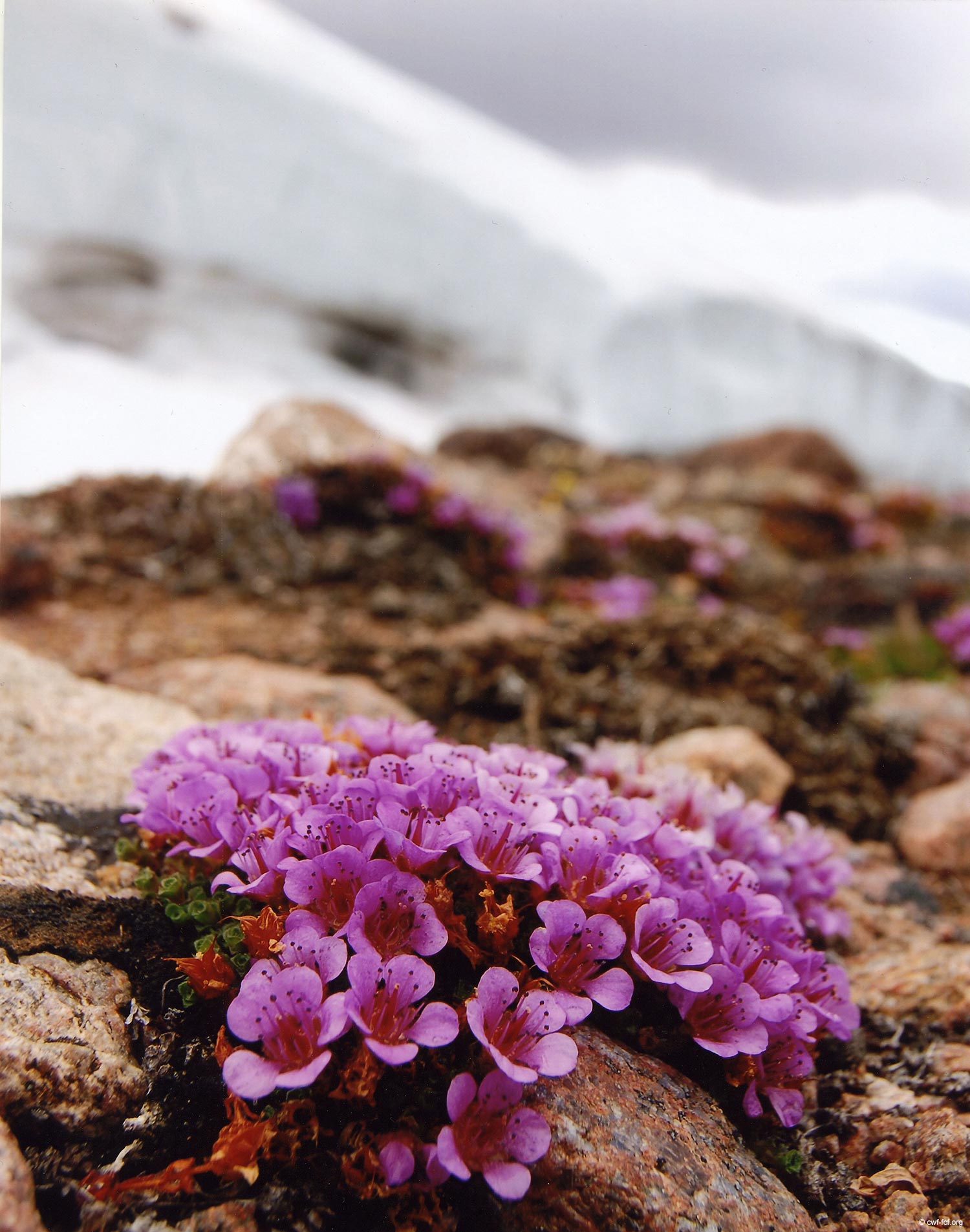 Photo: CWF Photo Club
Purple Saxifrage (Saxifraga oppositifolia)
The purple saxifrage became the floral emblem of Nunavut in 2000. It is a widespread Arctic and alpine plant, found in the Yukon, Northwest Territories and Nunavut, the alpine reaches of British Columbia and Alberta and the northern areas of Quebec and Newfoundland and Labrador and portions of Nova Scotia. The very northern tips of Manitoba and Ontario are also said to be home to Purple Saxifrage.
As the name indicates, Purple Saxifrage bears purple flowers although they can also have a magenta hue as well as pale pink. The flowers are one of the first Arctic bloomers, arising above a rounded mat of small green scale-like leaves.
Arctic Hares and Peary Caribou eat this plant while insects feed from the flowers, pollinating it in the process.
Inuit have used stems and leaves for tea and fresh flowers as food especially in areas where berries of other plants are not available.