July 12, 2017
By April Overall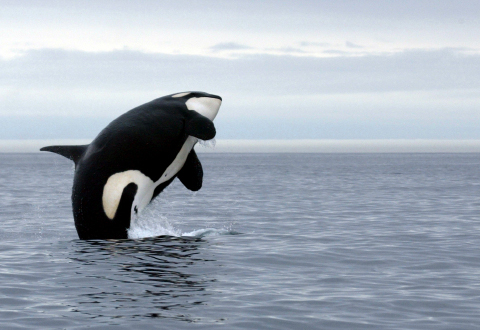 If you haven't already fallen in love with these giant marine mammals, you're about to
Whales are remarkable marine mammals. They've got heart, talent, intelligence and so much more. Dive in to discover their most admirable qualities.


They can sing! Male Humpbacks serenade females with songs that can last for hours. In fact, one composition can last more than 10 minutes! Researchers believe the volume, length and intricacy of its songs can indicate the male's fitness. The louder, longer and more complicated the song, the more likely a female will be to pay attention.


They love their moms. Male Killer Whales have been characterized as "mommy's boys" who struggle to survive without their mothers' help. A male Killer Whale's chance of death increases 14-fold in the year following its mother's passing. This increased need for mothers to care for their adult sons provides a strong explanation for why female Killer Whales experience such a long menopausal lifespan.


They're talented hunters. When Belugas dive to great depths to catch their lunch, they're swimming in waters that are entirely dark. They rely on echolocation to find and nab their prey.


They're long lived. In the wild, whales can live long and happy lives – some of them even reach their centennial birthday! Female Right Whales can live up to 50 years; sadly males only live until their 30th birthday. Belugas have an easier go reaching over 75 years. Similarly, Blue Whales can live between 80 and 90 years. But the longest lived of the bunch is certainly the Bowhead Whale. Research shows these marine mammals can live between 100 and 200 years. Those are some impressive genes!


They love family. Killer Whales have a very closely knit family. Young Killer Whales will often stay close to their parents until the parents die. As a result, these pods can be made up of up to 40 individuals. That said, sometimes Killer Whales will join their pod with another group and form a new pod of over 100 individuals.


They're resilient. Not only do Bowhead Whales boast blubber up to 45 centimetres thick (aiding them to thrive in the Arctic), they're also able to break through ice with their bodies to create breathing holes. Pretty tough stuff, if you ask me.


They're magical (kinda). In the Middle Ages, Narwhal tusks were regularly sold as unicorn horns. People purchased these horns to cure any and all illnesses. Sadly, "magic" wasn't up to snuff when the Black Death hit.


They're chatty. Whales seem like particularly friendly creatures. They live in pods and chat amongst themselves regularly with squeaky noises, clicks, squawks, whistles and more. And each pod has their own dialect that helps distinguish whales in their pod from whales of another pod.


They're team players. Killer Whales work in tandem to hunt larger prey. Remarkably, Killer Whales work silently in pods of up to 40 individuals, in order to hear larger prey like whales and sharks. It is only after they've gone in for the kill that they begin to vocalize with one another.


They're good mothers. How would you like to be pregnant for 14 months? That's precisely what Narwhals have to endure when they're expecting. Once their bundle of joy has arrived, they nurse their calves for another 20 months. Killer Whales don't have it any easier. They have a 17 month gestation period. Luckily they only calve once every five years — giving them a well-deserved break between pregnancies.