From rubber duckies to disposable razors, everything we toss in the trash has a gravesite. If it doesn't end up in a landfill, most inevitably finds its way to the ocean. Though some plastic pollution threatens to entangle wildlife. And as the plastic breaks down into smaller and smaller bits, it often ends up in the bellies of wildlife.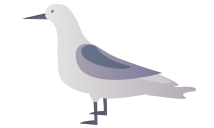 Seabirds
Albatrosses living on the isolated island of Kure Atoll in the Pacific Ocean (close to the Pacific garbage patch) have been found to gobble down five tonnes of plastic a year. Every year, 500,000 albatross chicks are born, and every year approximately 200,000 die. While plastic isn't the only culprit that's led these birds to their untimely death, the chicks are certainly gobbling down an astounding amount of the substance. Researchers believe that one major source comes from the birds eating garbage that is attached to flying fish eggs (one of their dietary mainstays). The plastic can fill their stomachs, leaving no more room for food, puncture and obstruct their intestinal tracts and may also emit toxins. Researchers at the University of Hawaii studied the pellets regurgitated by the chicks living in Kure Atoll and found 10 times more plastic than those of chicks living closer to the city of Oahu. However, researchers argue that so long as they are regurgitating the plastic, they have a fighting chance. The chicks that fail to regurgitate the plastic are more likely to be in danger.
Marine Mammals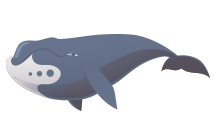 According to the U.S. National Oceanic and Atmospheric Association, nearly 100,000 marine mammals have trash-related deaths each year.
Baleen whales like the North Atlantic Right Whale feed by opening their mouths wide on the surface of the water - catching copepods and other invertebrates in their midst and filtering sea water out. Unfortunately, there's nothing stopping microplastics from entering the whales' systems.
Steller Sea Lion populations have declined by 80 per cent over the past three decades leading to their classification as a species of Special Concern in Canada. One of the enormous threats to these mammals? Entanglement. And most incidents of entanglement can be attributed to debris – particularly plastic packing bands and to a lesser degree rubber bands from crabbing gear. Our friends at the Vancouver Aquarium Marine Science Centre are currently addressing the threats that entanglement poses for Steller Sea Lions. Learn more about this CWF funded study here.
As UV rays beam down onto plastic litter in the ocean, the chemical compounds can leach into the water. These chemicals are among the contaminants that appear to be affecting the St. Lawrence estuary population of Beluga Whales. The whales are listed as Endangered by the Committee on the Status of Endangered Wildlife in Canada (COSEWIC). It's unknown why these populations haven't recovered; however, what is known is that these Belugas have the highest rates of cancer and also carry one of the largest amounts of contaminants of any mammals. Our friends at St. Mary's University suspect that chemical contaminants are leading to this cancer, as well as the mortality and reproductive issues facing this marine mammal. Learn more about this CWF funded study here.
Sea Turtles
In Atlantic Canadian waters, Leatherback Sea Turtles usually feed on Lion's Mane Jellyfish and on Moon Jellyfish. However, Leatherbacks are indiscriminate feeders, which means they'll feed on anything that resembles jellyfish. This may be why Leatherbacks swallow marine debris such as plastic bags and deflated balloons. The plastic can block their gut causing them to starve, or it can prevent them from properly absorbing the nutrients in their diet.
Zooplankton, Mussles and Oysters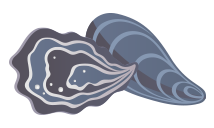 Even the tiniest creatures are being affected by plastics. When microplastics enter the water, microscopic animals like zooplankton mistake them for food and ingest them. Since plankton are the prey of choice of a variety of species like mussles and oysters, and predatory fish like salmon and herring, researchers are concerned that they will be passed up the food chain and do damage along the way.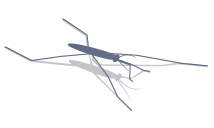 Insects
Some creatures have learned to adapt to the growing amount of plastic entering the oceans. Water striders, for instance, are laying more eggs than ever before and using the small plastic pieces floating around in the North Pacific gyre. For example, they're using these plastic particles as a floating base to protect themselves from predators.
Fish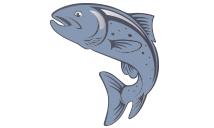 Plastics are having a negative impact on both marine and freshwater species, including fish.
Researchers have found synthetic polymer fibres and plastic pellets in the digestive tracts of fish in Lake Erie. When they absorb the microplastics and swallow the plastic particles, the contaminants that leach from them lead to liver damage.
Researchers at the Institute of Environmental Science at Carleton University have studied the soft plastic fishing lures frequently used for fishing. They monitored the decomposition of a variety of soft plastic lures over two years, including some described as 'biodegradable.' Lures generally increased in length and weight, with those stored in warm water more than doubling in weight. Imagine what damage that could do to a fish that has swallowed one of these lures. A summer survey conducted on Charleston Lake found that 17.9 per cent of the anglers interviewed had discovered at least one ingested lure while cleaning Lake Trout.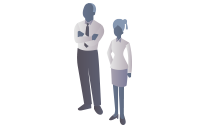 Humans
We simply don't know at this point how plastics affect humans. When we eat wildlife that has ingested plastic – does that pass on to us?
Who knows? But….what if?