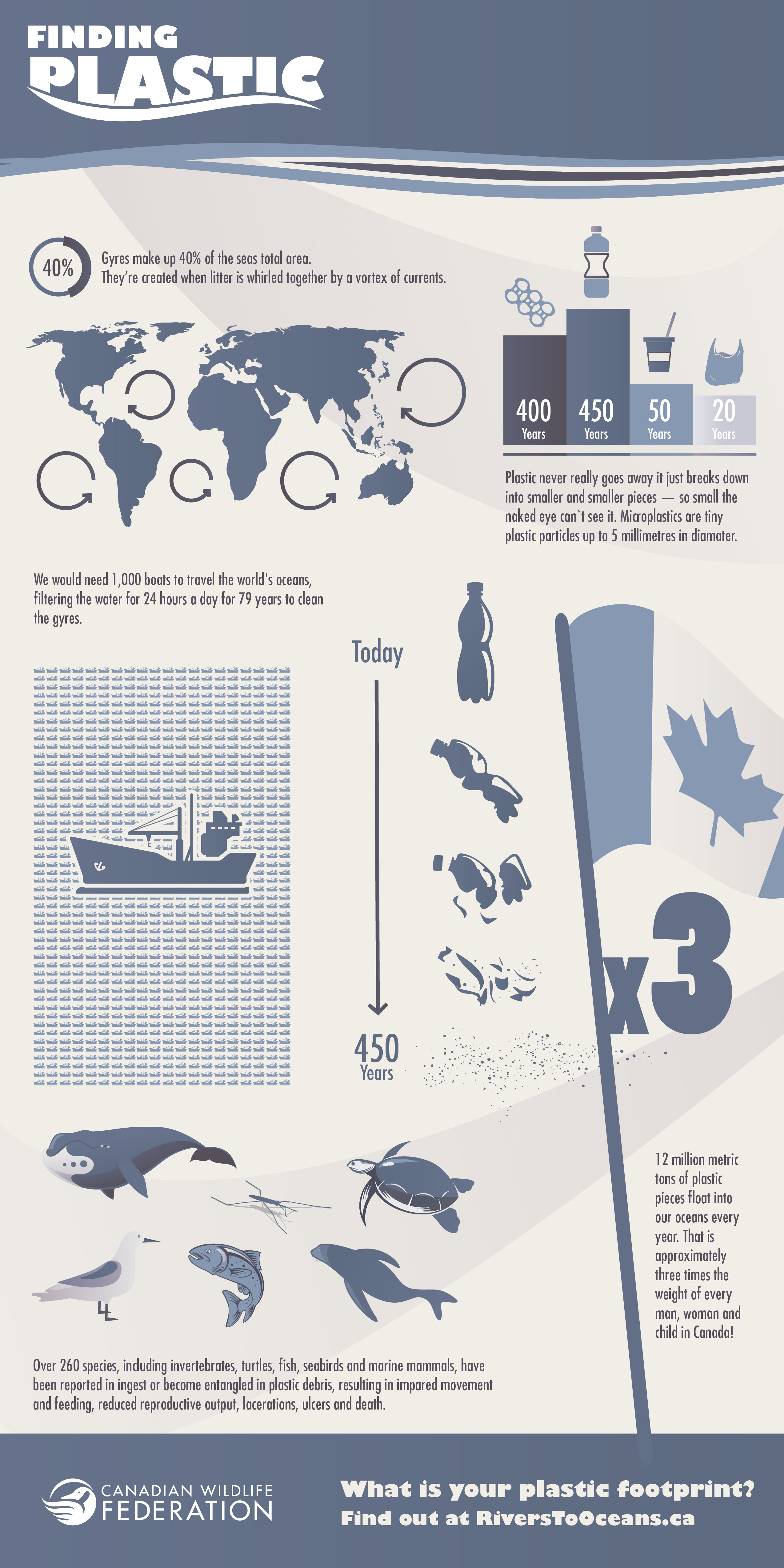 A History of Plastic
Plastic. The material of a thousand uses. Soon after its inception in 1907, by chemist Leo Baekeland, plastic did indeed own up to its claims. By 1950, 1.7 million metric tons of plastic was being churned out by the manufacturing industry to make everything from food packaging to office equipment. And its use has only skyrocketed as the years have passed; in 2013, plastic production rose to 299 million metric tons. Unfortunately we don't repurpose nearly as much as we should – most of it ends up in landfills and the rest lands in our rivers, lakes and oceans.
What Happens When Plastic Ends Up in Our Water?
Nearly 80 per cent of marine litter is ushered into the sea via wind and runoff — litter from our roadways make its way to our streams and rivers and eventually gets dumped into our oceans. While much of the debris found in our oceans include items such as bottles, fishing nets and glass – a whopping 60 to 80 per cent is estimated to be petroleum-based plastic. When all those bottle caps, cling wrap pieces and shampoo bottles make their way into our waterways, they pollute the habitat of thousands of species.

What is Microplastic?
When larger plastic litter breaks down in the water it becomes smaller and smaller and eventually become so tiny that is can be mistaken for sediment. These tiny pieces are called microplastics.
Microplastics can be defined as tiny plastic particles up to five millimetres in diameter. As stated above, many of the microplastics in our waterways come from plastic litter that has simply broken down into smaller bits. However, there are other sources of microplastics.
Synthetic Fibres
Did you know your wardrobe is probably a leading source of microplastics? Much of the clothing manufactured in this day and age is made of synthetic materials. Every time you put your polyester pants, nylon stockings or rayon blouses into the washing machine, approximately 2,000 fibres end up in the wastewater. These miniscule fibres often evade even the most diligent waste treatment facilities and end up in our waterways where small organisms can consume them.
The worst offender? Fleece. One fleece sweater can emit up to 400 fibres per wash!
Industry-created Plastic Pellets
Factories around the world often use plastic pellets or powder to make packaging, bags, plastic bottles and also caps. These microplastics can unfortunately be accidentally spilled into the ocean as they are shipped from one port to the next. Train derailments or rail car tip-overs also spill microplastics as these can run off the ground and into local waterways.
Microbeads
Many personal care products contain microbeads - plastic particles that are so small they are described in micrometres (that's a thousandth of a millimetre!). You'd be surprised at the sheer number of products packed with microbeads - your body scrub, exfoliating cleanser, toothpaste and microdermabrasion kit might all be culprits. Besides the fact that when you really think about it - cleansing your face or brushing your teeth with plastic is disturbing, these tiny plastic particles have the potential to cause damage to our watery ecosystems. They may not get filtered out during sewage treatment and so they end up being released directly into our oceans, lakes and rivers.
Thankfully our federal government is acting fast. They're working to add microbeads to Canada's List of toxic substances and are now regulating microbeads in personal cosmetic products under the Canadian Environmental Protection Act.