Time is running out! It is almost too late.
Canadian marine species face a current and growing danger of being lethally struck by ships. Time is running out for them and removing the risks that threaten their lives is imperative.
We ask that you sign this petition to support the CWF Marine Action Plan to ensure safer waterways for whales and all marine species.
Sign the Petition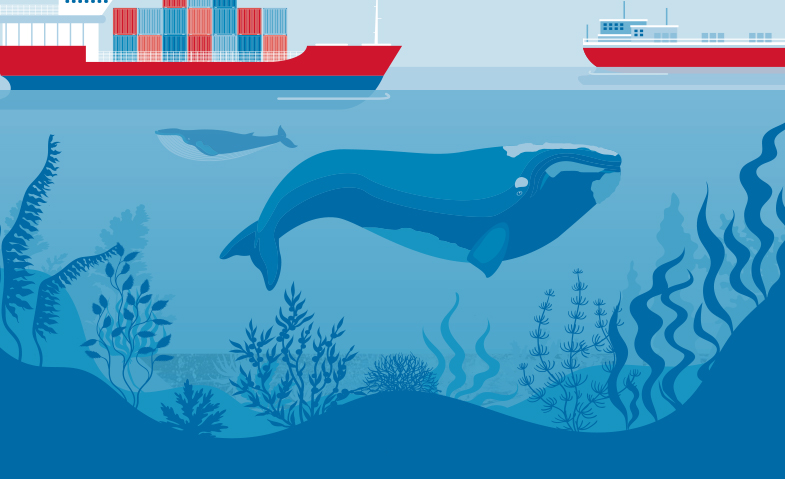 Marine Action Plan 2020 Petition
Marine Species
Need Your Voice!
Dear Ministers of Transport Canada and Fisheries and Oceans Canada,
I support the Canadian Wildlife Federation's Marine Action Plan that includes a call to: "Commit to further actions on all three coasts to significantly reduce incidental mortality of whales due to collisions with shipping vessels. This should include further refining of speed restrictions based on the latest science, developing alert systems to notify ships of whales in real time, and working with the shipping industry to develop seasonal changes to shipping lanes to avoid whales." With this comprehensive approach, Canada will be a leader in safe ocean practices. It's critical to the survival of our marine species and their habitats.
"In the last three years we have observed 22 Right Whales' deaths in Canada. The Right Whale is unique to whales as it floats after it dies, making it easier for researchers to find. In a way, the Right Whale is the canary in the coal mine! What is the impact to the many other marine species in our oceans from the threats of ship strikes and entanglements? For North Atlantic Right Whales, they will go extinct if we do not change our activity to help them now." ~Sean Brillant, CWF Senior Conservation Biologist, Marine Programs
Did You Know?
42%
Approximate percentage of Canada's marine species that are in danger of extinction.

8
Only 10 North Atlantic Right Whale calves were born this year. Sadly, two of them have already died due to vessel strikes.

150,000
The number of signatures we need to present to the Canadian government in order to advocate for change.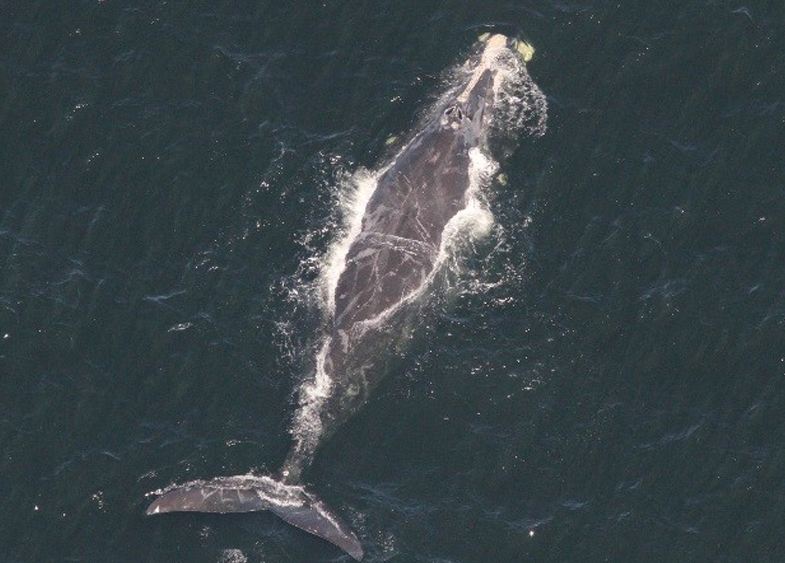 More Needs to Be Done
Despite significant efforts by the Government of Canada to reduce the injury and death of whales due to collisions with commercial ships and other vessels, whales continue to be killed in Canadian waters. Speed restrictions and shipping lanes established in the Gulf of St. Lawrence, for example, have helped, but are not enough.
Needed Actions
Canada needs to commit to further actions on all three coasts to significantly reduce incidental mortality of whales due to shipping. This should include:
Further refining of speed restrictions based on the latest science
Developing alert systems to notify ships of whales in real time
Working with the shipping industry to develop seasonal changes to shipping lanes that avoid whales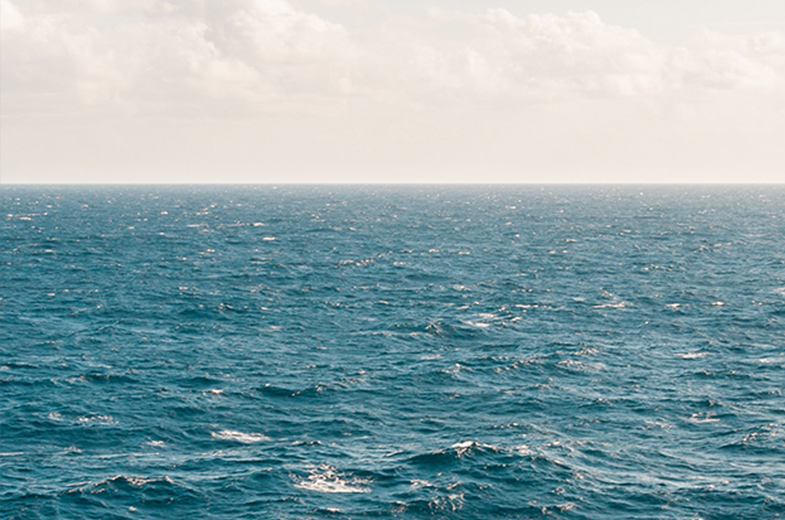 Get to Know Marine Species in Canadian Waters
Canadian waters are home to many whales, with more than 30 species inhabiting the country's waters. Unfortunately, almost every species (even down to subspecies) are threatened or endangered.
Let us walk you through the recent history of a few species who have been greatly affected by humans in Canadian oceans.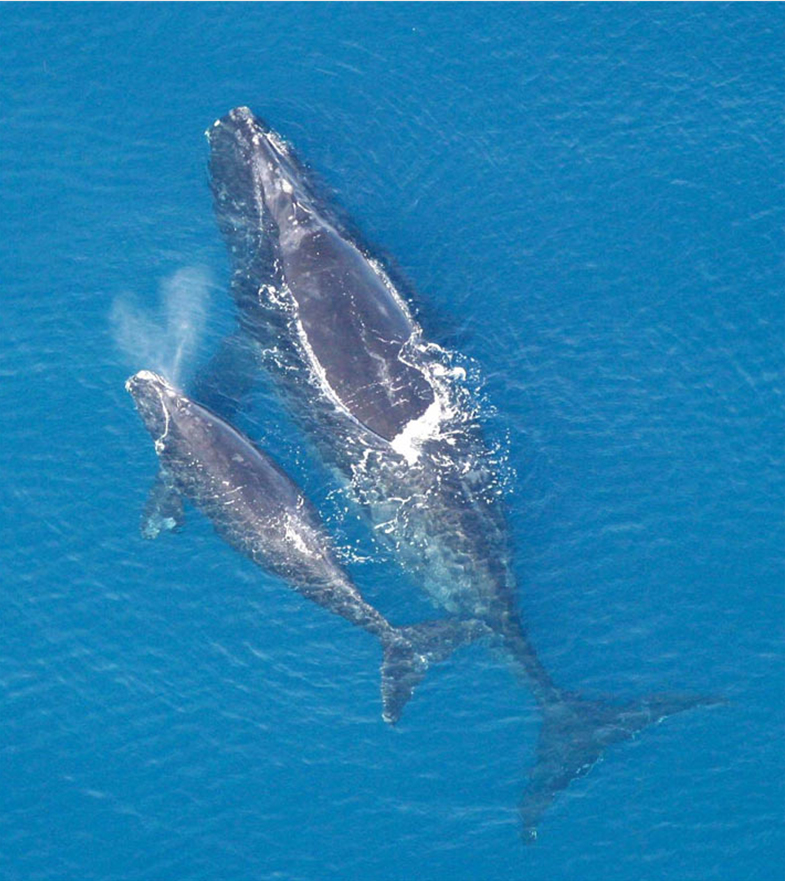 North Atlantic Right Whales
The North Atlantic Right Whale (Eubalæna glacialis) is one of the rarest of the large whales. It can weigh up to 63,500 kilograms and measure up to 16 metres.
The Right Whale has a bit of an unusual name. It is thought to have been named by whalers as the "right" whale to hunt due to its convenient tendencies to swim close to shore and float when dead. Its name in French is more straightforward; baleine noire, the black whale.
For a variety of reasons, including its rarity, scientists know very little about this rather large animal. For example, there is little data on the longevity of Right Whales, but photo identification on living whales and the analysis of ear bones and eyes on dead individuals can be used to estimate age. It is believed that they live at least 70 years, maybe even over 100 years, since closely related species can live as long.
Learn about the North Atlantic Right Whale's more recent tragic history.
Learn More
B.C.'s Humpback and Fin Whale Populations
With its black back and white belly, deeply grooved throat, long pectoral flippers, and huge fluke, the Humpback Whale is easy to identify. Small bumps are found on the whale's head and neck, and the front edge of their flippers. Adults are typically 13 metres and 14 meters long for males and females respectively, and can weigh between 34,000 and 45,000 kilograms. Humpbacks travel in loose groups (called pods) and may form distinct populations.
These giants of the deep are slow swimmers, making them easy targets for whalers in the first half of the 20th century, when they were killed by the thousands for their blubber.
Populations of Humpback Whale (Megaptera novaeangliae) in these waters are listed as being of Special Concern while Fin Whale (Balaenoptera physalus) populations are Threatened.
B.C.'s southern coast is a very busy segment of the seas. Annually, more than 10,000 vessels of all types, traveling at high speeds (over 12 knots), transit Juan de Fuca Strait, en route to several large ports (Vancouver, Seattle and Tacoma). This area is also home to an abundance of whales. Humpback numbers in coastal B.C. in 2006 were estimated at 2,145 individuals with an estimated growth rate of about four per cent per year. For Fin Whales, the second largest mammal extant (only the Blue Whale is larger), anecdotal evidence points to approximately 2,500 individuals and has experienced similar population growth, albeit at a somewhat slower rate. Naturally, greater abundance leads to greater likelihood of collisions, particularly as shipping rates continue to grow. Unpublished DFO data reports that during 2004 to 2011, 20 Humpback Whales and one Fin Whale were reported struck by vessels in B.C. Humpbacks on average suffered an injury or death every nine months and were the species most frequently revealing wounds and scars resulting from vessel collisions.
Unlike Right Whales which, it is noted above, float at the surface after death, these two species do not. Without the ability to recover carcasses and with the paucity of eye-witness reports, strike rates from this area significantly underestimate the true impact of vessel collisions on whale populations. The information that is available skews to reports from near-shore areas or involving smaller vessels (not the larger, ocean-going cargo ships or tankers whose crews may not even be aware a collision has occurred). So it is that strikes involving Blue Whales and Fin Whales are seldom if ever reported. Further, as researchers have noted, photographs of B.C. Fin Whales rarely show scars from ship strikes; this is not good news and rather, it is attributable to the fact that most whales do not survive being struck.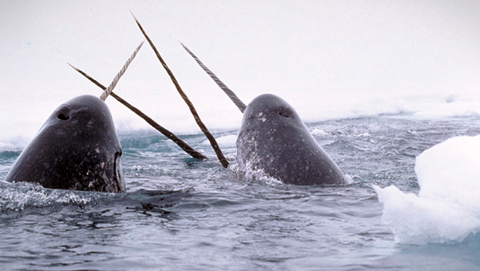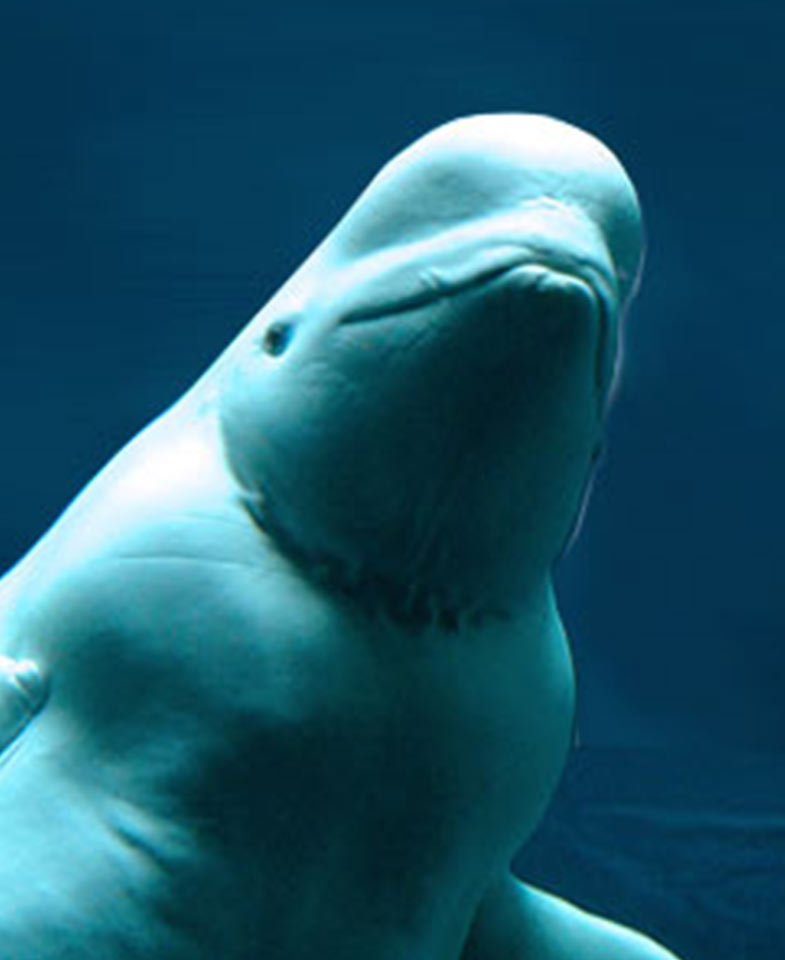 The Arctic's Whales
In 2018, a special report of the Intergovernmental Panel on Climate Change (IPCC) reported that the Arctic is changing more rapidly than other regions of the planet. Over the past 40 years, sea-ice loss equals 14 per cent per decade. The rate is accelerating. Some predictions suggest it is only a matter of a few decades before we will see totally ice-free summers in Arctic waters.
The significance of this loss cannot be overstated: global climate patterns are affected; water levels are rising; oceans warming. Fundamental and permanent changes to land and sea are disturbing and destroying essential wildlife habitat, disrupting an intricate and fragile food chain, and enabling humans to extend our reach even further north with shipping and resource extraction activity in formerly inaccessible areas. Whales in Canada's arctic are at great risk because of these changes. While there are as many as 15 different species of cetaceans (dolphins, porpoises and whales) that can be spotted seasonally, three reside year-round in Canadian Arctic waters: Bowhead (Balaena mysticetus) inhabit Baffin Bay, the Arctic Archipelago, and the Beaufort Sea; Beluga (Delphinapterus leucas) thrive throughout the circumpolar waters and are populous in both in eastern and western Canadian Arctic; and 90 per cent of the world's population of Narwhal (Monodon monoceros), are located in eastern Canadian waters near Baffin Island. Each of these species have their distinct summer and winter migration patterns that take them to different parts of the massive Arctic Archipelago over the course of the year.
With the increasing disappearance of sea ice, it is not a risk so much as a certainty that ship collisions and whale fatalities will increase in these areas. Corridors established for traffic pass through environmentally sensitive areas that encompass key feeding and gathering grounds for whales. And maritime traffic continues to grow. The year 2018 saw more than 100 bulk carrier voyages pass through the Northwest Passage; 14 years earlier it was considered impassable for commercial shipping. And 14 years from now, traffic will have grown by orders of magnitude. What's more freighters represent a little less than half of total traffic, with fisheries and tourism accounting for the rest.
The Canadian government is actively working to address many complex issues, and has created national maritime preserves and is working to establish rules and limits on international maritime traffic. While a lot of important work has been done, much remains. This includes more and deeper research and study of these whale populations and their complex and poorly understood behaviours, patterns and locations. There is work too understanding how the many stressors that ships introduce (such as damaging underwater noise, chemical pollution, non-fatal collisions) may compound the systemic and biological stressors already affecting these whales as a result of global warming. And there is work to be done learning how to properly track, manage, mitigate and ultimately reduce as much as is humanly possible the inevitable interactions between whales and humans.
How Else Can I Support Canada's Marine Species?

Share This Petition!
One of the largest barriers we and our at-risk marine species face is lack of public awareness. Please share this information with your family and friends so they too can help redirect the fate of these species.



Become a Part of The Watch
Join hundreds of coastal Canadians who live alongside some of our most endangered species — animals that face many dangers in our coastal oceans. Most marine animals in need of help are reported by members of the public, which is why we need you. Learn what to do if you come across a marine animal emergency by becoming a part of The Watch.
Join The Watch >

Donate
Your contribution will make an incredible difference and will help us push forward with our plan. Together we can build a future that will eliminate threats to our amazing marine species and support research to make Canada's oceans safe for marine wildlife.
Donate Now >