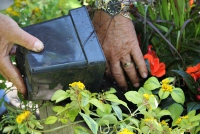 Gardening in small spaces can be challenging but the reward is well worth the effort for the touch of nature that it can bring to your doorstep. A little forethought combined with suitable plant choices can reward you with a beautiful oasis of greenery and flowers as well as a stream of wildlife visitors to complete your own private touch of wilderness.
The habitat you create can entice butterflies and other pollinators to take advantage of flowering plants that provide them with much-needed nectar and pollen. Birds will feed on insects attracted to these same plants and some, such as robins and house finches, have even been known to nest in potted plants high up on apartment balconies.
There are a few tricks to creating habitat value in a small space. The first is to think in three dimensional terms. Don't be confined by the square footage of your balcony or small garden. Think vertical. The addition of fast-growing vines to take advantage of a barren wall or fence can add valuable shelter and nectar or berries for wildlife. Vines can also add privacy or help to camouflage ugly features you would rather not look at.
Another trick to effective habitat creation in a limited area is to consider your property as an extension of neighbouring habitat. I know of a tiny townhouse garden that regularly attracts the extraordinary pileated woodpecker. On its own, this garden would not be enough to support these colossal birds. But the garden was created to mirror some of the habitat elements of a neighbouring ravine. A single tree combined with a small cedar hedge and a carpet of ferns and other native plants allows the pileated woodpeckers to see it as an extension of their woodland habitat. So look to your surrounding areas. A nearby meadow could spill over into your garden with the addition of a variety of colourful perennials. A woodland could be extended with a potted shrub or small tree. You stand a better chance of attracting those wildlife species that are already in the area by reflecting aspects of the habitat they are currently using.
Diversity is another important element. Try to add the maximum variety that your space allows. By including a variety of plants you will meet the habitat needs of the greatest number of different wildlife species. Think also of the seasons. Most wildlife are active through more than one season. Evergreens are always a great addition, even if potted, because they provide valuable winter shelter and early spring nesting spots.
A lack of traditional garden with its beds of soil does not mean you can't welcome wildlife to your property. A balcony or patio can be transformed through the use of containers.
Specific Balcony Issues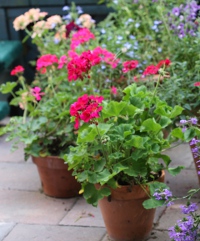 Determining if the balcony can withstand the weight of containers, soil, and water is the most important factor. Check with the building manager for restrictions and weight limits before adding a large or many small containers.
Gardening on a high-rise balcony offers the added challenge of strong winds. See if you can put up a screen to lessen the wind or consider keeping a wind resistant plant such as a small evergreen. Again, check with your building manager should you need to put in hooks or other hardware.
Excessive shade is another issue, caused by the direction your balcony faces and/or neighbouring buildings that can cast impenetrable shade. The light and temperature conditions on a balcony are dependent on the direction it is facing and on the height and proximity of the surrounding buildings. South-east and south-west locations are the best. The east-facing will have the softer sunlight of the morning, while the west-facing will have afternoon and evening sun as well as a greater exposure to incoming storms and rain. A south-facing balcony will provide the best sunlight (along with excessive heat) while a north-facing balcony will always be in the shade. Consult with your local nursery to find out what plants might be suitable for your conditions. Our Native Plant Supplier list is a good start.
Another factor one may need to deal with is where to put the plants in the winter when it would be too cold for plant roots to survive in a small pot. Some people bring their plants indoors, providing their window continue to offer sufficient lighting. Another option is to have a friend bury the pot in their garden - perhaps in their emptied out vegetable bed.