Never Mow Your Lawn Again!
Move over grass, there's a new gardening trend in town. More and more people are opting to transform their backyards into beneficial meadows.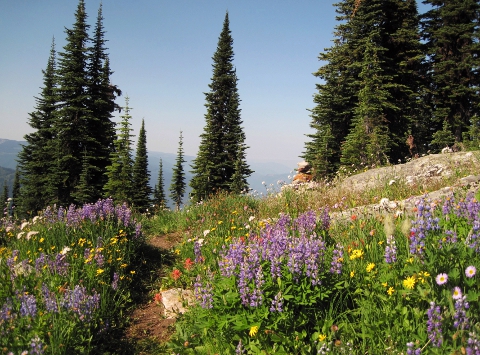 Getting Started
Choose an area of your property that could serve as a transition zone between wild and conventional areas, or simply replace part of your lawn. It should be in a sunny location; best is an open area or a site with good air circulation. Consider what was planted in that area before. If it was once full of weeds, you may want to reconsider the location or prepare yourself for extra care in weed removal. A dry site will typically have fewer weeds.
If all you have is a small sunny corner in your yard or garden, don't shy away from the idea of a meadow or prairie. Simply down-size. Planting even a few clumps of meadow flowers and prairie grasses will benefit wildlife. Try interspersing the plants with one or two perennials per square foot. If you put in several per square foot, your garden won't appear as sparse initially; however, you may eventually have to thin out your plantings. Have fun with your limited space; place the plants where you like them best. Although you may have limited space, you do not have to be limited in the diversity of your plantings. Use as many different plant species as you can to maximize the different types of creatures visiting your yard.
For a smaller meadow or prairie garden, you may choose to purchase perennials or use plant plugs started from seed. Your meadow will establish itself more quickly this way. For a larger area, seeding directly is probably a better option. The best place to obtain seeds is from a trustworthy native-plant supplier—preferably a local one—to best suit the needs of your region. A reliable supplier will tell you how the seeds were collected and where they come from. Buying from a supplier is often better than collecting your own seeds because there is no risk of putting pressure on wild populations or collecting seed from endangered or threatened flowers, which may be protected under the Species at Risk Act. Avoid typical wildflower mixes sold in garden stores, simply because they mainly contain annuals. You will have a lovely field of colour for the first year or two, but then weeds will quickly take over. To remove some of the guess work, look online to get ideas or preassembled seed mixes that match your soil, moisture and light requirements.
As a general rule, the density of plants in a meadow is one plant per square foot or closer. Plants in such densities will provide their own shade, keep weeds out and conserve water. This means no mulching, fertilizing or watering once your meadow takes off. For a nice full meadow use 60 per cent wildflower seed to 40 per cent grass seed. Apply this at a rate of about 11 kilograms per hectare. A wonderful tip from Paul Jenkins and Miriam Goldberger of Wildflower Farm is to include some annual rye grass into your seed mix. This helps reduce weed competition in the first growing season to help give wildflowers a boost. The rye grass will die away after the first season, after the need to suppress weeds dissipates. Combine the seed mix with sand or vermiculite to allow for a more even distribution and to avoid planting too much seed. If you're covering an expansive area with seed, you'll need a mechanical planter; otherwise you can broadcast the seed by hand, similar to planting a lawn.
A FOUR-YEAR PLAN
(adapted from the methods of Jenkins and Goldberger)
I imagine that, for many folks, half of the appeal of a wildflower meadow is the assumption that it will not require any care or maintenance. Do not be misled. Like anything worth having, it does take some work. A long-term, beautiful lush meadow takes an initial three to four years of labour, but soon after you will have a very low-maintenance, self-sustaining field of beauty. And patience is a must. It may take two seasons before some wildflower species come into bloom. Biennials and perennials take longer to establish than annuals, but they last longer. For a long-lasting meadow, skip annuals and biennials entirely.
Weed removal is generally the first task in setting up your wildflower meadow and a key component in ensuring the wildflowers will establish themselves. Extra time spent on weed removal will help reduce your future work load. There are two start options. The first is using green manure, which involves a few extra steps, whereas the second method is more intensive. Whichever start option you choose, follow through with the following instructions in years one through four.
START: OPTION 1
• Till the area 15 to 20 centimetres deep in spring or fall.
• If you choose to begin the project in fall, plant heavily with buckwheat seeds after tilling. Rake the buckwheat under before the seeds set—that is, before the fresh, tender sprouts get taller than 15 centimetres—two to four weeks after planting. Immediately reseed with another crop of buckwheat, also tilling it under before the seeds set. Then let the area sit for the winter. (This technique, known as green manure, gives the soil nutrients, which allow wildflowers to grow thicker than they would in the wild.)
• After spring thaw, cover the tilled area with heavy black plastic for two or three weeks, causing the weed seeds to germinate and die. (It is important to remove any weeds from the area to be planted to allow for good growth of your wildflowers.)
START: OPTION 2
• Skip the green manure technique if you wish. If you choose this option, till the earth in the fall (15 to 20 centimetres deep).
• Weed removal can be an ongoing process throughout the spring, if necessary. Physically remove the weeds with a hoe; repeat this process for weeks, if you have the patience.
• Cover the area with heavy black plastic for two or three weeks, causing the weed seeds to germinate and die.
YEAR 1
• Seed the area or put in plant plugs.
• Rake the area lightly so that the seeds are not buried too deeply. The seeds should be at a maximum depth of six millimetres.
• Use a roller to make sure the seeds make good contact with the soil.
• Mulch the planted area very lightly—straw is a good mulch choice. Then tamp it down.
• Do not add fertilizer. This would create an abundance of foliage at the expense of blooms and also encourage weed growth.
• Once the seedlings have emerged, water the area regularly (at least once a week unless rain is abundant) until the plants are well established. Most wildflowers are drought resistant once established, but until then the soil should be kept moist but not soaked.
YEAR 2
• You'll need to mow at least twice throughout the summer to of a height of about 15 centimetres. This helps to keep the rye grass and any weeds under control without damaging or killing off your wildflowers.
• If the meadow is looking sparse, add more plants if you like.
• Selectively remove any problematic weeds by hand.
YEAR 3
• The rye grass will be gone by now, but you'll still need to mow to keep weeds at bay. This time, mow at a height of 30 centimetres. Mowing also promotes a strong, deep root system for your wildflowers, helping them further outcompete weeds by forming an intricate mat of roots underground.
• Selectively remove any problematic weeds by hand.
YEAR 4
• By now, you should have a praiseworthy meadow! The plants should be established enough to keep maintenance to a minimum.
• You will notice fewer pesky weeds from now on. The deep, dense roots of the plants help to suppress weed growth.
• Over time, you will see that the growth in your meadow is dynamic. There will be differences each season, and species will take turns being dominant. Feel free to weed out some of these plants to make room for others as you like, but remember that most wildlife will appreciate a site that is not regularly disturbed.
Upkeep and Maintenance
You will need to do a little upkeep each year. Weed out any aggressive unwanted species and noxious weeds. If aggressive plants like goldenrod start taking over, you may want to clip off the flower heads before they go to seed.
Once the plot has established, you'll need to mow a different portion of the area in spring to prevent your field or meadow from converting into woodland. You'll want to mow only a portion of the field so that early insects and other animals using the planting will have a refuge in the next section over. Overwintering insect pupae and eggs will also be preserved in the patches that aren't disturbed. Furthermore, the sections that are mown in a given season will have different vegetation from the plots that were not. This creates interesting texture and colour variance, adding visual appeal and wildlife diversity. Some gardeners also mow their meadow in late fall and leave the remains where they lie to boost reseeding.
Spring mowing should begin in the third year and be continued each year thereafter. The whole meadow needn't be mown at once; just mowing a fraction at a time is sufficient. Each year, rotate the plot you mow. Timing is very important—usually a mid-spring mow is ideal, unless you've planted a very dry meadow with early-blooming flowers. If this is the case, then very early spring is best. Timing is critical to avoid damage to wildflowers. Never mow new growth if it is over half a metre tall; otherwise newly emerged plants will suffer. Raking up excess debris after mowing is essential; the soil's surface must be bare in order for the sun to warm the soil and proper germination to take place. Before mowing, look out for any ground nesting birds and coax them away if you can. If this is done in early to mid-spring, their breeding success will not be affected, and they will have sufficient time to re-nest.
You may notice after time that even mowing does not prevent all woody vegetation from settling in. You'll need to selectively remove most woody plants (you can leave a few if you wish). Cut the tree as close to ground level as you can and apply a herbicide to the open trunk. Try household vinegar, which is gentler than most commercial products. The typical 5 per cent acetic acid solution should be sufficient for most small woody plants. If you are not getting results, use a slightly stronger solution or boil the vinegar to increase its effectiveness.
Those who've had extensive experience with wildflower prairies and meadows may opt to use a controlled burn to maintain the area. Should you decide to go this route, read up on managing small prairie or meadow fires and seek the help of an expert who can guide you. Contact your Ministry of Natural Resources for further instruction and your local fire department to inquire about regulations and ask for permission; you may need a permit. When the time comes, round up several friends, family members and neighbours to help surround and control the fire in case it is too much for one or two people to handle alone.
Photo: Freya Rasmussen