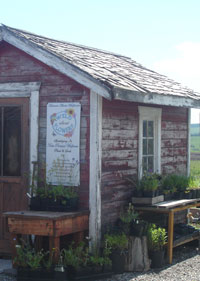 By Arden Nering — owner and head grower
Wild About Flowers is a producer of native wildflowers and a promoter of native plants in landscaping and gardening. Our plants are grown from seeds and hand-collected in Alberta. Our outdoor approach to growing within the natural cycle of the seasons is highly energy efficient and water-wise and it produces extremely hardy plants that are in tune with the growing season.
Wild About Flowers was conceived in 2003 with the idea of making authentic Alberta wildflowers available to the consumer for use in self-sustainable landscaping and gardening. Along with the boom in Alberta came the carving up of the countryside into five-acre parcels, and, for a lack of alternatives, people were covering these parcels with sod and mowing the entire property. I knew there were sources for native trees, shrubs and grasses so I decided to explore the native wildflowers and the idea of naturalization as a form of low maintenance landscaping. The more I looked the less I saw and I began to realize the extent of the habitat destruction all around me. This lit a fire under me and I really felt — and still feel, after 15 years in the greenhouse/nursery production and landscaping industry — like I am doing something important by propagating these native plants and making them available to those who recognize their value and the opportunity they provide us to create synthetic chemical free, self-sustainable landscapes that are beautiful, diverse and promote biodiversity.
Wild About Flowers officially opened for business as a mail order company in the spring of 2006 with a line of wildflower seed and a selection of wildflower plugs for sale. In 2007 we began offering by-appointment visits to our nursery, where larger potted stock was available. By 2008 we had added native grass seed to our product line as it became more apparent to us that the wildflowers and grasses go hand in hand, especially in rural landscaping.
Gardening Tip:
Look to native plants to provide solutions to problem areas in your yard or landscape, like hard-to-grow areas, weed and pest problems or large spaces to fill. In nature we rarely see empty spaces where no plants will grow; there is a good selection of native plants happy to grow in just about every type of growing condition. Whether you are dealing with a hot, dry, exposed flower bed constantly in need of supplementary watering, or 7000 square feet of disturbed space from construction damage threatening to explode into chaos, native plants can provide eco-friendly solutions that can meet our needs and have economic longevity while supporting biodiversity.
What's Next
Every year we add new wildflower and grass species to our stock allowing us to provide our customers with a great selection of native plant material. This year we are very excited to launch "thegreengarden.ca", an affiliated website that will promote "Green" gardening practices and ideas and offer products like organic fertilizers and natural alternatives to synthetic chemical herbicides and pesticides. "We want to promote eco-friendly landscaping practices that support a balanced landscape by inviting Mother Nature back into our yards and gardens and letting her go to work for us."
Visit Us
We invite you to visit us by appointment from April 15th to October 15th. Browse through our selection of larger potted stock and green gardening products as well as wildflower and grass species only available to pick up customers. Receive a private consultation and help with site appropriate plant selection. We are located 10 km south of Black Diamond, AB and appointments must be booked at least 24 hours in advance, call 403-933-3903 or send an email to contactus@wildaboutflowers.ca.
http://www.wildaboutflowers.ca/advanced_search_page.php.