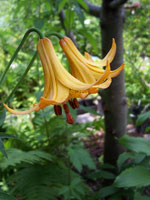 Photo: Connie Smith
Back in the 1970s, a New Brunswick radio commentary spoke of the province's poor efforts in protecting its native plants. New Brunswick resident, David Smith, was listening. The commentary planted a seed which later sprouted when his employer downsized and David decided to pursue his passion for plants. He earned a diploma through the University of Guelph and opened his own nursery in 1997.
Save a Plant (SAP) is a nursery with a mission. Its main objective is to inspire New Brunswick residents and businesses to grow native in their own green spaces, thereby ensuring the survival of these important plants. Over the years, SAP, which consists of David and his wife, Connie Smith, has assisted school children in creating a native wildflower garden, helped establish a native wildflower demonstration garden in Fredericton, and worked with conservation organizations to educate the public on the benefits of utilizing native plants in landscaping schemes.
In addition to its selection of native plants available for purchase, SAP will assist with ecological restorations, make site visits to offer suggestions on possible native plants appropriate to an area, and offer consultations for educational and commercial purposes. David also says SAP will participate in nearly any activity that promotes conserving our natural habitat, adding "I'd love to see more native plant display gardens implemented in city parks, along walking trails and in designated areas of popular tourist attractions."
To visit SAP, please call or e-mail ahead for an appointment as the nursery is small and visitors are given one-on-one attention. They are located at 16 Fletcher Court, Fredericton, and can be reached at 506-474-0801 or saveaplant@nb.aibn.com.
Nursery Tip: "For those who prefer the traditional annuals due to the abundance of colour they provide throughout the season, complement your native plant garden with a few of these annuals interspersed throughout. With a little planning, one can determine which natives and non-natives will be compatible and complementary. Also choose native plants that change from blossom to berry as the seasons change; this provides the added benefit of collecting seed from the berries for further propagation as well as prolonging colour, if desired. Examples: Clintonia borealis(Bluebead-Lily), Gaultheria procumbens (Wintergreen), Arisaema triphyllum (Jack-in-the-Pulpit)."