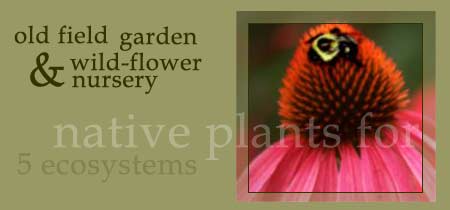 Philip Fry, owner of the Old Field Garden & Wild-Flower Nursery, began the nursery from his love of the land. A professor in the Visual Arts Department of the University of Ottawa, Philip was particularly concerned by the progressive destruction of the regional landscape. Philip used his knowledge and passion to restore his 15 acre property to a more natural state. He researched the native flora and ecosystems of the area - the quiet hamlet of Oxford Station, south of Ottawa, Ontario. Along with his family, friends and students, the abandoned pasture soon became a rich biodiverse property, showcasing 5 distinct native ecosystems.

After successfully and lovingly propagating hundreds of plants for the project, Philip decided to open a nursery. "I love working with regional plant species", notes Philip, "because they are the key to the richness and diversity of our local ecosystems." He now sells over 90 species of native plants which are available for selection and pick-up at the Garden and at special plant sales events in and around Ottawa.

With over 20 years experience, Philip recently branched out to offer consultation and design services for those who wish an environmentally-friendly garden that is water conscious and chemical-free. He also gives workshops to the general public.

Being a small operation and due to his involvement with many community initiatives, Philip requests that visitors call ahead before visiting. They are open from Earth Day (end of April) to Thanksgiving. You can reach them at:

Telephone : (613) 258-7945 Email : oldfieldgarden@sympatico.ca Website : http://www.oldfieldgarden.on.ca/index.html

Tip of the Nursery: "Don't use commercial wildflower seed mixes - start with a selection of mature plants that are ready to compete with the fast growing species sprouting from the seed bank in the soil. If necessary, improve the soil quality by using lots of compost. I recommend well-rotted horse manure."

Native plants are adapted to local conditions so they will thrive better without the need for harmful pesticides and fertilizers. They are also better suited to meet the needs of wildlife which have evolved with local plant species. Some plants are even the sole source of food for species such as the endangered Karner Blue Butterfly's caterpillar which feeds from the wild lupine.

Native plants should never be dug from the wild. Many are becoming threatened through collection and habitat destruction. The best source for your plants is a good local nursery with plants native to your region, grown by the nursery, and not collected from the wild.

For a list of Canadian nurseries that stock some or all native plants, please visit http://www.wildaboutgardening.org/en/gab/section3/index.htm.

Please note that the nurseries supplied the information provided in this list. The inclusion of any supplier should not be seen as an endorsement by the Canadian Wildlife Federation.