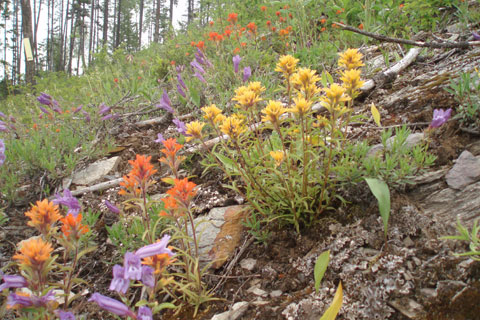 <!-\\Default - single specific -->
Click to enlarge | Photography by: Trish Wallensteen
My name is Trish Wallensteen, and I am the owner and sole employee of Natural Habitat Gardens, a small native plant nursery located in White Lake, B.C., in the Shuswap region. It has been operating for almost eight years now.
My post-secondary education is in renewable resource management, focusing on botany and ecology. I worked in the field of silviculture forestry and forest recreation for a number of years before starting up the nursery. The business came about from a desire to inspire people to create more natural landscapes that would benefit the environment. I started out with the idea of selling habitat packages, such as bird or butterfly gardens, through mail order. Now I have changed to selling plants directly from the nursery.
I find it encouraging to see people incorporating native plants into their landscapes. By doing this, they can create or maintain a connection with the native birds, butterflies and insects that they attract. It is both enjoyable and educational to create a natural landscape or part of one within your garden. Native plants are a good choice in a time when water consumption is such a concern in most municipalities.
Presently, Natural Habitat Gardens offers a variety of shrubs and perennials for both the home landscape and small-scale restoration projects. The majority of plants are grown from seeds that are collected locally, with some seeds coming from a supplier in Kamloops. Some cuttings of fast-growing shrubs are done for restoration projects, as well as salvaging plants from areas that are going to be developed.
In the last few years I have sold plants to the City of Salmon Arm for a waterfront park as well as plants for enhancement of two regional district parks. I have also had a customer from the Kootenays who required plants for creating natural gardens at a school. Over the years there have been a number of plant orders from various agencies conducting restoration projects. There are many applications for native plants, and it is exciting to see an increased interest in naturalized plantings.
Gardening Tip: To create a wildlife-friendly yard, the basic needs of wildlife need to be considered. These include food, water and shelter. If these are provided, you will see an increase in the wildlife that uses your yard. Providing water in the form of a small pond or even a birdbath is a major attraction for birds and other wildlife. By planting groupings of trees or shrubs, you provide shelter and resting sites for birds, butterflies and small mammals. Supplemental feeding throughout the winter months attracts the birds that overwinter in our area; however, by providing berry- or nut-producing shrubs, you can attract wildlife year-round. There are also a number of perennials that provide seeds for small birds. By planting native vegetation in your yard, you are doing something to contribute to the wonderful natural environment we live in.
The nursery is open by appointment. My phone number is (250) 835-2221, or you can contact me by e-mailing kevin&trish@telus.net.
<!-\\Default - single specific -->