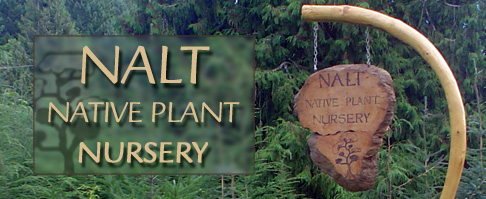 Photo by Paul Chapman
As with many dedicated native plant nurseries, the Natural Abundance Native Plant Nursery was born from the desire to give back to the natural world that sustains us. In this case, local native plants were collected by the Nanaimo & Area Land Trust (NALT) to help in their restoration projects. This British Columbia non-profit organization saved plants from areas slated for construction and received plants from donors. They ended up with a surplus that prompted NALT to start their own nursery.
Now, eight years later, the team, consisting of volunteers and a part-time manager, sells over 120 varieties of plants indigenous to the Nanaimo lowlands ecosystem. These plants are showcased in their demonstration gardens. All the plants, in addition to coming from salvaging efforts and donations from friends' gardens, are propagated on site. The nursery is situated on a beautiful 40 acre wooded and wetland property which is protected under a conservation covenant between NALT and the property owners. The site also features a North American tree arboretum.
But they are much more than a nursery. "We offer free brief home consultations; we're involved in the development of school garden projects; we work with sensitive riparian restoration efforts; we offer educational visits and tours; and we participate in community initiatives," explains Susan Fisher, the nursery's enthusiastic manager. You can even rent or dig your own holiday tree in the winter time!
The nursery is open 10 am to 4 pm Wednesdays and Saturdays and by appointment. It is located at 3145 Frost Road, Ladysmith, BC. Contact: Susan Fisher, Native Plant Nursery Manager, e-mail: plants@nalt.bc.ca or NALT Stewardship Centre in Nanaimo website: www.nalt.bc.ca, telephone and fax: 250 714-1990.
Tip of the Nursery:
Why native plants? Native plants are drought and disease resistant. They require less care and reduce your water bill, and you can eliminate the need to use harmful pesticides. Native plats add biodiversity to your garden and will provide food and habitat for bees, butterflies, and birds. Whether you mix them among your cultivated plants or create a more natural "native plant corner," they will add ambiance to your garden.