<!-\\Default - single specific -->
Located in Orwell, Prince Edward Island, the Macphail Woods Ecological Forestry Project combines protection of natural areas with wildlife enhancement, forest stewardship, watershed protection, environmental education and ecological research. The project began in September of 1991 with a wildlife garden and native plant nursery.
Most of the homestead's 57 hectares are wooded and include a pond and several streams. These woodlands act as a research and demonstration site for the restoration of native forests and include trails and a native plant garden.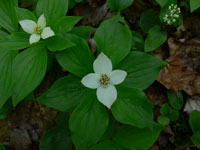 Our nursery specializes in native trees, shrubs, ferns and wildflowers. The sale of native trees and shrubs helps fund many programs, including a children's program, school tours and talks, guided walks of the woodlot, breeding bird surveys and plantings at schools, on community land, for forest restoration and within riparian zones.
Here you will find information on purchasing, identifying, collecting and growing your own native trees and shrubs. The Macphail Woods nursery has grown by leaps and bounds in recent years and has become a major source of native plants for other habitat restoration projects around Prince Edward Island. These have included many plantings on school grounds and in riparian zones around streams.
We offer planting ideas and solutions for everyone, from woodlot owners wanting to restore native woodlands to urban homeowners interested in attracting wildlife. We have a great selection of native trees and shrubs in a variety of sizes to choose from.
For more information, visit our website macphailwoods.org, where you'll find lots of plant profiles, photos, online publications and more, or call us at 902.651.2575.
<!-\\Default - single specific -->