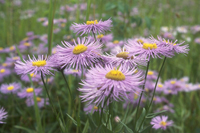 <!-\\Default - single specific -->
Photography by Lee Larkin
B.C.'s Wild Heritage Plants is located in the scenic community of Ryder Lake, approximately 1,200 feet above the valley floor in Chilliwack, B.C. The nursery is a sustainable forest-farm (agro-forestry) operation that grows 100 per cent native plants. Shade-loving shrubs, groundcovers and ferns are produced under giant conifers. The existing farm field contains native sun-loving perennial rootstock, bulbs and a red huckleberry U-pick, which opens every August.

As a journeyman horticulturalist, Lee Larkin started the nursery back in 1989 growing two native species: maidenhair ferns and western trillium. Over the years she continued to add new species and now carries over 140 species of B.C. native plants. Off-site, Lee can be found promoting the use of native plants at sales with other members of the Native Plant Society of B.C. or organizing volunteers with the Chilliwack Field Naturalists to restore a 8.9 hectare broccoli field donated for nature in Chilliwack. B.C.'s Wild Heritage also works with other conservation organizations to promote environmental awareness of B.C.'s rich biodiversity. Lee believes in the "power of one" and encourages all to reintroduce native flora into private and public gardens and to aid the abundance of their historically associated species, such as pollinating insects and birds.

The assortment of native plants at B.C.'s Wild Heritage proves that a plant does not have to be from far away to be colourful, beautiful, unique or exotic in appearance. There are a multitude a of native plants that are adapted to your specific yard and ready to fill every niche, from dry to wet soils, sun to shade, bog to pond, forest to field, medicinal to edible! At bcwildheritage.com you can view the plant of the month, peruse the catalogue and read informative descriptions on each plant. Or drop in for a visit at 47330 Extrom Road in Sardis, B.C., but please call 604-858-5141 beforehand to let them know you are coming!

Nursery Tip: Have fun with your flower beds – pick a theme, perhaps attracting hummingbirds or butterflies, growing an old-fashioned medicinal or edible garden, creating a shady forest hide-a-way, planting native berry plants for you and the birds or creating a bog garden containing unique flowering native plants! Get to the library, create a plan, start with a few native plants and grow with your budget each year to add diversity to your planting and blooming season.
<!-\\Default - single specific -->