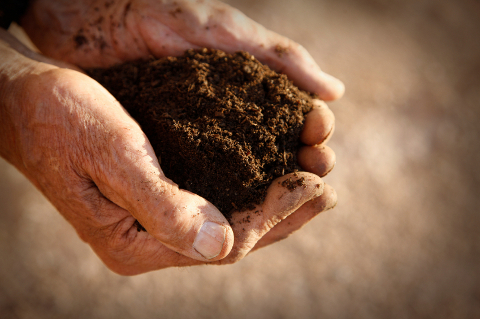 Soil is the foundation of any garden and must be attended to as carefully as plant and animal life. Get to know the soil conditions in the different areas of your yard and select plants that prefer each soil type. Better to do the research before you plant than to spend many months struggling to make an unsuitable plant prosper in the wrong soil.
Plants are essential for the welfare of humans, either as a direct food source or indirectly as food for other animals that are important to our survival. Plants can't thrive, however, without healthy soil. The health of the soil, therefore, is of vital importance to our well-being.
A healthy soil is teeming with a great diversity of living organisms. These creatures play pivotal roles in the decomposition of organic matter and the release of nutrients. Insects, fungi, and bacteria provide biological control of plant diseases. In fact, they can help to control human diseases too because many important antibiotics have been developed from soil fungi and bacteria.
Earthworms are an example of a slightly larger soil organism that contributes to both soil and plant health. The activity of earthworms enhances water infiltration rates, soil drainage, water retention, and fertility. The much smaller organisms, however, are still important for influencing water movement on a lesser scale.
Even mammals have a role to play in soil health. Mice, gophers, and other burrowing mammals enhance the health of the soil by cultivating it, letting in water and air, and carrying vegetation down and earth and minerals up.
Many soil organisms depend on the availability of organic matter in the form of plant or animal residues (such as dead stems, leaves, and animal manure) for their sustenance. Soil management practices that ensure a constant supply of organic matter in the soil can help to enhance populations of soil organisms. For example, zero till systems — those that involve planting without cultivating the soil — help to maximize the diversity of soil organisms. On the other hand, practices like excessive tillage, inadequate incorporation of residues, burning and overgrazing are associated with acute losses of soil organic matter.
The use of pesticides can seriously harm soil organisms. Other soil contaminants, such as heavy metals, can also have negative effects on soil organisms, even at levels considered safe for humans. Organic farming practices, on the other hand, enhance populations of soil organisms.
Despite their importance, very little is known about most soil organisms. In fact, it has been estimated that as little as five percent of micro-organisms have ever been described. However, by ensuring that your soils receive enough organic matter by adding material such as compost, shredded leaves, or composted manure, you can ensure that your garden's soil supports a healthy population of soil organisms. And you'll be rewarded with healthy plants.