CWF was a key participant in recent discussions to advise the Minister of the Environment on how to improve results for species at risk. After 8 months of discussion between major industry associations and environmental organizations, the group agreed on six priority areas for improved implementation of the Act. The letter sent to the Minister of the Environment in September, 2013 can be found here and provides a way forward for better use of the Species at Risk Act to conserve Canada's most imperiled animals and plants.
About the Species At Risk Act
2012, marks the 10th anniversary of Canada's Species at Risk Act. How far have we come in protecting wildlife, and how far do we still have to go? The federal Species at Risk Act lists 564 species providing the basis for recovery and management planning.
It is CWF's understanding that alterations to this legislation protecting our most vulnerable species are likely taking place before the end of the year and we want to ensure there continues to be a strong federal commitment and legislation safeguarding Canada's species at risk.

click to enlarge
Note: The list of at risk species is unfortunately continuously expanding. Since the time of publication of the article elaborating on the above numbers, there have been an additional 72 species added to this list (16 mammals, 8 birds, 1 reptile, 27 fish, 5 arthropods, 1 mollusc, 11 plants and 3 lichens).
Why a federal act is important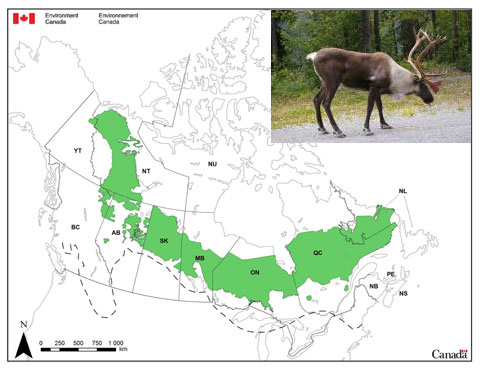 Wildlife doesn't recognize provincial borders. Leaving the responsibility up to the provinces for our most vulnerable species will certainly lead to differing management strategies by each province resulting in a patchwork of measures across the country. This is ineffective for both the provinces and the species. A federal lead on this is a necessity to provide a standardized approach to protection and recovery of species at risk.
Some provinces don't have endangered species laws in place to begin with and others that do have these laws face major challenges especially for species that cross into other provinces. All the provinces and territories rely to some degree on the federal at-risk-list and standards to decide which species to protect and how this should be carried out.
The provinces still have a vital role to play in this process and should continue to work as part of the larger team for the benefit of our endangered species, but they can't bear the full load of this responsibility. Provinces don't have the resources to do this alone and even with a federal law currently in place, the protection for species needs to be improved upon.
What a strong Species at Risk Act looks like
The current Act has the tools needed to effectively protect Canada's species at risk. The problem is not necessarily with the Act itself, but in the interpretation and implementation of it. Yes there are improvements that can be made, but these can be accomplished through minor tweaks rather than a major revision of the Act.
Some major accomplishments can be attained when all stakeholders (environmentalists, the public and industry alike) are engaged early and effectively throughout the Act's implementation stages. While often not thought of as part of a legislation, stewardship is key and may be one of the most important factors in helping species at risk. Core policies that incorporate incentives for individual action are essential.
A strong legislation is one that puts the needs of the species at the forefront. Therefore, as is the current situation, a strong scientific basis for assessing, listing, protecting and recovering species must remain a central point.
A species cannot survive without its habitat either on or off of federal lands, so the identification of these critical habitats must be based solely on the biological needs of the species and include all areas within Canada that the species requires.


Species at Risk
Successes


Browse through SAR success stories:

CWF $1-Million Fund






Our Endangered Species Program helps to conserve threatened and at-risk wildlife across Canada.
Research on Endangered Species Funded by CWF
Thumb through the list of endangered species projects funded by CWF:
What CWF and others are doing for SAR
Take Action!
Write to your local MP and to Canada's Minister of the Envoronment letting them know you want the federal government to lead the way for strong protection of our most vulnerable species and to keep our species at risk legislation intack:
Peter Kent, Minister of the Environment
401 Confederation Building
House of Commons
Ottawa, Ontario. K1A 0A6
Phone: (613) 992.0253
Fax: (613) 992.0887
Email: kentp@parl.gc.ca
Keep checking this site for updates on this issue and further actions CWF is taking as well as suggestions on how you can help.