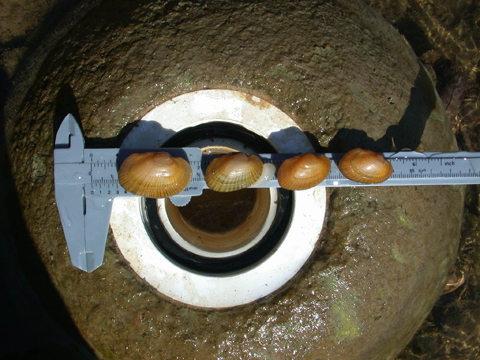 Name/Org:
Josef Ackerman, University of Guelph
Status:
Completed
Description:
Some of our freshwater mussels are species at risk, as they have special needs: their parasitic larva need specific fish species as hosts for a period of their lives. In order to aid in endangered mussel recovery, we need to find out more about them, including: which species of fishes are the hosts necessary for the mussels to complete their life cycle, when the mussels reproduce, what are the optimal conditions for mussel juveniles (both in a lab and in the wild) and what is the critical habitat and needs for each of the species. This data is crucial to help conserve these freshwater mussels.
Results:
Studying these freshwater mussels is not an easy feat. The researchers were unable to determine the host fish of some of the species because they were unable to locate any of these mussels that were carrying offspring to rear in a laboratory setting. This demonstrates how rare and difficult to locate these species are! Also, for other at risk mussels for which they had individuals to populate a subsequent generation, an attempt to rear juveniles in the lab proved challenging. Still, the researchers were able to infest various host fish with some mussel larva and successfully rear them. Certain fish species were found to make much better hosts than others and this depended on the species of mussel being targeted. However, almost no larvae or juveniles survived long enough to mature. But since the researchers managed to get important data about the ideal conditions for the mussels to reproduce and survive, this research is good news for freshwater mussel conservation.