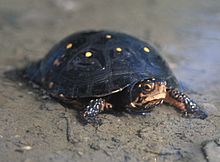 Name/Org:
David Seburn, Seburn Ecological Services
Status:
Completed
Description:
The spotted turtle is one of the at risk turtle species in Canada. It can be found in a few areas mostly in Ontario, including a wetland complex south of Ottawa which has a county road passing through it. But is this road a threat to the turtles? Previously, all spotted turtles captured were on the east side of the road, but it was important to determine if they also occur on the west side, and if they commonly cross this road. This was accomplished through a combination of surveys on the west side of the road and tagging 5 adults with radio transmitters from the east side of the road.
Results:
During multiple surveys on the west side of the road, no spotted turtles were captured but two other species at risk were found during surveys: Blanding's turtles and an eastern prairie fringed orchid.
But when the east side of the road was investigated, a total of 22 turtles of different ages (16 adults) were observed. Some of these turtles were out-fitted with radio transmitters which helped determine the home ranges (or the space needed to survive). Radio tracking data also indicated that the spotted turtles do not cross the road and make use of the habitat on the west side only. It is possible that crossings may occur occasionally, but it is probably not common. The data gathered during this study also show that, while a few juveniles were observed, this population of spotted turtles is fairly small. Nonetheless, efforts to increase the size of the population should be considered to ensure that it remains in this area.