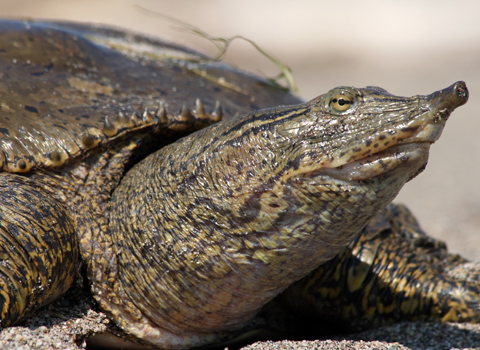 Name/Org:
Patrick Paré /Granby Zoo
Status:
Completed
Description:
With only two subpopulations in Canada, the spiny softshell turtle's habitat is crucial to its survival. However, this reptile has a long must-have list before it moves into its habitat, and human impacts can leave it homeless. The Granby Zoo worked to assess and monitor the health of the Pike River population. They captured females en route to Pike River in order to install transmitters and track the females as they scout out nesting spots. Afterwards the researchers located nesting areas, protected them from predators with wire netting, checked on flooding, predation and vegetation growth in the area, and finally checked the nesting sites to determine the ratio of hatched to undeveloped eggs.
Results:
In 2009 and 2010, researchers at the Granby Zoo located the nesting sites of spiny softshell turtle in order to document their nesting success as well as how effective nesting cages are to keep predators away from young. Eleven females were observed nesting in this period and researchers noted they built their nests between 1 p.m. and 5 p.m. Researchers placed six nests in artificial incubation for a captive breeding program to assess how successful the turtles were able to hatch in a controlled environment. Two of the nests were left untouched in the wild, and three others were simply moved higher up the riverbank so the nests didn't get flooded. The researchers closely monitored the nests left in the wild once a week and found that none of the eggs hatched in 2009. Similarly, none of the 33 eggs incubated in captivity hatched successfully due to low levels of moisture in the soil. Luckily, they had better success in 2010 when 61 of the 74 eggs hatched.