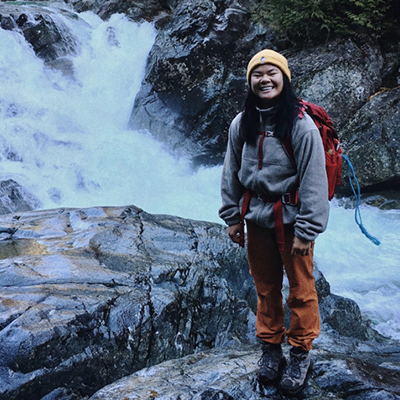 Q & A
Teresa Trinh
Hometown:

Mississauga, Ontario

What conservation issue is closest to your heart?

Currently I'm very passionate about waste management, and how can we as consumers live more minimally and sustainably.

What are you hoping to learn from CCC?

My biggest hope is to absorb as much as I can, and to be able to learn from the team and the environment through all stages of the program. I am especially excited to immerse myself in shaping what conservation looks like and means to me, and what role I play in conserving Earth's integrity.

Who/what inspired you to care about conservation?

I've always had an affinity for the outdoors. Growing up in the suburbs, I resorted to local parks and conservancies as a place for peace, ease and stillness. Conservation means a lot to me, because I've seen the way nature connectedness can change lives.

If you could sit down with anyone in the world and have tea or coffee, who would it be? And why?

Jane Goodall. Jane's story has resonated tenfold with me. Her curiosity, passion and bravery to wholeheartedly live a life of deeply rooted adventure and authenticity has always been a source of inspiration to me.