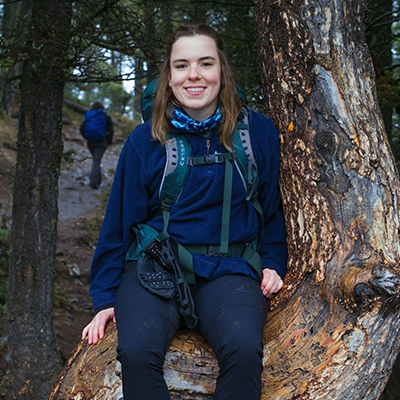 Q & A
Kirsten Walls
Hometown:

Conestogo, Ontario

What conservation issue is closest to your heart?

Deforestation. I don't think people understand the impact it has on wildlife, humans and our planet. I have also become aware of plastic pollution, especially in our oceans. I have started to live a more sustainable life and to minimize plastic consumption.

What are you hoping to learn from CCC?

I hope to combine my knowledge in recreation with new learned knowledge of conservation. I hope through meeting individuals and through placement opportunities I am able to find where in conservation my passion lies.

Who/what inspired you to care about conservation?

I have always loved the outdoors and it has helped me become a happier person. I have always wanted to share with others what it has done for me.

If you could sit down with anyone in the world and have tea or coffee, who would it be? And why?

I would love to have tea with Jane Goodall and Leonardo DiCaprio. They both have played a huge role in advocating change and have a passion for the environment. I would love to hear what their thoughts are on how we can find solutions.