The Mountain GOATs
Group 5
The Canadian Conservation Corps is an ongoing series of three-part programs designed for Canadian youth that focus on service, adventure and reflection. Over the course of this nine-month experience, individual groups of Corps members will have the opportunity to learn about conservation while being deeply engaged in our natural and cultural heritage.
Learn more about the Canadian Conservation Corps
Tragic Passing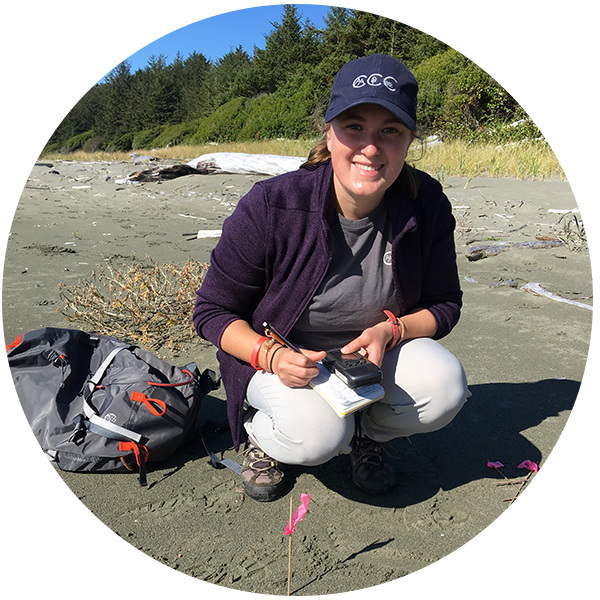 It is with deep sadness that we share the news of the sudden and tragic passing of the Canadian Wildlife Federation's Canadian Conservation Corps participant, Angela Rehhorn.
Rambling Through the Rocky Mountains
Stage 1
The group dubbed "The Mountain GOATs" will enjoy a challenging journey of self-discovery and exploration, hiking through the terrain of the spectacular Canadian Rocky Mountains. They will travel distances each day, sharing responsibilities including campsite management, cooking, navigation and group leadership as they follow the footsteps of inspired artists and adventurers, seekers and sages. This is more than learning the technical skills of backpacking – this is an adventure designed to illustrate why the wilderness environment is the best teacher.
Have you experienced a wilderness adventure in Canada? Share your experiences: #CCCAdventure
Conservation Field Learning
Stage 2
Lindsay Wood
Location: Quebec City, QC
Hosting Organization: EWAG - Education and Water Monitoring Action Group
Description:
• Participate in the development of a large river monitoring network to learn about how to adapt to the future and to climate change
• Ensure compliance with protocols and good data acquisition
• Train students in field activities of the "Adopt a River" Program
• Accompany schools during field trips
• Participate in the organization and help conduct the annual meeting of regional coordinators of & "Adopt a River"
• Compile and analyze program data
• Participate in the development of new educational and scientific tools related to the indicator species of water quality and climate change
• Develop scientific animations and educational tools for kindergarten and elementary school students
• Update several science events for kindergarten and elementary school students, according to the curriculum
• Facilitate activities for kindergarten and elementary school students at the interpretation center or at the school
Timeline: Oct 9 – Dec 21
Venessa Smoliga
Location: Oro-Medonte, ON
Hosting Organization: Scales Nature Park
Description:
• Offer care for over 200 species of animals
• Facilitate various school, group or weekend visitors
• Help with various tasks in the building and renovations for the Georgian Bay Turtle Hospital
• Help with household tasks in maintaining an exotic species zoo
• Programming
• Conduct research
• Carry out lab work
• Participating in organic gardening
Timeline: Oct 9 – Dec 21
Michelle Parry
Location: Mont-Saint-Hilaire, QC
Hosting Organization: McGill - Gault Nature Reserve
Description:
• Participate in scientific field work
• Help with trail work (light duty)
• Help with restoration (tree, shrub planting, etc.)
• Patrol (outreach with the public)
• Carry out light duty work (cleaning, painting, sanding and material preparation)
• Complete data acquisition (downloading data from data loggers in the field)
• Help with snow removal
Timeline: Oct 9 – Dec 21
Max Muehlen
Location: Seaforth, NS
Hosting Organization: Hope for Wildlife in Seaforth
Description:
• Wildlife rescue and rehabilitation.
Timeline: Oct 9 – Dec 21
Michael Chen
Location: Calgary, AB
Hosting Organization: Calgary Zoo
Description:
• Work within the Outreach Education Department
• Improve effectiveness in supporting the Calgary Zoo's mission
• Take and inspire action to sustain wildlife and wild places
Timeline: Oct 9 – Dec 21
Silvana Botros
Location: Ucluelet, BC
Hosting Organization: Pacific Rim National Park Reserve
Description:
• Help remove invasive species
• Conduct a pink sand verbena dune survey
• Complete data entry
• GPS/GIS
• Help with drone and topographical surveys
• Work on maps
Timeline: Oct 9 – Dec 21
Adam Holke
Location: Moose Jaw, SK
Hosting Organization: Saskatchewan Wildlife Federation
Description:
• Research in Candle Lake with Saskatchewan Polytechnic (fish)
• Data Entry
• Assist the national archery in the schools program
• Perform habitat assessments
• Perform bank stabilization assessments
• Help out with spring fish spawning camp
• Help out with sturgeon and shoreline health study
• Conduct fish transfers
• Seine netted
Timeline: Oct 9 – Dec 21
Amanda Kelly
Location: Calgary, AB
Hosting Organization: Calgary Zoo
Description:
• Work within the Outreach Education Department
• Improve effectiveness in supporting the Calgary Zoo's mission
• Take and inspire action to sustain wildlife and wild places
Timeline: Oct 9 – Dec 21
Alex Saunders
Location: Hamilton, ON
Hosting Organization: Beinenstock Natural Playgrounds
Description:
• Work on the McQuesten Urban Farm community garden, tied to the food bank and the retail store
• Help with education outreach supporting the Bienenstock staff as they visit and deliver programs to local schools
Timeline: Oct 9 – Dec 21
Jesse Baraniuk
Location: Oro-Medonte, ON
Hosting Organization: Scales Nature Park
Description:
• Offer care for over 200 species of animals
• Facilitate various school, group or weekend visitors
• Help with various tasks in the building and renovations for the Georgian Bay Turtle Hospital
• Help with household tasks in maintaining an exotic species zoo
• Programming
• Conduct research
• Carry out lab work
• Participating in organic gardening
Timeline: Oct 9 – Dec 21
Knowledge-Sharing in their Communities
Stage 3
This is where participants put their ideas in motion in the hope of making Canada a better place. In their home communities, they deliver a service project designed to inspire other youth ages 15 to 30 to get involved. It's time to "pay it forward."
Funded by the Government of Canada under the Canada Service Corps program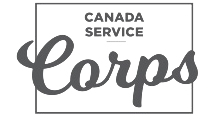 In collaboration with