Hometown:

Toronto, Ont

What conservation issue is closest to your heart?

Predominantly food security, education and redistribution systems within an urban contest, as well as pollinator health and preservation.

What are you hoping to learn from CCC?

To learn about this diverse country's landscapes, peoples, and how I can promote conservation efforts within my community.

Who/what inspired you to care about conservation?

As a child I grew up in BC and had a strong connection with my surrounding environment because of how accessible it was. That connection and interest has only grown strong with age.

If you could sit down with anyone in the world and have tea or coffee, who would it be? And why?

My paternal grandfather. I've never had a chance to meet, and I'd love to get to know him.
Portaging Through the Pines
Stage 1
This expedition takes CCC team members canoeing the waters and portaging through Ontario's spectacular Algonquin Provincial Park. Corps members will explore the park's vast landscapes of maple hills, rocky ridges, spruce bogs, ponds, streams, lakes and rivers; in the process, they will learn padding, navigation, water-safety and camp-craft skills like knots, leave-no-trace camping, shelter building and cooking over open fires. During the five-day expedition CCC members will learn about the natural environment and gain a deeper appreciation of the world in which they live.
Conservation Field Learning
Stage 2
Location: Bienenstock Natural Playgrounds
Hosting Organization: Bienenstock Natural Playgrounds
Description
The McQuesten Urban Farm community garden, tied to the food bank and their retail store.

• A community build on a five acre mini forest, high needs community, seven schools surrounding the site, tying in curriculum, involving the students in the build, such as a wheel chair accessible trail.

• Education outreach will also be a component supporting the Bienenstock staff as they visit & deliver programs to local schools.
Timeline: Oct 9 – Dec 21
Funded by the Government of Canada under the Canada Service Corps program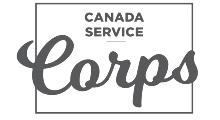 In collaboration with