Hometown:

Sackville, New Brunswick

What conservation issue is closest to your heart?

I strongly feel for protecting wild places, both on land and water and the life that inhabits them.

What are you hoping to learn from CCC?

I expect this adventure to be quite different from anything I have done before and I'm ready to embrace the changes and challenges it might bring.

Who/what inspired you to care about conservation?

Spending a childhood outdoors, running around in the fields and forest. Most recently, learning from passionate and knowledgeable people and experiencing the nature beauty of this world has fueled an even deeper care for conservation.

If you could sit down with anyone in the world and have tea or coffee, who would it be? And why?

I think it would be Bill Watterson – I find that his take on the world as reflected in Calvin and Hobbes would be an interesting one.
Portaging Through the Pines
Stage 1
This expedition takes CCC team members canoeing the waters and portaging through Ontario's spectacular Algonquin Provincial Park. Corps members will explore the park's vast landscapes of maple hills, rocky ridges, spruce bogs, ponds, streams, lakes and rivers; in the process, they will learn padding, navigation, water-safety and camp-craft skills like knots, leave-no-trace camping, shelter building and cooking over open fires. During the five-day expedition CCC members will learn about the natural environment and gain a deeper appreciation of the world in which they live.
Conservation Field Learning
Stage 2
Location: Gault Nature Reserve, Mont-Saint-Hilaire
Hosting Organization: McGill University
Description
• Trail work (light duty)

• Restoration (tree, shrub planting, etc…)

• Patrolling (Outreach with the public)

• Light duty work (cleaning, painting, sanding, material preparation)

• Data acquisition (Downloading data from data loggers in the field)

• Snow removal

• Scientific field work
Timeline: Oct 9 – Dec 21
Funded by the Government of Canada under the Canada Service Corps program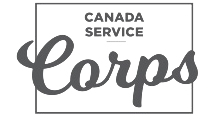 In collaboration with