Hometown:

Broad Cove Marsh, Nova Scotia

What conservation issue is closest to your heart?

The decline of the boreal forest in Cape Breton Highlands National Park due to the massive moose population, bison reintroduction to the Rockies and Right Whale conservation in the Gulf of St. Lawrence.

What are you hoping to learn from CCC?

I expect to be challenged, to have fun, to learn new skills, to meet new people and learn from their perspectives, and to see more of the country.

Who/what inspired you to care about conservation?

The outdoors has always been a huge part of my life. I grew up with a lot of open fields, forests and coastlines to explore. Caring about conservation naturally made sense to me as a kid. My interest deepened as I got older and learned about actual conservation issues.

If you could sit down with anyone in the world and have tea or coffee, who would it be? And why?

I'd like to sit down with my grandmother, Mary Bell. I never had the chance to meet her, but I've heard so many wonderful stories of her ambition, impeccable farming skills, resilience and grace. I think I could learn a lot from her.
Portaging Through the Pines
Stage 1
This expedition takes CCC team members canoeing the waters and portaging through Ontario's spectacular Algonquin Provincial Park. Corps members will explore the park's vast landscapes of maple hills, rocky ridges, spruce bogs, ponds, streams, lakes and rivers; in the process, they will learn padding, navigation, water-safety and camp-craft skills like knots, leave-no-trace camping, shelter building and cooking over open fires. During the five-day expedition CCC members will learn about the natural environment and gain a deeper appreciation of the world in which they live.
Conservation Field Learning
Stage 2
Location: Saskatchewan
Hosting Organization: Saskatchewan Wildlife Federation
Description
• Research in Candle lake with Saskatchewan Polytechnic (fish)

• Data Entry

• Patrolling (Outreach with the public)

• Perform habitat assessments

• Perform bank stabilization assessments

• Help out with spring fish spawning camp (might be a fall one too)

• Work on education materials

• Running the Hannin Creek Conservation Camp, ran conservation camp/ women's outdoor weekend (happening this fall)

• Helped out with sturgeon and shoreline health study

• Fish transfers
Timeline: Oct 9 – Dec 21
Funded by the Government of Canada under the Canada Service Corps program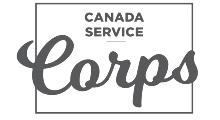 In collaboration with