Hometown:

Calgary, Alberta

What conservation issue is closest to your heart?

For me the preservation of natural areas and the animals that live in these areas is incredibly important. There are no places as awe-inspiring as those in our natural world.

What are you hoping to learn from CCC?

I am expecting an amazing experience that will give me the opportunity to learn more about myself and the world around me. I would then like to be able to take what I have learned and share it with a wide range of young Canadians.

Who/what inspired you to care about conservation?

I have been inspired to care about conservation because of every experience I've had in the outdoors and the loss of natural areas in my city and all around Alberta.

If you could sit down with anyone in the world and have tea or coffee, who would it be? And why?

It would be the Dali Lama. This is because he is not only an incredibly interesting and influential individual but he is also incredibly wise. I also think on a person level it would be amazing to hear about his life. No one else in the world has a life that comes close to his.
Portaging Through the Pines
Stage 1
This expedition takes CCC team members canoeing the waters and portaging through Ontario's spectacular Algonquin Provincial Park. Corps members will explore the park's vast landscapes of maple hills, rocky ridges, spruce bogs, ponds, streams, lakes and rivers; in the process, they will learn padding, navigation, water-safety and camp-craft skills like knots, leave-no-trace camping, shelter building and cooking over open fires. During the five-day expedition CCC members will learn about the natural environment and gain a deeper appreciation of the world in which they live.
Conservation Field Learning
Stage 2
Location: Seaforth, Nova Scotia
Hosting Organization: Hope for Wildlife
Description
Rescue and rehab for wild animals
Timeline: Oct 9 – Dec 21
Funded by the Government of Canada under the Canada Service Corps program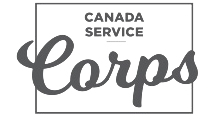 In collaboration with