Hometown:

Victoria, BC

What conservation issue is closest to your heart?

Conservation of marine mammals and elasmobranchs are the closet to my heart. I love them both equally.

What are you hoping to learn from CCC?

I am expecting to learn new field skills, overcome physical and mental challenges, and explore the beautiful Canadian wilderness with a group of like-minded individuals.

Who/what inspired you to care about conservation?

My grandpa inspired me to care about conservation. He is a wealth of knowledge and always shared his countless encounters with wildlife in the Indian subcontinent with me and my siblings while we were growing up. Some of them included wild tigers, snakes and elephants.

If you could sit down with anyone in the world and have tea or coffee, who would it be? And why?

Dr. Asha de Vos from Sri Lanka. She is an expert in Blue Whale research in the Indian Ocean and has created an awareness movement about local marine issues.
Portaging Through the Pines
Stage 1
This expedition takes CCC team members canoeing the waters and portaging through Ontario's spectacular Algonquin Provincial Park. Corps members will explore the park's vast landscapes of maple hills, rocky ridges, spruce bogs, ponds, streams, lakes and rivers; in the process, they will learn padding, navigation, water-safety and camp-craft skills like knots, leave-no-trace camping, shelter building and cooking over open fires. During the five-day expedition CCC members will learn about the natural environment and gain a deeper appreciation of the world in which they live.
Conservation Field Learning
Stage 2
Location: Quebec City, Quebec
Hosting Organization: Marine Mammal Research and Education Group (GREMM)
Description
Scientific and journalistic writing internship

• Participate in the animation of the Whales Live web magazine and collaborate on weekly Whale Portraits newsletters

• Conduct research and interviews and popularizes information • Write articles and reports

• Participate in the animation of social networks
Timeline: Oct 9 – Dec 21
Funded by the Government of Canada under the Canada Service Corps program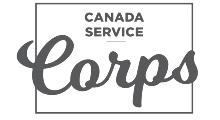 In collaboration with