Hometown:

Terrace, BC

What conservation issue is closest to your heart?

Conserving bears is what I am most passionate about; however, I do love and want to help conserve a wide array of other wildlife as well as the natural landscapes that I appreciate so much.

What are you hoping to learn from CCC?

I am expecting to have an amazing adventure, one in which I will remember for the rest of my life while learning a great deal about fields that I am very interested in.

Who/what inspired you to care about conservation?

Bears began my interest. I have been fascinated by bears for a long time. The more I learned about them, the more I felt a need to do something to help ensure they are around for my kids to see.

If you could sit down with anyone in the world and have tea or coffee, who would it be? And why?

My answer would be Charlie Russell. I have an immense respect for his ideology about how humans and bears can co-exist, and he has lived so close to and gotten to know so many individual bears. The stories he has already put into books are incredible.
Portaging Through the Pines
Stage 1
This expedition takes CCC team members canoeing the waters and portaging through Ontario's spectacular Algonquin Provincial Park. Corps members will explore the park's vast landscapes of maple hills, rocky ridges, spruce bogs, ponds, streams, lakes and rivers; in the process, they will learn padding, navigation, water-safety and camp-craft skills like knots, leave-no-trace camping, shelter building and cooking over open fires. During the five-day expedition CCC members will learn about the natural environment and gain a deeper appreciation of the world in which they live.
Conservation Field Learning
Stage 2
Location: Saskatchewan
Hosting Organization: Saskatchewan Wildlife Federation
Description
Research in Candle lake with Saskatchewan Polytechnic (fish)

• Data Entry

• Assist with the national archery in the schools program

• Perform habitat assessments

• Perform bank stabilization assessments

• Help out with spring fish spawning camp (might be a fall one too)

• Work on education materials

• Run the Hannin Creek Conservation Camp, ran conservation camp/ women's outdoor weekend (happening this fall)
Timeline: Oct 9 – Dec 21
Funded by the Government of Canada under the Canada Service Corps program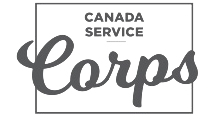 In collaboration with