Hometown:

Winnipeg, Manitoba

What conservation issue is closest to your heart?

The relationships between hunting, fishing and conservation. I find that most people believe that because you harvest animals you aren't a conservationist when in fact proper hunting and fishing practices play a vital role.

What are you hoping to learn from CCC?

My expectations are to meet some new people from across the country, learn new skills and perhaps gain some contracts that will help me pursue a career in conservation after the program.

Who/what inspired you to care about conservation?

Ever since I can remember I have always been drawn towards the outdoors, animals and exploration. As I grew older the passion just grew to the point where I knew I wanted to be involved and surrounded by it on a daily basis.

If you could sit down with anyone in the world and have tea or coffee, who would it be? And why?

At this time it would be Ray Mears, an English woodsman and survivalist. His appreciation for the culture and traditional methods in the places he visits is inspiring.
Portaging Through the Pines
Stage 1
This expedition takes CCC team members canoeing the waters and portaging through Ontario's spectacular Algonquin Provincial Park. Corps members will explore the park's vast landscapes of maple hills, rocky ridges, spruce bogs, ponds, streams, lakes and rivers; in the process, they will learn padding, navigation, water-safety and camp-craft skills like knots, leave-no-trace camping, shelter building and cooking over open fires. During the five-day expedition CCC members will learn about the natural environment and gain a deeper appreciation of the world in which they live.
Conservation Field Learning
Stage 2
Location: Peterborough
Hosting Organization: Ontario Federation of Anglers and Hunters
Description
Hunting and Fishing Heritage Centre (field trips, education development)

• Lake Ontario Atlantic Salmon Restoration Program (stocking and tree planting days)

• Fish and Wildlife policy (potential work leftover from our summer intern)

• Invasive Species Awareness Program (potential outreach work)

• Biodiversity Education Awareness Network (outreach)

• Mentor youth hunts (event coordination and delivery)
Timeline: Oct 9 – Dec 21
Funded by the Government of Canada under the Canada Service Corps program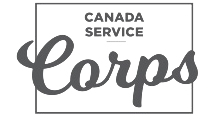 In collaboration with