Hometown:

Okotoks, Alberta

What conservation issue is closest to your heart?

Sustainable living and sustainable land use are what I am most interested in.

What are you hoping to learn from CCC?

I hope to gain a meaningful experience while learning some new skills and making connections to land and people.

Who/what inspired you to care about conservation?

Growing up my parents' love of nature allowed me to spend a lot of time outside camping and doing various outdoor activities. This really allowed me to connect to the natural world and take an interest in conserving what we have.

If you could sit down with anyone in the world and have tea or coffee, who would it be? And why?

I would sit down with my grandmother. She passed away when I was younger, and the older I get the more I find she had amazing insight into life. I would like to sit down with her as an adult to hear what other advice she has to offer.
Portaging Through the Pines
Stage 1
This expedition takes CCC team members canoeing the waters and portaging through Ontario's spectacular Algonquin Provincial Park. Corps members will explore the park's vast landscapes of maple hills, rocky ridges, spruce bogs, ponds, streams, lakes and rivers; in the process, they will learn padding, navigation, water-safety and camp-craft skills like knots, leave-no-trace camping, shelter building and cooking over open fires. During the five-day expedition CCC members will learn about the natural environment and gain a deeper appreciation of the world in which they live.
Conservation Field Learning
Stage 2
Location: Peterborough, Ont
Hosting Organization: Ontario Federation of Anglers and Hunters
Description
Invasive Species removal (biggest job)

• Hunting and Fishing Heritage Centre (field trips, education development)

• Lake Ontario Atlantic Salmon Restoration Program (stocking and tree planting days)

• Fish and Wildlife policy (potential work leftover from our summer intern)

• Invasive Species Awareness Program (potential outreach work)

• Biodiversity Education Awareness Network (outreach)

• Mentor youth hunts (event coordination and delivery)
Timeline: Oct 9 – Dec 21
Funded by the Government of Canada under the Canada Service Corps program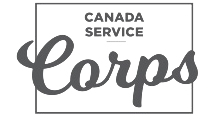 In collaboration with