Hometown:

St. John's, NFLD

What conservation issue is closest to your heart?

Living in a place like Newfoundland, with the ocean all around us, makes ocean and water conservation an issue that is close to my heart.

What are you hoping to learn from CCC?

My biggest expectation going into this adventure is to learn. I want to learn all about conservation in Canada (what is being done, and what more can be done). I also think that this program will help me learn more about myself and help guide me to the next stage in my life.

Who/what inspired you to care about conservation?

If you could sit down with anyone in the world and have tea or coffee, who would it be? And why?

I honestly don't know one person I would pick. I thought about scientists like Charles Darwin or Albert Einstein; activists such as Gandhi and Malala Yousafzai; athletes like Martin St. Louis or Hayley Wickenheiser, who inspired me when I was a kid; or just interesting people such as Oprah or JK Rowling. As my interests grow it was difficult to pinpoint just one.
Portaging Through the Pines
Stage 1
This expedition takes CCC team members canoeing the waters and portaging through Ontario's spectacular Algonquin Provincial Park. Corps members will explore the park's vast landscapes of maple hills, rocky ridges, spruce bogs, ponds, streams, lakes and rivers; in the process, they will learn padding, navigation, water-safety and camp-craft skills like knots, leave-no-trace camping, shelter building and cooking over open fires. During the five-day expedition CCC members will learn about the natural environment and gain a deeper appreciation of the world in which they live.
Conservation Field Learning
Stage 2
Location: Victoria, BC
Hosting Organization: Fort Rodd Hill Parks Canada
Description
Invasive Species removal (biggest job)

• Host STEAM experiences for all visitors

• iNaturalist mapping (iPads)

• Some data entry & surveys

• Getting Garry Oak Learning Meadow ready for spring

• Some education programs

• Will try and find other opportunities to be involved in as they come up

• Meetings with local indigenous member
Timeline: Oct 9 – Dec 21
Funded by the Government of Canada under the Canada Service Corps program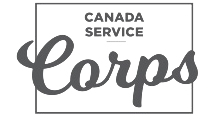 In collaboration with