Hometown:

Bancroft, Ontario

What conservation issue is closest to your heart?

Most likely if there's one thing I'd want to conserve, it'd be the lakes and rivers of Canada. Not only are they incredibly important to me because of my personal experience with them, but I'd argue they're an important part of Canada's unique culture and heritage.

What are you hoping to learn from CCC?

I expect it to be an opportunity for personal growth before beginning whatever I do next in my life, to meet new people and to further my ongoing education.

Who/what inspired you to care about conservation?

If you could sit down with anyone in the world and have tea or coffee, who would it be? And why?

My final choice would be Kurt Vonnegut. While there are many others, mainly authors (Douglas Adams), comedians (John Cleese) or historical figures (Karl Marx, Otto Van Bismark, John Locke), none so brilliantly wrote about a tragedy they lived through as Vonnegut did.
Portaging Through the Pines
Stage 1
This expedition takes CCC team members canoeing the waters and portaging through Ontario's spectacular Algonquin Provincial Park. Corps members will explore the park's vast landscapes of maple hills, rocky ridges, spruce bogs, ponds, streams, lakes and rivers; in the process, they will learn padding, navigation, water-safety and camp-craft skills like knots, leave-no-trace camping, shelter building and cooking over open fires. During the five-day expedition CCC members will learn about the natural environment and gain a deeper appreciation of the world in which they live.
Conservation Field Learning
Stage 2
Location: Halifax, Nova Scotia
Hosting Organization: Discovery Centre
Description
Assist in providing safety for centre visitors: monitor visitor activities and calmly follow protocol in 
response to an incident

• Host STEAM experiences for all visitors

• Be knowledgeable about Discovery Centre exhibits, programs and dome theatre shows; be comfortable sharing that information to visitors

• Engage and interact with visitors in the exhibit galleries, with emphasis in the Ocean Gallery

• Assist with public program development

• Contribute to the successful operation of Discovery Centre

• Assist the Ocean Gallery Facilitator in setting up and closing the Ocean Gallery daily; and with the aquaria system, 
and living beings, both in the front and back of the house
Timeline: Oct 9 – Dec 21
Funded by the Government of Canada under the Canada Service Corps program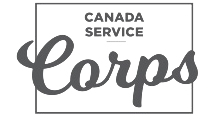 In collaboration with