The Pride
Group 2
The Canadian Conservation Corps is an ongoing series of three-part programs designed for Canadian youth that focus on service, adventure and reflection. Over the course of this nine-month experience, individual groups of Corps members will have the opportunity to learn about conservation while being deeply engaged in our natural and cultural heritage.
Learn more about the Canadian Conservation Corps
Sea Kayaking in New Brunswick
Stage 1
Departing from Camp Yoho 20 minutes north of Fredericton, the group of Canadian Conservation Corps members embark on a two-week sea-kayaking and wilderness trip. This adventure starts at Oak Bay camp ground, on the Bay of Fundy. They continue on to explore the 50-plus islands around New Brunswick's Western isles. It's a land and sea adventure on Canada's spectacular east coast. They also participated in a conservation project with Outward Bound on Frye Island.
Have you experienced a wilderness adventure in Canada? Share your experiences: #CCCAdventure
Conservation Field Learning
Stage 2
Laura Newman
Location: Halifax, NS
Hosting Organization: Sea Turtle Network
Timeline: Jun 11 - Aug 3, 2018
Jeremy Harbinson
Location: Lethbridge, AB
Hosting Organization: Alberta Parks
Timeline: Jun 11 - Aug 31, 2018
Alexandra Falla
Location: Mont St Hilaire, Quebec
Hosting Organization: McGill University
Timeline: Jun 11 - Aug 3, 2018
Anthony Amsel
Location: Orillia, ON
Hosting Organization:SCALES Nature Park
Title of work: Field Learning
Description:
• Turtle nesting surveys in the Muskoka region of Ontario: processing turtles, excavating nest sites
• Responding to turtle hotline calls about injured and nesting turtles
• Surveying wetlands for native species
• Animal care: turtles, snakes, frogs, salamanders
• Outreach events
• Educating visitors to Scales and the public about reptile conservation
Timeline: Jun 11 - Aug 3, 2018
Colin Horton
Location: Halifax, NS
Hosting Organization:Sea Turtle Network
Timeline: Jun 11 - Aug 3, 2018
Steven Typa
Location: Mont St Hilaire, Quebec
Hosting Organization:McGill University
Timeline: Jun 11 - Aug 3, 2018
Samantha Jung
Location: Orillia, ON
Hosting Organization:SCALES Nature Park
Title of work: Field Learning
Description:
• Turtle nesting surveys in the Muskoka region of Ontario: processing turtles, excavating nest sites
• Responding to turtle hotline calls about injured and nesting turtles
• Surveying wetlands for native species
• Animal care: turtles, snakes, frogs, salamanders
• Outreach events
• Educating visitors to Scales and the public about reptile conservation
Timeline: Jun 11 - Aug 3, 2018
Knowledge-Sharing in their Communities
Stage 3
This is where participants put their ideas in motion in the hope of making Canada a better place. In their home communities, they deliver a service project designed to inspire other youth ages 15 to 30 to get involved. It's time to "pay it forward."
Funded by the Government of Canada under the Canada Service Corps program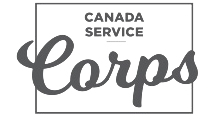 In collaboration with