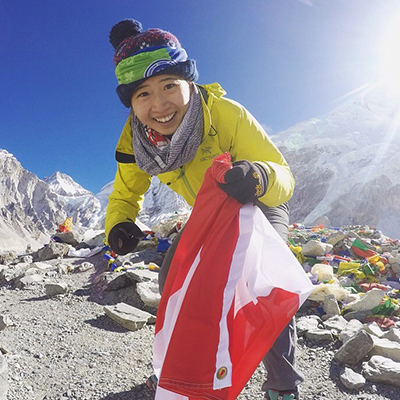 Q & A
ShanShan Tian
Hometown:

Hamilton, ON (via Yantai, Shandong, China)

What conservation issue is closest to your heart?

Climate change and the effects of global warming (melting polar ice caps, rising sea levels, extreme weather, greenhouse gases) on human and wildlife populations.

What are you hoping to learn from CCC?

I'm excited to experience adventure with a group of like-minded and passionate people. I hope we are going to be challenged as a group and as individuals on the expedition and to tackle conservation issues with sustainable solutions during training and field work. I hope we will laugh, move, sing and dance a lot when we are not paddling or working.

Who/what inspired you to care about conservation?

I stumbled across The Test Tube with David Suzuki when I was in high school. I remember that it had moved me, but I didn't understand or care enough to learn more about conservation at that time. As a young adult, when I travelled, explored and played outside more intentionally I began to make personal choices that were better informed and more sustainable.

If you could sit down with anyone in the world and have tea or coffee, who would it be? And why?

Katie-Jane L'Herpiniere. She was the first woman to walk 4,500kms of the Great Wall of China. I would love the opportunity to sit down with her, listen to her trekking stories, read her trail notes and packing list, and get some tested and tried tips from one of the most badass adventurers of the 21st century.