The Troupe
Group 1
The Canadian Conservation Corps is an ongoing series of three-part programs designed for Canadian youth that focus on service, adventure and reflection. Over the course of this nine-month experience, individual groups of Corps members will have the opportunity to learn about conservation while being deeply engaged in our natural and cultural heritage.
Learn more about the Canadian Conservation Corps
Winter Wilderness Adventure in Northern Ontario
Stage 1
Group 1 meet in Huntsville, Ontario for two weeks of training with the Canadian Wildlife Federation. They travel to remote areas of Algonquin Park via sled dogs and snowshoes and experience winter camping in the frozen mixed and hardwood forest.
The young adults learn to travel in extreme weather and to read the ice of frozen lakes. Deep in the backcountry, they learn how to stay warm in a harsh and unfamiliar environment. Back at the base camp in Huntsville, Ontario, they enhance their leadership skills through a variety of courses aimed at connecting other Canadians to nature.
Have you experienced a wilderness adventure in Canada? Share your experiences: #CCCAdventure
Conservation Field Learning
Stage 2
Adam Joseph
Location: Moose Jaw, SK
Title of work: Field Learning
Description:
• Spawn camp
• fisheries department on fish passage barriers
• Checking aeration pumps in lakes across the Province
• Habitat trust (68,000) acres
• Flying drones, looking for invasive species, put up fencing, signs.
• Camp (Hannin Creek Education and Applied Research Facility) teaching youth, general maintenance, water testing
• NASP (national archery in schools program)
Timeline: Mar 5 - May 25, 2018
Brendan Riley
Location: Alberta
Title of work: Field Learning
Description:
• Preparation for indoor and outdoor programs
• Assisting with the park shop
• Public management
Timeline: Mar 5 - May 25, 2018
Christina Borring-Olsen
Location: Oro-Medonte, ON
Title of work: Field Learning
Description:
• Turtle boot camp
• Turtle hospital
• Wetland studies
• Reptile/Amphibian counts in protected areas
• Animal care & Education at primary site
Timeline: Mar 5 - May 25, 2018
Grant Mask
Location: Alberta
Title of work: Field Learning
Description:
• Preparation for indoor and outdoor programs
• Assisting with the park shop
• Public management
Timeline: Mar 5 - May 25, 2018
Kim McGough
Location: Oro-Medonte, ON
Title of work: Field Learning
Description:
• Turtle boot camp
• Turtle hospital
• Wetland studies
• Reptile/Amphibian counts in protected areas
• Animal care & Education at primary site
Timeline: Mar 5 - May 25, 2018
Nick Butt
Location: Alberta
Title of work: Field Learning
Description:
• Preparation for indoor and outdoor programs
• Assisting with the park shop
• Public management
Timeline: Mar 5 - May 25, 2018
Nicole Webster
Location: Oro-Medonte, ON
Title of work: Field Learning
Description:
• Turtle boot camp
• Turtle hospital
• Wetland studies
• Reptile/Amphibian counts in protected areas
• Animal care & Education at primary site
Timeline: Mar 5 - May 25, 2018
Shannon Anderson
Location: Moose Jaw, SK
Title of work: Field Learning
Description:
• Spawn camp
• fisheries department on fish passage barriers
• Checking aeration pumps in lakes across the Province
• Habitat trust (68,000) acres
• Flying drones, looking for invasive species, put up fencing, signs.
• Camp (Hannin Creek Education and Applied Research Facility) teaching youth, general maintenance, water testing
• NASP (national archery in schools program)
Timeline: Mar 5 - May 25, 2018
Knowledge-Sharing in their Communities
Stage 3
This is where participants put their ideas in motion in the hope of making Canada a better place. In their home communities, they deliver a service project designed to inspire other youth ages 15 to 30 to get involved. It's time to "pay it forward."
Funded by the Government of Canada under the Canada Service Corps program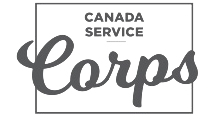 In collaboration with