2012 Winners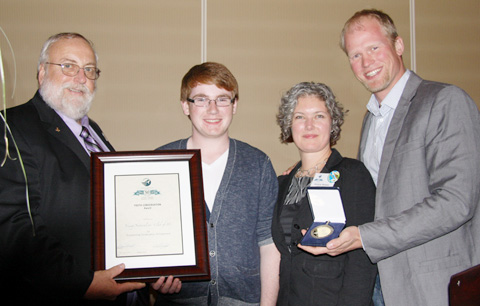 YNBC Kristine Webber and Andrew Mitchell
The Youth Conservation Award which recognizes the contribution of individual youths or youth groups to wildlife or habitat conservation projects was awarded to the Young Naturalists Club of British Columbia. Founded in 2000 with the objective of encouraging young people to develop a love for nature, the Young Naturalists' Club of BC has included over 11,000 young people in conservation programs with chapters all over the province.
2011 Winners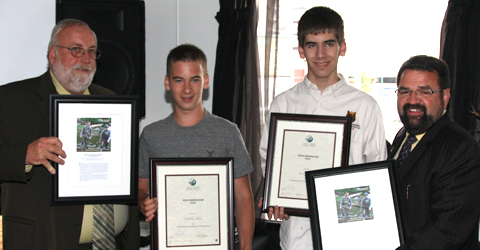 Photo: CWF President Dave Powell, Jonathan Judson, Braden Judson, CWF Past President Nicolas Laurin
Braden and Jonathan Judson of Ladysmith, British Columbia are members of the Ladysmith Sportsman Club. In 2007 when a landslide near their town nearly wiped away a salmon spawning creek with garbage from a local dump, the Judson boys began volunteering their time for the cleanup. Jonathan and Braden have been helping restore the creek with their club for four years, removing more than 20 tons of garbage and seven tones of steel. Stocking Creek has now been cleared of the debris and new habitat structures have been put in place.