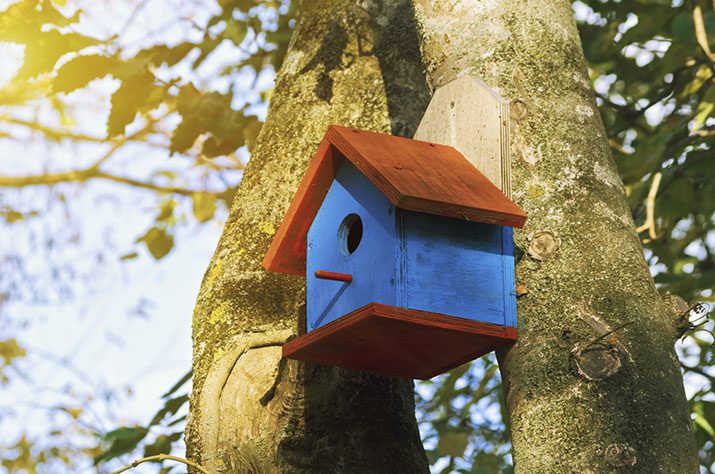 A. There isn't one birdhouse or nesting box design that will suit the needs of all bird species. In fact, not all species will even nest in a birdhouse, like cardinals, for example.

Keep the Bird in Mind
Some birds that nest in tree cavities will nest in birdhouses and this includes chickadees, bluebirds, house wrens and nuthatches. But again, there are particular design features and location preferences that need to be considered depending on the species you are hoping to attract!

Let's take the bluebird, for example. Bluebirds like open fields where there are a lot of insects. Placing a birdhouse for bluebirds sheltered among trees would not work very well. They also prefer single houses that are spaced about 100 metres apart that are placed 1.5 to 1.8 metres above the ground.

Size Matters
The size of the birdhouse and entrance hole are other factors you need to consider. You want to make sure the entrance hole isn't bigger than it needs to be (four cm in diameter for blue birds) as you want to discourage competing nesters and predators.

Ask Yourself
Before building or buying a birdhouse, it is important to do some research, keeping in mind the following factors:
What species would you like to attract?
What kind of birdhouse do they prefer; a single dwelling house or a multi-unit structure?
What size of birdhouse does this species prefer?
What is the entrance size?
Where should the birdhouse be located/Do you have the right habitat?
How far off the ground should it be?
You can find answers to these questions and more using a guide such as this one!

It's All in the Details
However, there are additional features you want to make sure your birdhouse:
Has holes for drainage and ventilation
Is made of untreated wood
Has an extended and sloped roof to provide extra protection from rain
Includes a baffle to keep out squirrels and other predators
Uses metal poles or PVC pipes to mount your birdhouse on to prevent predators from accessing the house
Doesn't have a perch to the outside of the entrance hole. Birds do not require this and it can give an advantage to predators
Keeping in mind these questions and features when building or selecting a birdhouse will increase your chances of birds using your birdhouse this nesting season!