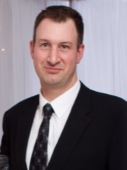 <!-\\Default - single specific -->
A biologist and environment project manager in Whitehorse, Yukon, Charles has been part of successful conservation programs for salmon in Wolf Creek, as a volunteer works closely with Yukon Government to conserve Yukon Wildlife. Charles participated in habitat restoration in McIntyre Creek, the release of salmon fry and also participates in the Turn In Poachers and Polluters program, among others. Charles has a great love for the outdoors and he enjoys hiking, horseback riding, participating in family fishing days, youth education camps and more. Charles believes fish, wildlife and the environment in which they live are key to our Canadian identity and national pride.
Charles lives in Whitehorse with his wife and two children.
<!-\\Default - single specific -->