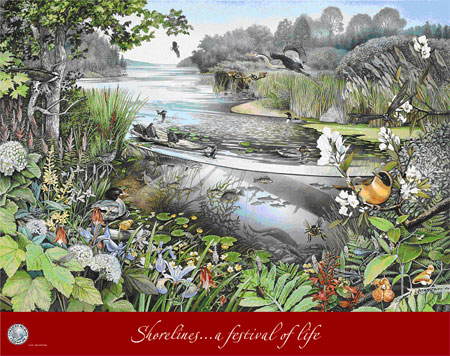 Our stunning Shorelines… a Festival of Life package consists of a beautifully illustrated colour poster which exemplifies a freshwater shoreline featuring an array of wildlife species. The package also includes a field guide with colour illustrations, descriptions and range and habitat information for 92 species of shoreline plants and animals including birds, fish and insects. Use this package as a passport to the fascinating world of shoreline wildlife!
A Field Guide to Your Shoreline Wildlife
Spending time at a lake often provides you with the wonderful sights and sounds of the multitude of wildlife nearby. Crickets chirping at dusk, the call of the loon, and fish fluttering through cavernous rocks near the waters edge are just a few of the joys we can experience. Use your field guide to learn about where and when your favourite creatures are likely to be seen, and what they thrive on to survive. It features:
Birds
Mammals
Fish
Amphibians and Reptiles
Aquatic organisms
Insects
Trees and Shrubs
Shoreline Herbaceous Plants
Aquatic Plants
Make a Change, for the Better
As more and more people seek the beauty of shoreline property, they often complicate the natural system by introducing manicured lawns and droning engines from watercraft. It is important to recognize and respect the shorelines we live by so that they don't become another extension of our cities. With the Shorelines package you'll find out that shorelines are not only affected along water's edge, but also by what happens farther inland. Learn about ways you can reinstate wildlife back into an altered habitat to let the shorelines flourish once again.