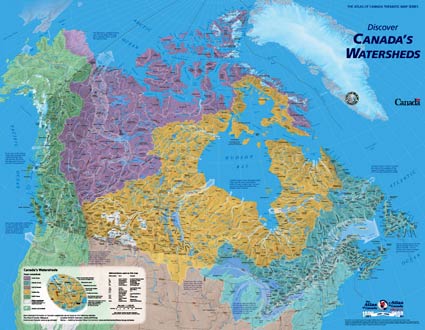 In this themed and inspirational poster series, you will be able to explore Canadian watersheds and how they are connected to one of Canada's three oceans — the Arctic, the Pacific or the Atlantic — with the theme, "Watersheds … your link to Canada's oceans … explore the connection!"
Order yours » (you must be a member of CWF Online to order our free resources. Become a member for free.)
The Series
The beautifully illustrated posters from CWF's Learning About Oceans Unit 12 and Learning About Wildlife Unit 24 depict a representative watershed that highlights features often found in many watersheds across Canada.
Some Educational Advantages
By displaying your watersheds posters, you'll help students to discover that all living things, including people and wildlife, share the same water that flows from their neighbourhood to marine coasts and drains into an ocean. Better yet, help them to discover Canada's Watersheds map contained in this kit and have them trace the flow of water from their school to the ocean. It doesn't matter how far you live from an ocean — you still have an effect on its health.
Key Ideas
The benefits of owning and displaying a watershed poster and educational kit are numerous! Here are just a few examples of what can be achieved:
investigate the watershed in which you live and how it is connected to an ocean;
spread awareness about these connections with other students;
learn how we are all connected to an ocean;
discover how to sustain our oceans and their communities through the Blue School program; and celebrate their efforts to protect our oceans and marine wildlife by doing projects right in their schoolyard