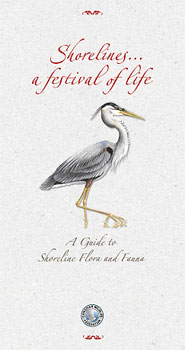 This shoreline package is available for $12, which includes taxes, shipping and handling.
There're over 50 pages of information on a variety of types of species you can find along Canadian shorelines so order our Shorelines Habitat Guide and Poster today!
Similar Species
Ever wonder what's living by the shore? Or why you seem to find similar species in the same type of environment? Why do those species prefer to be there than anywhere else? If you live near a shoreline or have ever visited one, why not check out our shoreline habitat guide? There is a whole community of activity that takes place near the waters edge, each species there for its own reason. Learn the answers to your questions, and learn how these plants and animals make their living by the water when you receive the Canadian Wildlife Federation's Habitat Guide.
Here's how to find out!
The guide features 92 species of shoreline plants and animals complete with colour illustrations for each. Specifically the guide features birds, mammals, fish, amphibians & reptiles, insects, trees & shrubs, aquatic plants & organisms and shoreline herbaceous plants. With each species you'll find the name and Latin pronunciation, approximate size of the species, its range and habitat needs, as well as its own specific case for conservation. Everything in the guide will help you to determine who's living by your shoreline, and what you could find if you take a closer look.
We're all connected
Even if you don't live near a shoreline you'll still want to take advantage of the wealth of information in this kit. In one way or another, all of our activities connect us to a watershed, whether it's a pond, river, lake or ocean. Learning about habitats, helps Canadians appreciate the value of our resources, and the value of our wildlife. Order your handy Shoreline Habitat Guide today!
The Shorelines Package
The Habitat Guide is also part of the Shorelines package:
∙ A poster of a freshwater shoreline with an array of associated wildlife;
∙ A field guide with colourful illustrations, descriptions, ranges and habitat information for 92 common shoreline species