Embrace the beauty of wildlife with a variety of posters and handouts from the Canadian Wildlife Federation. Please note: this content is made available for our supporters and site members. Please sign in to order these materials.
Coasts & Oceans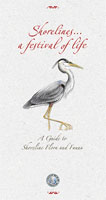 Shorelines…a festival of life
With over 50 pages of information on 92 species you can find along Canadian shorelines you'll want to check out our colour illustrated Shorelines Habitat Guide today!
Connecting With Nature
Education & Leadership
Endangered Species & Biodiversity
Forests & Fields
Lakes & Rivers