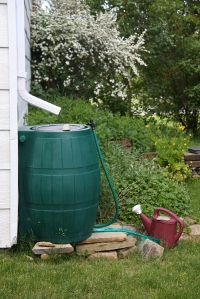 A simple and effective way to meet watering needs is to install a rain barrel in your yard. You'd be amazed at the amount of free water that falls from the sky and rolls off your roof every year. By collecting this run off and saving it for a not-so-rainy day, you'll be able to use it to nurture planting projects and replenish birdbaths and ponds without depleting water resources.
With an increased awareness in water conservation has come an increased availability of rain barrels. Visit your local home building store to see what they offer.
Alternatively, you can build your own rain barrel by using a plastic or wooden container that once held food, such as pickles or olives:
Cut a large hole in the lid of a 250-litre barrel (available from food importers and hardware stores).
Install a plastic screen over the hole to prevent debris from getting inside and mosquitoes from breeding.
Drill a 3/4" hole into the side of the barrel near the base for a spout.

Install spout hardware: wrap the threading of a faucet with Teflon tape to ensure a good seal; attach the faucet to a galvanized coupling; then push a galvanized bushing through the hole (from the inside of the barrel) and attach the faucet; apply a ring of silicone sealant where the coupling meets the barrel wall to prevent leakage.
Channel a downspout from your roof into the barrel.
If the ground isn't paved, set the barrel on a base of patio stones.
Attach a hose to the faucet as required.
Check your rain barrel periodically to ensure that it is working properly.